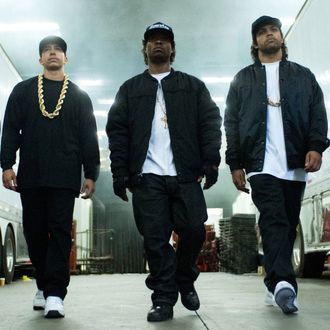 Photo: Universal Pictures
Even with theaters' heightened security and the controversy regarding the film's dismissal of Dr. Dre's well-documented violence against women, F. Gary Gray's N.W.A. biopic Straight Outta Compton owned its competition this weekend, nabbing $56.1 million. Music biopics tend to falter critically and commercially (Walk the Line notwithstanding), and the film's biggest name, Paul Giamatti, is just a supporting player, so Compton's massive success is impressive, especially considering its competition included Cruise and two different superhero movies.
Mission: Impossible — Rogue Nation made a comparatively paltry $17.3 million in its third week, bringing its domestic total to $138.4 million so far. Guy Ritchie's The Man From U.N.C.L.E., starring Henry Cavill and Armie Hammer, did even worse, only making $13.5 million in its opening weekend. Hammer, who portrayed the Winklevoss twins in David Fincher's The Social Network in 2010, has a poor track record with blockbusters: He starred as the title character in The Lone Ranger, a film that earned around $260 million on an estimated $375 million budget. For a guy with the best actor name ever, he hasn't had much luck at the box office.
But The Man From U.N.C.L.E. wasn't the biggest disappointment of the weekend. Josh Trank's mega-maligned Fantastic Four dropped a staggering 68.75 percent in its second weekend, barely earning $8 million. That percentage drop-off is the seventh-worst ever for a comic-book-based movie, landing between Zack Snyder's polarizing Man of Steel (67.3 percent) and the execrable X-Men Origins: Wolverine (68.9 percent), both of which still managed to survive debilitating word-of-mouth hostility and become box-office hits. Trank's film, however, earned significantly less than either film and is on track to pull in a pathetic $60 million domestic gross, less than one tenth of Jurassic World's domestic haul. (By the way, Jurassic World, now in its tenth week, is the second-highest-grossing IMAX, 3-D, and sci-fi film of all time, behind only James Cameron's Avatar.)
Joel Edgerton's The Gift made $6.5 million its second weekend for a total of $23.5 million, which isn't bad for a film you can't even vaguely discuss without issuing copious spoiler warnings. Suffice it to say the twisty, twisted psychological thriller has received some good reviews. Phoenix, the acclaimed German drama, made $199,000 in its fourth week for a total of $514,000, while Diary of a Teenage Girl made $112,000 in its second week. Noah Baumbach's latest collaboration with Greta Gerwig, the uproarious Mistress America, made $94,000 on four screens. The End of the Tour continues to do well, pulling in $399,000 and raising its three-week total to $938,000.