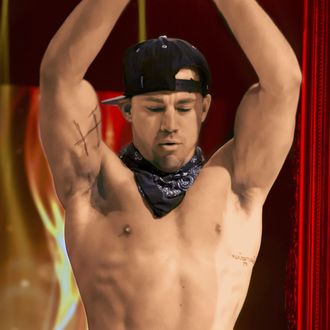 Rumors of Channing Tatum's departure from Gambit have been greatly exaggerated, it turns out: The Magic Mike XXL star will definitely, totally, officially portray the Cajun superhero in Rupert Wyatt's upcoming film, according to The Hollywood Reporter.
One thing that needed figuring out was the extent of Tatum's involvement in the X-Men universe. Fox sees Tatum's Gambit, a mutant who harnesses kinetic energy, as one of the anchor characters of the X-universe, akin to Hugh Jackman's Wolverine, someone who would anchor his own movies and appear in numerous others. It's a commitment that could theoretically last more than a decade. (Jackman has been portraying Wolverine since 2000, for instance.)

Sources say that backend compensation was also a sticking point.
After months of rumors and speculation and he-said-she-said reports, all doubts have finally been assuaged.