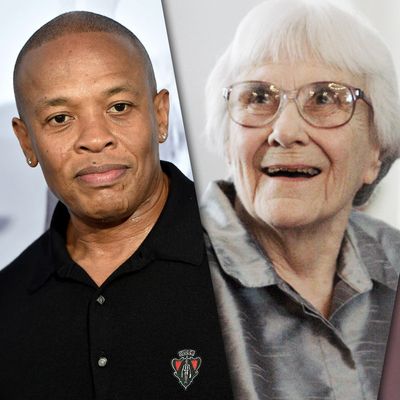 Back in 2015: Dr. Dre, Harper Lee, and D'Angelo.
Photo: Getty Images, Corbis
I'm worried that in the end I'll never know, not really, what I think about Dr. Dre's new album, Compton, released earlier this month as the official soundtrack to the new (and increasingly, and rightly, controversial) N.W.A biopic Straight Outta Compton. Here is a partial list of the things I think I do know: I know that the drums on almost every track are characteristically Dre, a study in perfected slap and kick. I know that the distention and wooziness that stretch across the album double as a subtle reminder that several of the qualities now commonly attributed to southern rap have their provenance in and around Los Angeles County. I know that the album is also a testament to the mogul's ear for talent, ever true: Some of Compton's most electric moments come by way of old protégés — Eminem, Kendrick, the Game — and promising unknowns like the Bilal-reminiscent Anderson .Paak. I know that Dre, sort of miraculously, can still really rap.
But I also know — and here is where the confusion begins — that Compton is the first album offered by Dre since the last century, and that this kind of elongated delay is as much of an instrument as a drum machine, or a sample perfectly placed.
The conspicuous pause in production, central to the mythos of artists ranging from J.D. Salinger to Axl Rose, has always functioned to build mystery, to frustrate, and also to tantalize: When will the masterpiece arrive? Has the artist gone crazy? Or become simply too good for this world? When it finally appears, the long-awaited work is often met with raging commercial success — Compton debuted at No. 2 on the Billboard charts and claimed 25 million streams on Apple Music in its first week, while the reception of Harper Lee's first draft of To Kill a Mockingbird as some sort of long-lost sequel helped power over 1 million sales in less than seven days.
But the intervening years make critical success harder to ascertain. The anticipation, hope, and wild conjecture that mark the wait take on lives of their own, complicating consumption at every turn.
Take the case of the soul singer D'Angelo and his album Black Messiah, 14 years in the making, slyly released (and, considering the stories of his wandering in the wilderness during that time, slyly titled) at the end of last year. I think — or do I only think that I think? — that this album is uncommonly good. The thing lopes and mumbles and crawls toward a moment of coherence that never comes, as if the entire undertaking were just one long chord progression waiting forever for resolution. Given the impetus for Black Messiah's release — the current racial unrest around death and policing — this sense of descent-without-landing seems brilliantly metaphoric. What, after all, has the long struggle for justice been but a long, tantalizing approach, or, to borrow a well-worn formulation, an arc bending toward something seen, perhaps, but heretofore untouched?
Or maybe D'Angelo just likes long, knotty jam sessions. Because I have to admit that metaphor and skillful church organ aren't the only impressions that Black Messiah leaves on the part of me that appreciates art. The simple existence of the album also makes me remember a day in sixth grade, when the coolest friend I had at the time (tall, dreadlocked, world-weary-in-advance) slipped me two Maxwell cassette tapes, one loaded with Maxwell's Urban Hang Suite and the other with D'Angelo's Brown Sugar. I played them every evening for a month or two, telling everybody that my favorite musical artists were D'Angelo and Maxwell, in that order.
What this means, of course, is that there is something at stake for me when I experience D'Angelo's return in 2015. My belief in the artistic value of Black Messiah doubles as a vindication of my 11-year-old taste in music. And because I haven't had a D'Angelo–related occasion to support his theory in a decade and a half, those aforementioned stakes are enormously high, perhaps distortedly so.
This is what absence does, in music as in love: The memory it evokes inevitably invites self-reflexivity, slowly transforming the object of scrutiny into little more than a mirror. You can't tell whether you're seeing D'Angelo or yourself.
This, I think, is partly what fuels the rope-a-dope around the supposed hidden works of Salinger (speaking of which, weren't those new books supposed to start dribbling out this year?), or the lingering, half-ghostly cultural relevance of Lauryn Hill, or even the restlessness around Frank Ocean's increasing tardiness. The early works were too integral to the self-image of their fans to fully give up on the hope for something new.
Still: The self-consciousness involved in the case of the vanished author doesn't all reside on the side of the consumer. There's also the image (and a corresponding, if slightly less theatrical, reality) of the "blocked" or otherwise overly pressurized artist. Take the cautionary tale of Ralph Ellison, who, after the titanic success of Invisible Man, spent the next 40 years promising, and never delivering, a second novel. The long wait was at first taken as the sign of a genius at work, and therefore met with a friendly, if anxious, patience.
But as Ellison's feints and assurances and excuses grew more improbable and quasi-comic over the decades, public patience was replaced by quiet but unmistakable snickers of derision. Hilton Als, however, probably had it right when he wrote that "even [Ellison's] anguish" during the fallow and increasingly painful period "was a little engineered: the longer [he] took to write his second novel, the more serious an author he would appear to be, the less vulnerable to criticism." Ellison aestheticized his own paralysis, anguishing over a house fire that, in his inconsistent telling, destroyed an entire draft of the novel-in-progress, but probably only wiped out a scant summer's worth of revisions. The never-finished work became a text almost as rich as any novel: endlessly parsable, subject to exegesis into infinity. When a posthumously edited snippet, titled Juneteenth, finally appeared, it was intriguing, but obviously only half-realized. The lesson, as with Go Set a Watchman: Consider burning your drafts.
The opposing strategy is, of course, to just keep producing: Consider Lil Wayne's constant churn of mixtapes, feature appearances, and albums between '06 and '08, or Woody Allen making a movie every year for 40 years (no matter how increasingly uneven and repetitive), or Bob Dylan deliberately releasing marginal work in order to destroy his own image as a prophet. The commitment to consistent production serves, strangely, to mitigate the influence of personality, on both sides of the ledger. The processes — nostalgic, perfectionist, otherwise — by which the art is created and consumed become secondary, if a consideration at all. The work is something to enjoy, not dig out from under the detritus of trumped-up hopes.
So, how good is Compton? I don't know. I know that I like it, and that others seem, generally, to agree, and that it's certainly better than we had any right to expect. But there we go again: expectation. When I listen to Compton, I can't help wishing that it were a sixth album, not a third — if only to escape myself.