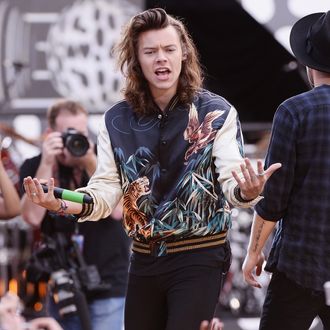 Oh NOOOOO.
Photo: Stephen Lovekin/Getty Images
Days after releasing a very inspiring (and kind of ominous — oh my God, maybe it was foreshadowing) music video, One Direction, according to reports, are taking a hammer to hearts everywhere and planning to go on an extended hiatus. People's sources say the boy band will break off starting next March. It looks like Zayn Malik was a bit of a trendsetter, because the group — which presently comprises Liam Payne, Harry Styles, Louis Tomlinson, and Niall Horan — has mutually agreed on the idea so everybody can pursue personal projects. (Who will be the Justin Timberlake–slash-Beyoncé? Let the betting begin.) People adds that the boys will still promote their fifth album, which should roll out later this year, until February; however, the break means there will be no tour. In other words, everything sucks. Good job, 2016, you massive buzzkill. (I guess the gravity of this move depends on how you feel about 1D.) The bandmates, generally active on social media, have not said anything about the matter or confirmed the decision — which is promising because maybe, just maybe, there's still some hope. (But probably not — we knew this day was coming.) The only recent update is this:
Which is also a problem. Somebody please help Niall with his AC unit so we can at least feel good about that.
Update: Niall confirmed via Twitter on Monday afternoon that a break, though it doesn't sound permanent, is indeed happening (no word on AC unit, though).