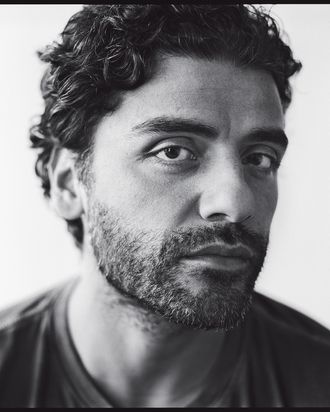 From the mayor's office to an X-wing.
Photo: Brigitte Lacombe
When an actor has a breakout performance, as Oscar Isaac did in 2013's Inside Llewyn Davis, you suddenly expect to see him everywhere. Isaac's great accomplishment, however, has been that we never see him doing the same thing twice. He ended 2014 with A Most Violent Year, in which he played a struggling heating-oil entrepreneur in '80s New York — about as far from Llewyn Davis, the '60s folksinger, as you can imagine. His jam-packed 2015 has included a scene-stealing role as a tech billionaire in Ex Machina and, now, Show Me a Hero, a six-hour HBO mini-series from The Wire's David Simon, which premieres August 16 and in which Isaac plays Nick Wasicsko, the onetime real-life mayor of Yonkers, embroiled in a fight over segregated housing. And, oh, by the way, he'll end this year in an X-wing — as Poe Dameron in the new Star Wars film you may have heard something about. Not to damn Isaac, 36, with hyperbolic praise, but he's done it while combining a stylistic flexibility and consistent intensity that recall a young Al Pacino. "What was great about the Llewyn Davis situation is that it opened the door to a variety of different characters," he says. "It's not like suddenly I was being asked to do one thing: singing with a beard." If you happen to have noticed Isaac in one of his earlier standout supporting roles — as the sleazy pimp Blue Jones in Sucker Punch, say, or as the sleazier thug Standard in Drive — you may have worried back then about his being typecast as an ethnically flexible heavy. Instead, Isaac has reached that magical place in an actor's career where "it's more about what do I say no to as opposed to what do I say yes to." This combination of versatility and popularity has put him in the unlikely position of being able to answer a question few humans are qualified to address: What's it like to fly an X-wing? "It can be nauseating. I don't recommend eating before going into an X-wing cockpit," he says, "but it's really, really fun."
*This article appears in the August 10, 2015 issue of New York Magazine.