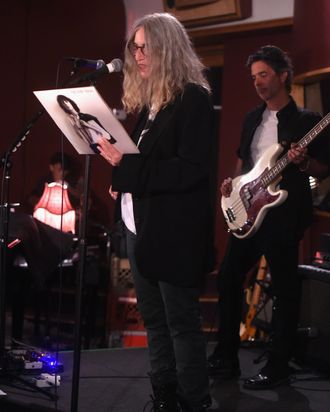 Patti Smith.
Photo: Jamie McCarthy/Getty Images
Patti Smith is 68, and she gives negative fucks what you think. As it should be. On Wednesday night, punk's poet laureate tore into the mic and spat on multiple audience members, including me and Proenza Schouler's Jack McCollough, while playing her 1975 debut, Horses, from front to back. She recorded the classic album 40 years ago at Electric Lady Studios, the recording palace Jimi Hendrix opened exactly 45 years ago, just one month before his death. Watching Smith and three-quarters of her original band, including guitarist Lenny Kaye and drummer Jay Dee Daugherty, blaze through Horses live wasn't a one-off experience; Smith has already been touring the globe doing just that, and will be coming back to New York's Beacon Theatre on November 10 for a similar show. (She'll also be touring with her new book, M Train, a collection of essays about her travels.) But there was something about being surrounded by Electric Lady's ghosts that seemed to energize the singer.
It was in the stairwell of this building that she'd met Hendrix on the night of the studio's launch party. According to her memoir, Just Kids, she told him she was too shy to go inside. "He laughed softly and said that contrary to what people might think, he was shy, and parties made him nervous," Smith wrote. Hendrix then revealed his vision for Electric Lady: Musicians were to gather in a circle and play through their dissonance until they arrived at the universal language of peace, before recording that harmony in his studio. He never lived to realize the dream, but five years later, Smith was creating her own voice in the house that Jimi built, as U2 did more recently with Songs of Innocence, along with the last two Album of the Year Grammy winners, Beck's Morning Phrase and parts of Daft Punk's Random Access Memories.
Smith not only sounded great, she was in lively spirits among these memories. In addition to the frequent spitting, she supplemented her songs with readings ranging from the back cover of Horses to a poem about death from her Early Work volume. When Horses reached its halfway point, she announced that it was time to lift the arm of the turntable, flip the record to Side B, and gently place the needle back into the groove. Emphasis on "groove," with a wink and a big grin. She told — not asked, of course — my friend and me to put down our wineglasses (Too much reflection? Too bougie? Who knows!), then told my friend to put down her "pocketbook" so Smith didn't have to look at it all night. Later on, she instructed shy members of the crowd, including Greg K of the Misshapes, to fill in a gap and get more rowdy, claiming she was just putting her amateur "interior designer" experience to good use. Should anyone need a bathroom break, she told them not to be shy, now was the time to go. If anyone needed to sit during the quieter parts of the show, she said, "It's okay. I'll make you get up later."

The ghosts of Electric Lady Studios and Smith's life kept reemerging via songs she'd written in heartbreak in 1975. Smith told the story of how the song "Break It Up" had been written in memory of her friend Jim Morrison, based on a dream she'd had about him transforming into a marble statue depicting Prometheus in chains, with the wings of an angel. "In the dream, I knew that it was Jim Morrison and that he was trapped in his own skin, which was the marble, and I kept saying, 'Break it up, Jim,' and finally the marble cracked and the angel flew away," she said. "That's what this song is about." The song was also the source of one of her most powerful musical memories, when 20,000 people from a Polish village helped her sing the chorus — "Break It Up!" — in a field outside their village. The closest thing she could equate it to was her first R.E.M. concert in Ann Arbor, Michigan, when the sound of tens of thousands of strangers singing "Losing My Religion" in unison was so beautiful it made her cry.
For the most part, the crowd listened respectfully — a bit too respectfully for Smith's tastes, it seemed. Arcade Fire's Win Butler and his giant black hat atop his six-foot-four frame kindly stood in the back. Alexa Chung sat on the floor next to designer Christian Siriano, who perched on a speaker. Natasha Lyonne came in late, and Dakota Johnson cheered raptly, while Liv Tyler and her luminescent skin stayed rooted by the speaker opposite Chung. The most vocal and dance-y celebrity fans were Darren Aronofsky and Michael Stipe, standing side by side. Smith wrote an original song for Aronofsky's Noah, and Stipe has been a friend for years. It seemed right that her penultimate song was a second rendition of "Gloria," which she finished with Stipe nestled in her arms, sing-shouting the chorus into her microphone, a look of pure joy splashed across his face.
The most moving moment, though, was the closing song, "Elegy," which she'd written for Hendrix. By 1975, she'd lost some very good friends, and 40 years later, she was sure everyone in the room could relate to that loss. Mothers, fathers, sons, daughters, "a beloved cat, a dog." Loss was loss, and none was too small to mourn. As the music faded, she read off names of the gone but not forgotten: Hendrix, Morrison, Brian Jones, Janis Joplin, Joey Ramone, Johnny Ramone, Dee Dee Ramone, Tommy Ramone, Joe Strummer, the Blue Öyster Cult's Allen Lanier (with whom she'd written "Elegy"), Robert Mapplethorpe (their friendship is the subject of Just Kids), her brother Todd, her husband Fred, Kurt Cobain, Amy Winehouse, and finally, her dear and recently departed friend Lou Reed.
The crowd, which had grown quiet in the rhythmic incantation of those names, roared with screams and applause. Smith beamed, told us she loved us all (with or without our pocketbooks and wineglasses), and left the stage. A spent and elated Alexander Skarsgaard slumped down in a chair by the bar. "Wow, wasn't that something?" he said. "Don't you feel privileged to have seen that?" I did, and told him that Patti Smith had even spit on me. "That's awesome," he said. "Never take a shower."