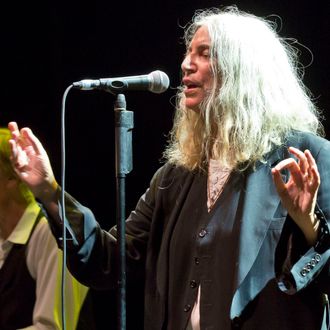 Well, this is a lovely surprise.
Photo: Frank Hoensch/Redferns/Getty Images
If you've stuck around for Aqua Teen Hunger Force's 13 seasons (props to you!), then you're probably already in mourning. This Sunday, Adult Swim's longest-running show will end after 15 years, and the network found the best person to pay her respects: Patti Smith. She performed a short but sweet elegy for the series, in which you'll finally get to hear the words "Meatwad" and "Master Shake" roll off the rock icon's tongue. Rest easy, Aqua Teen.