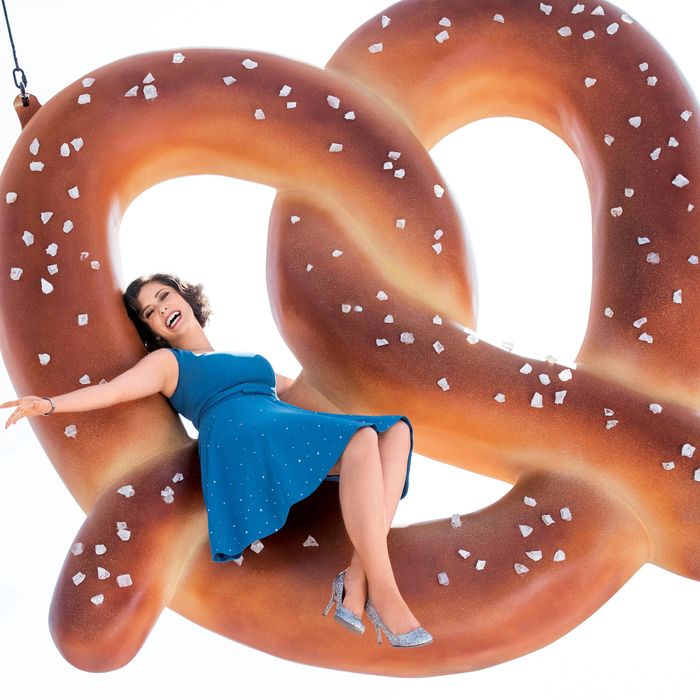 Rachel Bloom stars in Crazy Ex-Girlfriend, a new CW rom-com musical.
Photo: Eddy Chen/ The CW Network
Comedian Rachel Bloom's new CW rom-com musical, Crazy Ex-Girlfriend, promises to take the wacky spirit of her popular online videos to its logical conclusion. Bloom plays a Manhattan lawyer, Rebecca Bunch, who drops everything to follow her high-school ex to dreary West Covina, California. As one does, Rebecca pierces the suburban boredom — and signals some disturbing emotional undercurrents — by breaking into song, occasionally while atop a giant pretzel. 
Here, the 28-year-old Bloom explains how she came to create one of the most eagerly anticipated shows of the fall season.
"How Crazy Ex-Girlfriend got made was a young comedian's dream. I was doing music videos online and they would do well, to varying degrees. [The Devil Wears Prada screenwriter] Aline Brosh McKenna saw them, and the next thing I know, I get an email saying, 'Aline Brosh McKenna and CBS would like to meet with you to discuss potentially making a musical TV show.' We started talking, and Aline suggested a concept called 'Crazy Ex-Girlfriend' — the idea of a woman's perspective on how we come to be crazy, why love makes us crazy, and what does the word crazy even mean.
"People started to call the show 'My Crazy Ex-Girlfriend,' and I was like, No, no, no. This is not a man saying, Oh, my crazy-bitch ex. It was that little addition of 'my' that made me consider that there's this whole other world where men label women crazy when they're not being crazy. That's not what this show is about. This show is about the idea that love and infatuation take the power of your own mind away from you.
"My humor tends to lie in the juxtaposition of extreme lightness and extreme darkness. Later periods of musical theater did what the show is doing, which is mixing the light and the dark. That's what they do in Chicago, in Cabaret, and Stephen Sondheim does it all the time. Crazy Ex-Girlfriend harkens to those composers who took musical theater and put a darker lens over it. The show is Rodgers and Hammerstein with a South Park sensibility."
*This article appears in the August 24, 2015 issue of New York Magazine.