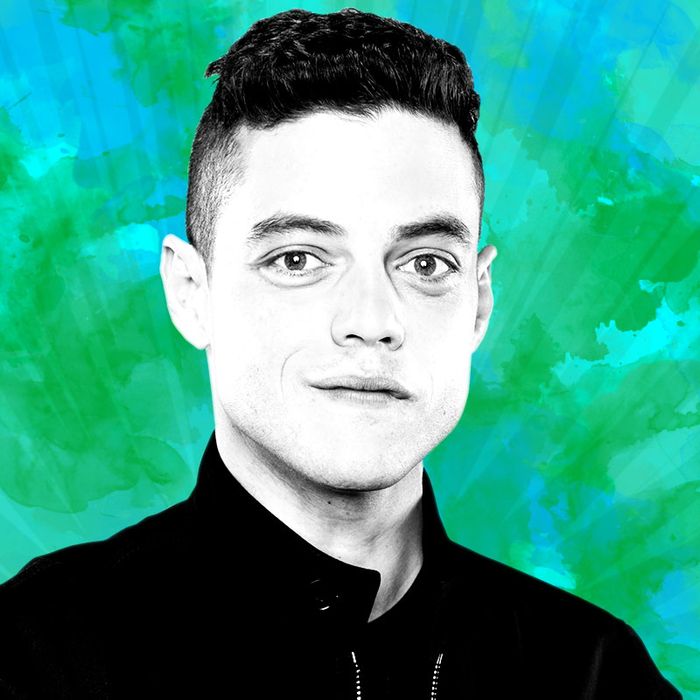 The hypnotic Rami Malek.
Photo: Photo Illustration: Kelly Chiello and Image by Getty Images
For all the obsessing over what the hell is happening in Mr. Robot's breakout first season, at the center of it all is Rami Malek. It's been said and re-said: The actor is riveting in his portrayal of Elliot Alderson, and the show's success leans on him giving one of the most interesting performances on television. But Malek isn't just a great actor: He's an honest-to-goodness, bedroom-poster-worthy crush.
Rami has pools for eyes, and when he speaks, it's with a melodious lilt; he has delightful, elfin ears that sit atop his lithe, five-seven frame. His appeal is unusual: Rami exudes mystery, but he somehow pulls off cute, too. What makes this all beautifully incongruous is that he's on a show like Mr. Robot. There's Rami, playing a deeply depressed hacker on a dense prestige-drama show known for its well-executed twists and cinematic finesse. And yet, even as Rami's buggy eyes radiate with Elliot's crippling loneliness and anxiety, he can make a grown woman feel 16 again. Many fans saw crush potential early on: Rami Malek Online has been following the 34-year-old actor since 2011, and there are countless Instagram and Tumblr accounts documenting his every move. Twitter is buzzing with fans declaring their crushes on Rami, and as crushes go, no one is quite sure how to handle it.
The No. 1 rule of having a crush? Get familiar with your crush.

Remind me, what does my crush look like?
Take a long, hard look.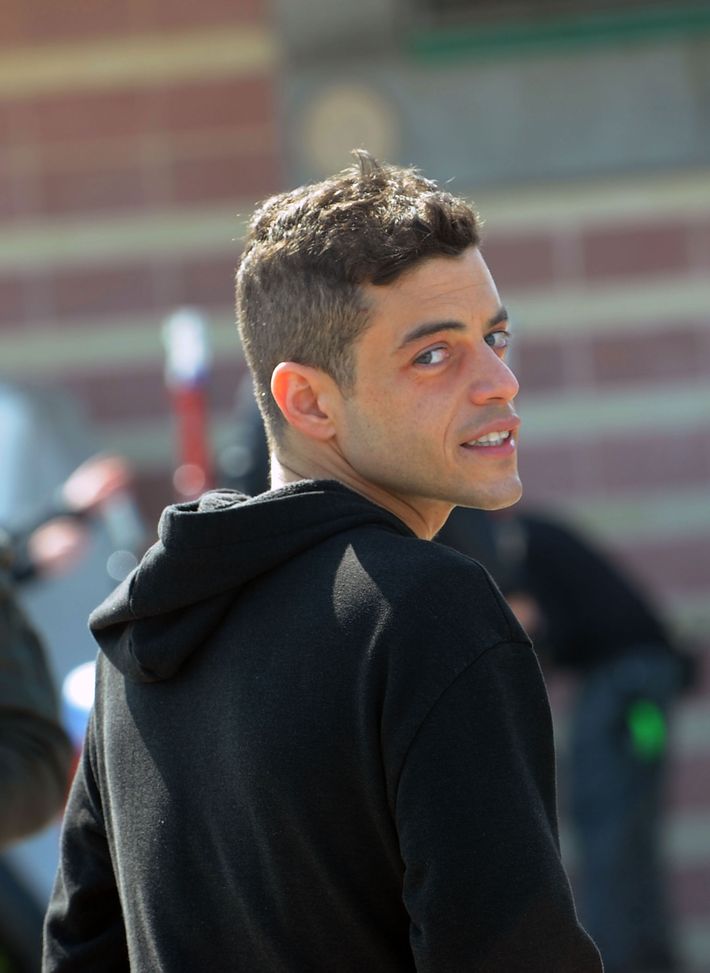 What's his full name?
Rami Said Malek (pronounced Rah-mi Sa-eed Mah-lick).
What kind of name is that?
It's Arabic! Rami Said Malek is Egyptian-American, and our first Middle Eastern heartthrob since Sayid on Lost (played by Naveen Andrews, who is not actually Middle Eastern). The show hasn't directly acknowledged his heritage (yet), but in the real world, there's no way Christian Slater and Rami Malek would share genes.
Who is his real dad, then?
His father was a tour guide in Cairo; he sold insurance door to door when he moved to the United States. He, too, knew there was something about Rami, and told him to do something "special" with his life.

Does he have any other family? You know, like maybe a twin brother I might have a shot with?
You're in luck! Rami has a twin brother named Sami, and he is a teacher. Look how cute they are together here, in 2006: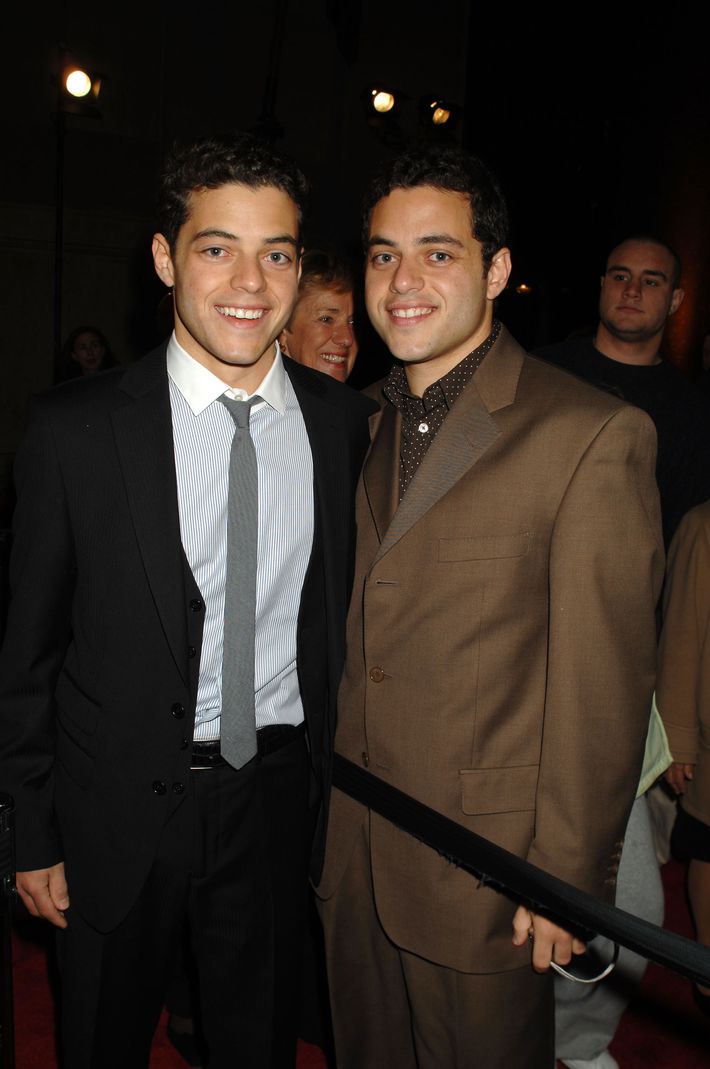 (He also has a sister who's an ER doctor — Rami is very proud of her.)
What did he do before he became my crush?
Rami went to the University of Evansville to study theater, and afterwards he bussed tables and made falafel to make a living. (He still has student loans.) He also acted quite a bit, and quite well, but mostly in forgettable supporting roles.
I don't care! I want more Rami. What else can I see him in?
He started out in 2004, playing bit parts on shows like Gilmore Girls and FX's series Over There (he spoke a little Arabic in Over There, but it's unconfirmed whether Rami's fluent).

Here he is with a curlier pouf, as Lane's fellow Bible study group member, annoying Andy, in the season-four episode of Gilmore Girls, "In the Clamor and the Clangor":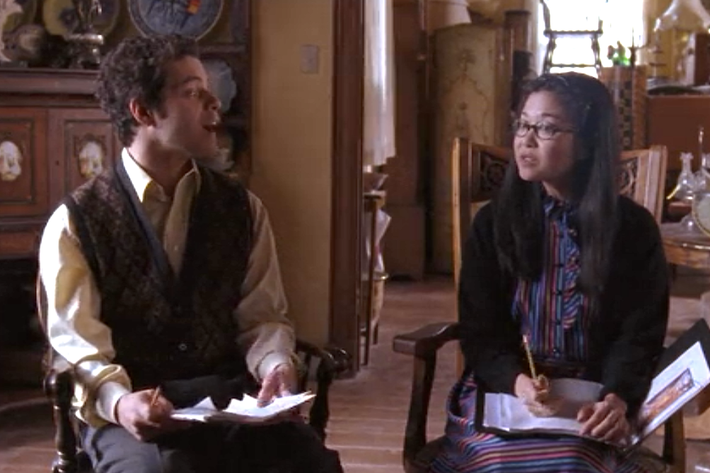 One year later, he played a gay character named Kenny in the regressive 2005 sitcom, The War at Home. The pouf gets less bold:
Rami moved up to bit parts in films, starting with Night at the Museum (2006), and continuing in Night at the Museum: Battle at the Smithsonian (2009), and Night at the Museum: Secret of the Tomb (2014). He plays an Egyptian pharaoh named Ahkmenrah, a role that likely did nothing for his career, but gifted us with this:
What was his biggest pre–Mr. Robot role, the thing I should watch if I really want to get a better sense of his, er, acting?
That would be The Pacific. His most memorable role came in 2010, as PFC Merriell "Snafu" Shelton in HBO's Emmy Award–winning war mini-series. It's a real part, and you get a glimmer of what he's capable below as he coolly delivers the line, "I scrub drums for no man":
Tom Hanks was an executive producer on The Pacific, and Rami caught his eye. He liked him so much he cast him in his next film. Unfortunately, his next film was Larry Crowne.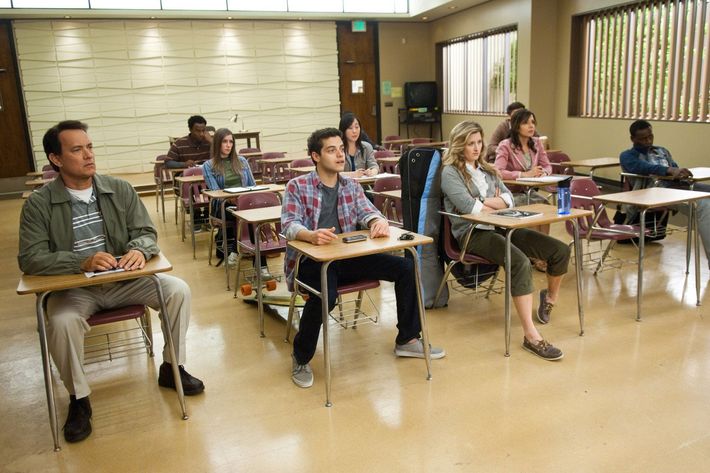 Over the past few years, Rami started snagging small roles in more highbrow films (listen for his southern drawl in indie darling Ain't Them Bodies Saints). But none gave him the space to shine: His part was trimmed down to a death scene in Spike Lee's Oldboy remake, and his role as Clark was cut significantly in The Master.

His last high(er)-profile role before Mr. Robot came in The Twilight Saga: Breaking Dawn – Part 2, which once again made use of his Egyptian heritage — this time to characterize him as a vampire named Benjamin.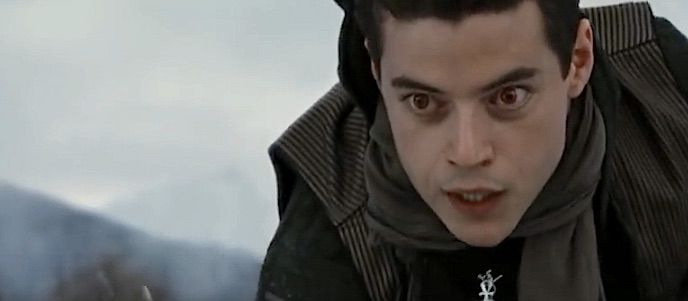 A commenter pointed out a crucial gap in our Rami timeline, so we're making a VERY IMPORTANT UPDATE to this post: In the 2015 film, Need for Speed starring Aaron Paul, Rami strips every item of clothing off, save some colorful striped socks:
Let's get down to brass tacks: Is Rami seeing anyone?
After some desperate Google searching, we can't give you a firm answer. He did get a love interest in Twilight named Tia, played by Angela Sarafyan, and fans thought they were a couple. But only because they did adorable press together, like this:
Well, what is Rami like?
Here are some details we've gleaned: He smiles more than he does on Mr. Robot, which, admittedly, isn't saying much. His drink of choice is a canned beer and tequila. He has opinions on the situation in Egypt. And he speaks passionately about singer-songwriter Laura Marling: "She can just weave a story. It's poetic; it's smart. It's heartfelt and, for me, affecting. I like that. I like it when it infiltrates my whole being." Wow.
What do I do now?
You're an adult. Enjoy your crush! Don't let it crush you.