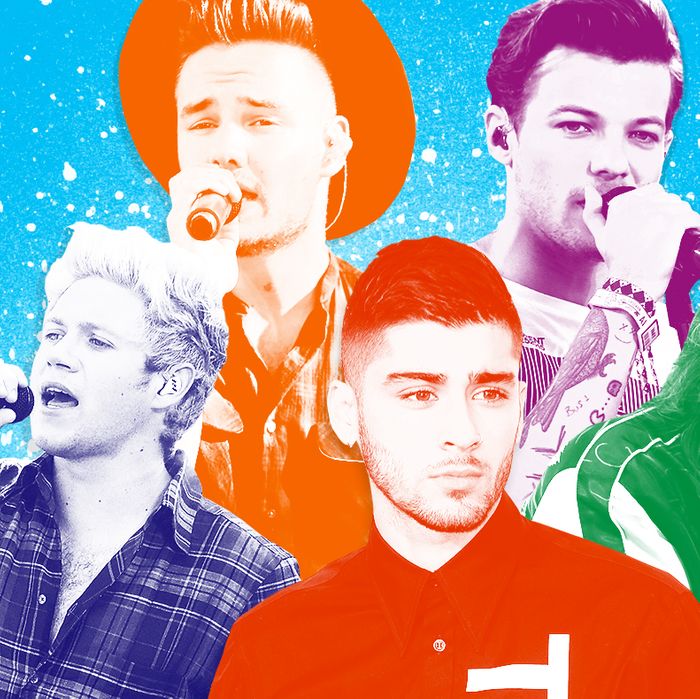 Photo: Illustration: Maya Robinson
For all its perks, being in a long-running boy band these days must also be a bit annoying. Not only is your every move as a group seen as a step towards certain death, but your individual worth is constantly being reassessed based on the likelihood that you'll go on to further success as a solo artist, regardless of how much interest you've actually expressed in being one. With former pop-group members like Justin Timberlake and Beyoncé setting that bar for success so high, it can seem like you're being set up to fail before you even start. I mean, Google "Chris Kirkpatrick 2015."
Though they've couched rumors of a full-blown breakup as a well-earned hiatus in 2016, One Direction — particularly following Zayn's departure —  now live and die in this solo-career arms race. But the thing is, Louis Tomlinson, Liam Payne, Niall Horan, Harry Styles, and Zayn Malik were placed into a band specifically because X Factor judges didn't think they were promising enough individually to move forward as solo artists. One Direction's appeal has always been rooted in its members' ability to bring out each other's best qualities and compensate for one another's weak spots as performers, and they're all better off for having worked together: stronger vocalists, certainly, and better entertainers all around. This isn't a situation where one of them was severely hindered by being part of the group; none of them would exist, culturally speaking, without the group.
But in a world where having an audience is everything, there's little need for the members of One Direction to view a by-the-books solo pop career as their only option for post-band success. The band's fan base has been conditioned to support the boys with open hearts (and wallets) for years now, and if those fans can be convinced to stick around, it doesn't really matter if mainstream pop culture continues to pay attention. There's a whole universe of young people starting music careers off five-second Vines and #aesthetic Instagram accounts because it doesn't really matter what you do anymore as long as people want to watch you do it. One Direction's core fans care about the music, but they also care a lot about the boys, and there's no reason to assume they'll stop caring just because they're not working in unison anymore.
Since their solo careers are the topic of so much speculation this week, it's worth taking a look at which members of 1D could feasibly pull it off. We'll start at the least likely and work our way to Zayn, a beacon of hope in the department of Timberlakeian potential, and give them all individual assessments based on the sweet, sweet songs they've made together.
LOUIS

With all due respect, there is no universe in which scrappy, sharp-edged Louis Tomlinson goes on to a career as a solo artist. With a baby (A BABY!!) on the way and a vested interest in the financial success and reputation of his hometown football club the Doncaster Rovers, ol' Tommo will have enough on his plate in the coming year without entertaining the idea of hanging his reputation on the voice he never had much confidence in to begin with.
Likelihood of traditional solo stardom: "C'mon, C'mon" [sung sarcastically]
Likelihood of landing an X Factor judging gig that perfectly showcases his eye for talent and propensity for mouthing off: "Better Than Words"
NIALL
It's hard to pinpoint the kind of solo career Niall would pursue because it's not clear it's ever occurred to him to think about one. While his musical talents have dramatically improved since his teens — even more so after Zayn's absence forced him further into the spotlight vocally — he's written comparatively fewer songs than his bandmates and doesn't seem to spend much time in the studio, preferring instead a schedule of laid-back middle-aged-dude activities, like day-drinking at tennis matches, golfing with PGA professionals, and hitting up Eagles concerts. Plus, he's easily One Direction's biggest fan. Niall's probably gonna be the Danny Ocean who convinces the others to drop everything for one last big heist.
Likelihood of traditional solo stardom: "I Wish"
Likelihood of going into politics and forming a jam band with some pals on the side: "I Would"
LIAM
As a Bieber-haired teen, Liam's singular focus was to be a pop star. He wanted it so bad that when he got the boot off The X Factor in 2008, he doubled down, got better, and came back in 2010 determined to make it to the finals. Watching him recalibrate his attitude and priorities when Simon Cowell instead threw him in a boy band was like watching a straight-A student forced into planning a group presentation with the charming but ludicrous idiots at the back of the class, but it's the best thing that could have happened to Liam. Present-day Liam is looser, more confident, and still in possession of the boundless energy and disciplined talent it takes to perform in front of stadium-size audiences forever. He's also spent the past few years actively learning the ins and outs of music production, co-writing much of 1D's material with Louis, and releasing remixes under the moniker DJ Payno. These efforts would be a smart long-term strategy for him, as there's a streak of puppy-dog earnestness about him that doesn't necessarily jive with the sex appeal needed to seriously compete in the surprisingly narrow genre that is the solo male pop-star, currently dominated by grown-and-sexy Jonas brothers and a dude who makes a point of showing off D'Angelo–in-his-prime abs. Going it alone wouldn't be the worst idea, but if working in a group rid him of his need to be center stage, he's all set to be an industry mainstay regardless.
Likelihood of traditional solo stardom: "Na Na Na"
Likelihood of Gary Barlow–ing his way into writing the score for a major West End musical: "Ready to Run"
HARRY
Harry, Harry, Harry. The easiest to notice and easiest to love, Harry was pegged as the Justin Timberlake of the group from day one and, as recently as a year ago, appeared to be laying the groundwork to go it alone (at least, that's how cozying up to the Azoff family appears from the outside). Any solo efforts would certainly be warmly received by … well, everyone: fans who've pledged serious allegiance to him; people in the industry who've long been convinced a solo career was his destiny; Average Joes who recognize his name and his effortless charm. But it remains unclear if those ambitions are his, or if they've just been projected onto him. If anything, 2015 has seen him simmer down considerably. Onstage, he's still the buoyant show-pony we know and love, but offstage, he's kept quiet. His social media presence has turned into a sort of robotic repetition of "thank you"s and "all the love"s. His social life has been documented more through stealth fan pics than pap photos. Is he gearing up for something big, or slowing his roll to prep for a proper break? (Either way, he better watch out for Harvey Weinstein, who's likely making deals with every devil he can find in hopes of locking Harry into some kind of lucrative movie contract.)
Likelihood of traditional solo stardom: "Irresistible"
Likelihood of retreating to a Swedish yoga den to meditate and ghostwrite sad love songs for future teen idols: "Everything About You"
ZAYN
Zayn's smoky three-octave tenor and his impossibly beautiful, infuriatingly symmetrical face are reason enough to justify a solo career in the year 2015, but launching and sustaining it will require a different set of tools that Zayn hasn't quiiiite mastered. As soon as 1D left The X Factor, Zayn was dubbed "the Mysterious One" and "the Bad Boy" by media outlets too lazy and/or racist to more accurately portray a soft-spoken Muslim boy who could coincidentally wear the hell out of a leather jacket. Leaving 1D gives him the opportunity to define himself now, and that's great news all around, even for Directioners. His voice and musical sensibilities align well with the kind of artists he's expressed interest in working with (and have expressed interest in wanting to work with him), ranging from Frank Ocean and Tyler, the Creator to Chris Brown and U.K. hip-hop up-and-comers Krept & Konan. With the right producers (like Ocean collaborator Malay), Zayn could be a next-level vocalist with a strong hip-hop-tinged R&B-pop debut and a degree of immediate success as more of a force in the studio than on the road. (Also, Brown could stand to have competition as mainstream rap's male hook-singer of choice.) All this wouldn't erase his history of disinterest in promotional work, his generally muted stage presence, or the disconcerting knowledge of how many bridges he burned in the name of living as a "normal 22-year-old" only to do an about-face and sign a deal with RCA, but it's a very good place to start. His devoted fan base is eager to do whatever they can to elevate his talents, and it probably wouldn't take much to win back the fans he angered by peaceing out of 1D.
Likelihood of traditional solo stardom: "Why Don't We Go There"
Likelihood of eventually becoming the face of a global high-fashion campaign: "Fireproof"