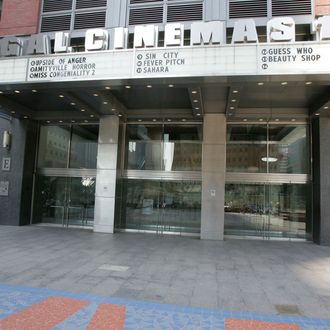 Regal Cinemas 11 in Tribeca.
Photo: Peter Kramer/2005 Getty Images
Regal Cinemas, the nation's largest movie-theater chain, announced it's beginning to search ticket buyers' bags before letting them in, according to multiple reports. The move comes on the heels of an uptick in movie-theater shootings as well as the release of a survey that found roughly half of moviegoers interviewed wanted more security. "Security issues have become a daily part of our lives in America," the company said in a statement. "To ensure the safety of our guests and employees, backpacks and bags of any kind are subject to inspection prior to admission. We acknowledge that this procedure can cause some inconvenience and that it is not without flaws, but hope these are minor in comparison to increased safety." As Entertainment Weekly notes, it's unclear whether the new policy will come with a ticket-price hike (the survey indicated that many people would be okay with a small additional fee). A manager at a Florida location confirmed with news site Local 6 that this is a new corporate security policy.