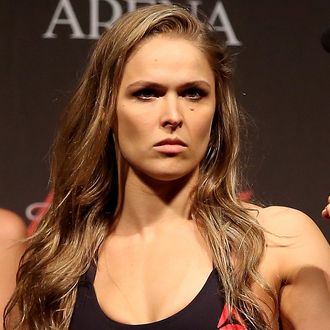 Ronda Rousey.
Photo: Matthew Stockman/Getty Images
In a Reddit AMA last week, MMA fighter Ronda Rousey said she'd "like to vie for Miss Marvel" — if she were to hypothetically star in a superhero movie. Makes sense, as she says, because a lot of the other good ones have been taken. Casual readers and Redditors alike seemed to enjoy the thought of this, though, so some decided to send Rousey fan art of her as Captain Marvel to fuel her silver-screen pursuit. Naturally, Rousey dug this and shared some of the gems for all to see. "Since the Reddit AMA I've received so many badass Ms. Marvel/Captain Marvel edits!" she wrote on Instagram this weekend. "There were so many cool ones I couldn't pick just one to share." The pics are not only cool, but they're also pretty convincing, as far as wish-list castings go. I mean, hey, it's not like the UFC bantamweight champion hasn't had any experience in the spotlight — not to mention she'll have a chance to hone her acting chops beforehand. Right?
Anyway, here are the pics, in all their superheroic glory:
Fingers and toes crossed for 2018, Ronda.