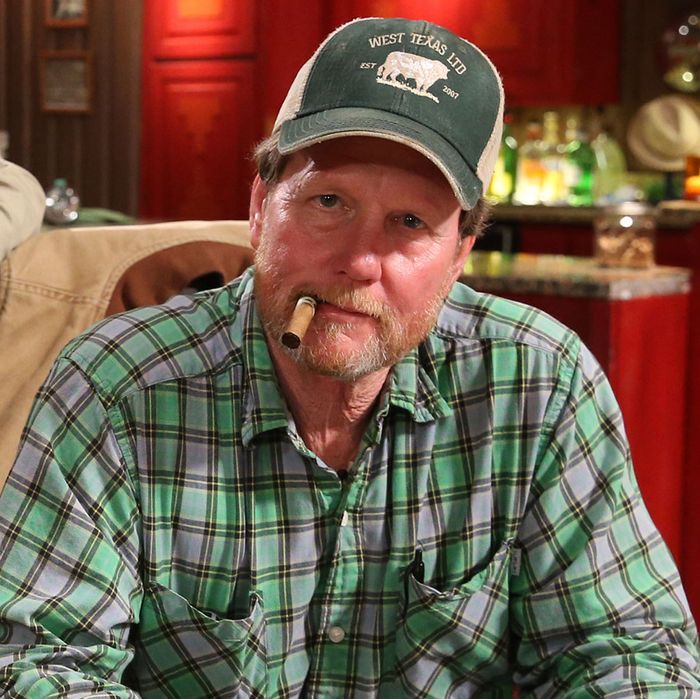 Rooster McConaughey, in the role.
Photo: Jesse Grant/CNBC
Rooster McConaughey is not, of course, the most famous member of the McConaughey family (that would be his younger brother Matthew), nor is he even the most famous celebrity sibling nicknamed Rooster (that would be David Sedaris's oft-written-about brother Paul). But Michael "Rooster" McConaughey, age 61, would like to make your acquaintance, as one-half of the duo hosting West Texas Investors Club, a new reality show on CNBC. The show might best be described as Shitkicker's Shark Tank: The premise is that Rooster and his partner, Wayne "Butch" Gilliam, have both made millions (the exact number of millions is unspecified) doing work related to oil pipes, and now they're going to invite entrepreneurs to pitch them with ideas in which they might choose to invest.
The show's payoff hinges on the juxtaposition of their authentic good ol' boy sensibilities and the world of business; to that end, Rooster and Butch appear in trucker caps, fire shotguns, shotgun beers, and chomp cigar stubs. "Just because you have an MBA doesn't mean you know [bleep]!" Rooster declares on the show. (The bleep is the show's.) The extent to which these outsize characters reflect Rooster and Butch in real life is unclear; what silent film directors used to do with actresses, Vaseline, and camera lenses, reality shows tend to do with facts — distort them just enough to achieve the desired effect.
"You want to get to know a man and look into his soul, have a beer with him," says Rooster on the first episode, so here I am, having a beer with him, at Doc Holliday's, a cowboy-themed dive in the East Village. Rooster and Butch arrive, along with one of the show's producers and at least three publicists. Rooster decides to order a Miller Lite, which is his favorite beer, as evidenced by the fact that he has a son named, no joke, Miller Lyte. The bartender eyes Rooster warily; his family resemblance to Matthew, though discernible if you're looking for it, is not so obvious as to set off any squeals of recognition. She explains to him that they don't stock Miller Lite. "We have Bud Light," she offers.
"No, no, no, no, no!" says Rooster, smacking the bar, cigar stub wedged in his mouth. He's wearing a mesh-backed ball cap that reads "WEST TEXAS" and has on a plaid workman's shirt that's part of his show wardrobe. He slaps a kid on the back who's sitting at the bar. The kid, maybe mid-20s, has just a regular ball cap on, the kind affiliated with a sports team. The kid also seems confused, and amused, to have somehow stumbled into a spontaneous reenactment of Hee Haw. "What are you drinking?" Rooster asks. The kid recommends a Mermaid Pilsner. Rooster does not, to my knowledge, have a kid named Mermaid Pilsner, but he's willing to give the beer a try. He buys one for himself and one for me, and, what the hell, one for the kid. (Technically, the publicity company, or the production company, buys the beers.) Then Rooster, Butch, the producer, two publicists, and I retire to a sunlit table by the window.
Rooster and Butch outline their investing philosophy: They're just as interested in what kind of person you are as what kind of product you're pitching. Rooster, in person, looks exactly like he does on the show, and more or less as he did during an appearance on Jimmy Kimmel when he and Robert Duvall sent a photo of their nethers to Howard Stern as a birthday gift. He looks quite different than he does in the one non-show-related photo I found of him online — it's on the website for LP Ranch, a cattle ranch he owns that sells bulls, quarter horses, and herd sire services, as well as provides guided hunting trips. On the "Meet the Staff" page, there's a photo of Rooster in a blazer and dress shirt, no ball cap, no cigar, with his wife and two of their kids. It's hard to know which version of Rooster — the one on the website,  or this one seated in front of me — is a pose, or if they're just two sides of the same multitudes-containing Texan. "Hell, everybody's in a reality show now," says Rooster. "It's not like we're no big shots!"
Rooster had a small role in Matthew's 1998 film The Newton Boys, but I asked Rooster if his famous brother had any advice for him now that's he's plunging more fully into show business. Rooster shifts his cigar. "He said, 'Brother, nobody is better at being themselves than you. You're the greatest guy in the world I've ever known at being yourself. If they'll let you be yourself, it's going to be great.'"
"Here's what I always tell people: You don't really change in this world," says Butch, gnomically. "You just become different, as the circumstances around you change."
One of the show's producers, seated within earshot at a nearby table, looks up from his phone and interjects. "These guys won't tell this," he says. "But we have a 65-person crew. And on the last day of shooting, they called the entire crew into a room, and they had beers for everybody, and they called out every single crew member by name and had an anecdote about every one. The entire time I've been in the entertainment business, I have never, ever seen any form of talent do that, let alone the two stars of the television show. So these guys are absolutely, 100 percent not full of shit." He takes a beat, for the joke. "Except when they're full of shit." Then he goes back to looking at his phone.