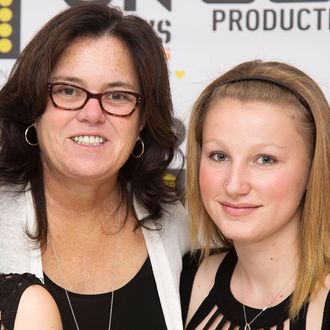 Chelsea (right) and Rosie O'Donnell.
Photo: Ben Hider/Getty Images
Rosie O'Donnell says her 17-year-old daughter Chelsea has been missing for a week, after disappearing from the New York City suburb of Nyack in Rockland County. According to a post on O'Donnell's website, Chelsea was last seen on August 11, wearing "a black sweatshirt hoodie, dark ripped blue jeans, women's grey converse sneakers and a black backpack." She reportedly left with her therapy dog and is thought to be off her medication. O'Donnell adopted Chelsea in 1997; in March, Chelsea's biological mother Deanna Micoley accused O'Donnell of "stealing" her daughter, saying the comedian was aware that Micoley's drug addiction left her unable to properly consent to the adoption. Today O'Donnell's representative said in a statement, "Chelsea, like millions of people, lives with mental illness. It has been a difficult road for Chelsea and her family and they just want her back safe."
Update: Chelsea was reported found and safe later on Tuesday evening.