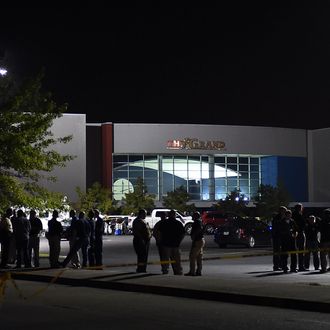 Scene from the recent Lafayette shooting.
Photo: Stacy Revere/Getty Images
On the heels of recent movie-theater violence, Variety reports that roughly half of moviegoers have said they'll pay more to boost security for their outings. Using a survey conducted by consumer research firm C4, the trade found that "48% are fine with paying $1 or more for the additional measures," which would hypothetically include armed security guards and metal detectors, but that "only 23% said they would pay $2 or more." After an unsettling incident with a hatchet occurred in Nashville earlier this month, Variety notes, the number of people willing to pay as much as $3 or more also jumped 6 percent (to 19 percent).
"Moviegoers are telling us that they're starting to see the value of security," a C4 executive told Variety. "Hopefully they're beginning to value it the same amount that they value IMAX or 3D, where they recognize that you have to pay more for … a safer experience." (C4 polled 500 moviegoers from August 6 to 7 for the study, which reportedly has a margin of error between 5 and 6 percent.) The downside, according to experts who spoke with the trade, is that the added measures would have to spike movie-ticket prices by at least 30 percent and could provide logistical challenges — or even hamper the overall moviegoing experience. The upside: Variety adds that moviegoers are so far not majorly deterred by or fearful of the recent surge in violence — just 9 percent of ticket buyers said the total number of movies they plan to see this year will decrease.