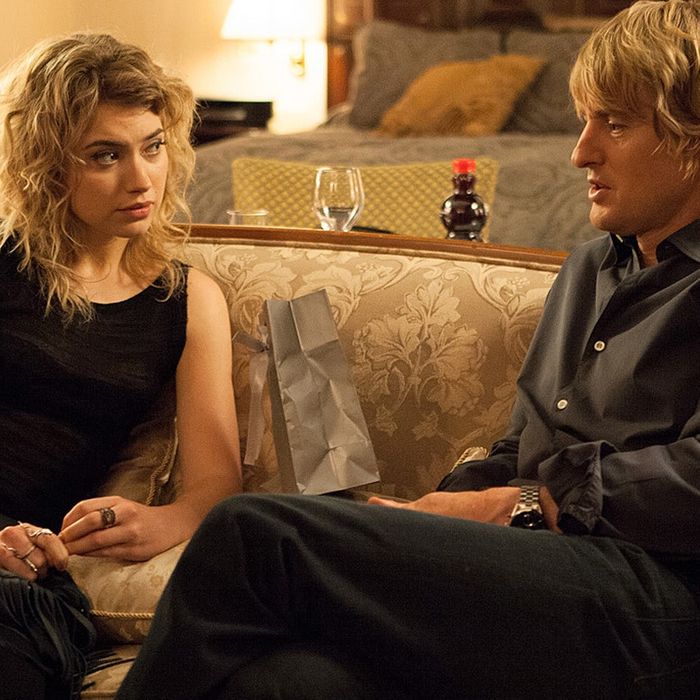 Peter Bogdanovich's She's Funny That Way begins with what amounts to a challenge. An onscreen title tells us that Hollywood's biggest star is meeting a cynical journalist "offended by the slightest hint of fantasy." We then see said star (played by Imogen Poots) and said journalist (played by Illeana Douglas) sitting there discussing the magic of old-fashioned showbiz yarns. Specifically, they discuss how Lana Turner was allegedly discovered by Mervyn LeRoy at Schwab's Pharmacy one day in 1937. The journalist disputes the myth — it was actually an editor at The Hollywood Reporter and not LeRoy; it wasn't Schwab's; yadda yadda — but our star is having none of it. She believes in happy endings and glamour, and she's tired of reality. And so, too, is this film.
I wish I could report to you that this proudly old-fashioned screwball comedy was a return to form for Bogdanovich, who once translated his love of such fare like Bringing Up Baby into 1972's brilliant Ryan O'Neal–Barbra Streisand starrer What's Up, Doc? and the later, much-dismissed but frankly still pretty good They All Laughed. He still has an eye for classical compositions and an ear for the cadences of bygone comic genres. She's Funny That Way often displays an old-school generosity and polish, and at least one breakout performance — but just as often, its moments of inspiration are tempered by miscasting and shrill attempts at humor.
Poots plays Isabella, or Izzy, an aspiring actress moonlighting as a prostitute (or, as she calls it, "a muse") who gets called in to service hotshot theater director Arnold Albertson (Owen Wilson). He's in town by himself for one night before his wife and kids join him the following day. But he's so taken with Izzy that after spending one night with her, he offers her $30,000 if she'll quit being a hooker, no strings attached; she need not see him again. We learn, soon enough, that he does this to many girls that he hires. He loves the high of changing their lives for the better.
The real complications start when Izzy unwittingly shows up the following day to audition for Arnold's latest production, which turns out to be a play about a call girl. And, go figure, she nails the part. The problem? Her co-star is Albert's wife, Delta (Kathryn Hahn), and her other co-star is Seth Gilbert (Rhys Ifans), a big-shot movie star who not only knows about Arnold and Izzy but is also still carrying a torch for Delta, and therefore eager to get between her and Albert. And the playwright, Joshua (Will Forte), who falls in love with Izzy right then and there, is the boyfriend of Izzy's psychiatrist Jane Claremont (Jennifer Aniston). And Joshua's father (George Morfogen) is a private eye tailing Izzy on behalf of a married judge (Austin Pendleton) and former client of hers, who's become obsessed with Izzy. Oh, and he's also seeing Dr. Claremont.
Did you get all that? Don't worry if you didn't. In such farcical scenarios, the specific intricacies don't quite matter so much as the very idea of intricacy itself: We're supposed to get off on the sheer energy of the complications. But that requires both a script that winds up the craziness and performances that can carry it off. And She's Funny That Way isn't particularly tight, either in conception or execution. It was written by Bogdanovich and his ex-wife Louise Stratten around a decade and a half ago, and has been revised over the years to reflect new casting choices and other elements. That might explain its patchwork of tones.
You can sense the problems early on, as Wilson's Albert sits in his hotel room with two phones, dialing the escort service on the first one while fielding other calls, including one from his wife and kids, on the second. The lines aren't all that funny to begin with, but more important, the actor can't muster up the madcap energy to make the back-and-forth work as he switches between phones and identities; his affable attitude feels totally wrong for this. He does fare better in later scenes, when he has to try and slink away, in his laconic, Owen Wilson–y way, from further situations that could get out of hand. He's likable, but inert. (I gather that the character was originally written for the late John Ritter; that makes a lot more sense.) Meanwhile, Aniston, who has to play an agitated stick in the mud (her character once wrote a book called Rainbows and Unicorns: Finding Your Softer Side, but later followed it up with one called Bitchy Is Beautiful), manages to make her character thoroughly unpleasant without finding whatever it is that will make us actually want to watch her. As a result, her presence, which should enhance and escalate the craziness, actually slows things down; you have to remind yourself who she is every time she shows up.
Among the film's star-studded cast, two of the leads fare quite well. Poots's broad gestures and exaggerated delivery (complete with an adorably overdone Brooklyn accent that turns "muse" into "myoooz") are nicely in tune with the film's heightened, unreal atmosphere. And Ifans is clearly having loads of fun as the sneering, scheming superstar eagerly waiting for the chance to pounce on his old flame. Other stars and well-known faces show up here and there: Michael Shannon pops in as a security guard, Tatum O'Neal as a waitress, Graydon Carter as a limo driver. Bogdanovich's ex Cybill Shepherd plays Izzy's mom. Hell, even Quentin Tarantino materializes at one point. Is it distracting? Sure. But it also helps the pageantlike atmosphere of the film, reminding us that nothing here is to be taken too seriously.
And the script has moments of humanity that one can appreciate, particularly in light of other films out there right now. In fact, it's hard not to look at another of this week's releases, the Pierce Brosnan–Salma Hayek rom-com Some Kind of Beautiful, which also revolves around a string of adulteries, and not feel like She's Funny That Way has at least done the work of finding some semblance of inner life for its characters. Everybody in this movie has his or her reasons for doing what they do, and Bogdanovich is not afraid to let them be. She's Funny That Way isn't a particularly good film, but you might still find yourself glad it exists.