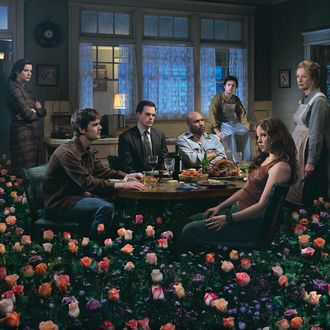 Six Feet Under.
Photo: HBO
To celebrate the tenth anniversary of Six Feet Under's series finale, Rolling Stone has published a new comprehensive oral history about the legendary HBO show. To be expected, the piece is full of fun-fact ephemera: Six Feet's cast and creator Alan Ball talk about everything from creating the family ("I never thought of [the dad] as a ghost") and HBO critiquing the pilot ("It feels kind of safe. Could you make it more fucked up?") to internalizing the episodes ("I remember it like a life I lived") and nailing the end ("Somebody in the room said, 'We should just kill everybody.' And I was like, yeah, that's funny").

There's also talk of interesting (but definitely game-changing) alternate casting, which, according to Ball, involved Law & Order: SVU's Chris Meloni, as well as anecdotes about how key characters nabbed their parts:

Ball: I don't really write characters with specific actors in mind. Once I started considering casting after the script was finished, I was thinking about Chris Meloni and Justin Theroux as being the two brothers, because I thought they looked like siblings and they were both two actors who I really admired. But Chris got the SVU thing before we went into production.

And I did have Freddy Rodríguez in mind because he'd done a couple of guest spots on Oh, Grow Up and there was something about him and his intensity that I just thought was great. But I didn't offer roles to anybody. Everybody came in to read. We did some casting out here in L.A.; Rachel was in Australia, but came to L.A. for it. Then I went to New York, which is where Michael Hall, Mathew St. Patrick [who played Keith, David's boyfriend], Frannie Conroy, and Richard Jenkins were.

Freddy Rodríguez ("Federico 'Rico' Diaz"): I just remember getting an invitation to a party at Alan's house and we chatted a bit. And about a week later a got the script for Six Feet Under in the mail, and I was like, 'That's interesting. I was just at a party at his house and he didn't mention it." So I met with him and [executive producer] Alan Poul and the HBO folks to audition. And I got it.

During the first week of shooting, he pulled me to the side and said, "You know, I wrote this with you in mind." I was so floored when he said that. He had just won an Oscar, and now's he's trusting me so much with this character. So I felt a deep, deep sense of responsibility to deliver. It paid off: I was nominated for an Emmy, and the rest is history. But I always kept that sense of 110% work ethic about me because of what Alan did.
You can read Rolling Stone's whole oral history here, and check out our own, specifically about the finale's death montage, here.