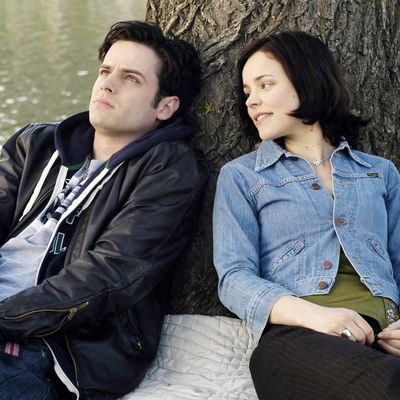 Slings and Arrows, Luke Kirby, Rachel McAdams, 2003-06. © Rhombus Media / Courtesy: Everett Collection
Photo: Rhombus Media/Everett Collection / Everett Collection
Perhaps you've watched True Detective and thought, I wish Rachel McAdams had more to do. Or maybe you're watching Rectify and thinking, I love this, but my heart yearns for more Luke Kirby. Maybe the end of Degrassi: The Next Generation leaves you craving Canadian excellence. That means now is the time, finally, to watch Slings and Arrows.
Watching True Detective squander McAdams was one among many irritants this season, especially since she's capable of adding texture and spark in even a smaller role. As Kate on Slings, she's the understudy who knows better — happy to be cast, sad that she's not really cast, and trying not to be bitter that the actual Ophelia is such a wreck. Her smarts and capability of course find her pairing off with Jake (Kirby), who's more famous but less theatrical.
But there was a place, in Canada, in 2003, when McAdams was dazzling, and lo, it was lovely. You shouldn't need a new reason to visit the fictional New Burbage Festival, but now you have one.
S&A — available on Hulu Plus and iTunes and DVD — is a three-season Canadian dramedy set within a small Shakespearean theater company. In season one, they perform Hamlet; in two, Macbeth; in three, King Lear. The better you know the play, the more resonance you'll find in the season — though zero knowledge of the plays is fine, too. The seasons are only six episodes each, and the cast changes slightly season-to-season. McAdams and Kirby are only in season one, alas, while Sarah Polley and William Hutt are in season three. But our central figures remain the same: Geoffrey (Paul Gross), Ellen (Martha Burns), and Oliver (Stephen Ouimette). Geoffrey was once the star of the company, until he had an onstage breakdown and spent the last several years in a psychiatric hospital, but now he has returned to be artistic director. Ellen, his ex-girlfriend, is the lead actress, talented but not well-liked. And Oliver, who had been the artistic director, well, died. He appears throughout the series as a ghost — or is it a hallucination? You know, Hamlet-style.
The show was co-created by Bob Martin, Susan Coyne, and The Kids in the Hall's Mark McKinney, and it manages to be a workplace drama, a romance at certain points, a surprisingly thorough investigation of various Shakespearean themes, and maybe the most thoughtful show I've ever seen about actual, but ordinary, adult problems. I have debt, say. Or, I thought I'd be further in my career by now, and maybe I wish I had picked a different path — but it's too late. Or, Wow, I have really and truly fucked up, and that hurt a lot of people. Plus, jokes! Lots of jokes.
I've seen this show probably a dozen times, but I am always captured by the decency it shows to even its most slithering villains. Even the idiots are smart in their own ways. People crave expression and connection, though sometimes the ways they seek that out seem crass or commercial or just plain dumb. The only way to make good art is to make bad art, too; you just have to stop it with the bad stuff eventually. At only 18 episodes, Slings is, luckily, all good stuff, season one especially. Plus, a pre–Mean Girls McAdams. Wins all around.