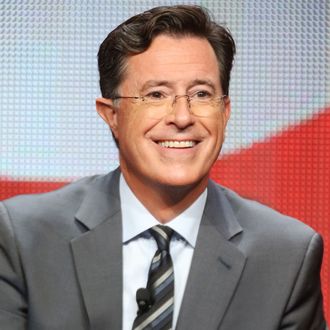 Colbert.
Photo: Frederick M. Brown/Getty Images
The much-anticipated first episode of The Late Show With Stephen Colbert is just around the corner. You know you can at least expect George Clooney and Kendrick Lamar — but who else? CBS wants to put your high-stress curiosity needs at ease and has announced the full lineup for Colbert's premiere week; thankfully, it's a healthy mix of representatives from the realms of politics, music, film, TV, comedy, books, business, and science. (So we'll probably learn something and have fun, and how great is that?) No word yet whether Mitt Romney will get his pancakes or not, but you'll at least get to see ScarJo, Amy Schumer, and Toby Keith, among others. That's good, right? Right!
Here's the roster:
September 8 

George Clooney

Jeb Bush

Performance: Jon Batiste and Stay Human (plus "special guests")
September 9

Scarlett Johansson

Elon Musk

Interview/performance: Kendrick Lamar
September 10  

Uber CEO Travis Kalanick

Performance: Toby Keith
September 11

Amy Schumer

Stephen King

Interview/performance: Troubled Waters
Solid. That first date is a Tuesday (11:35 p.m. ET/PT) — mark your calendars, set your alarms. Colbert is close.