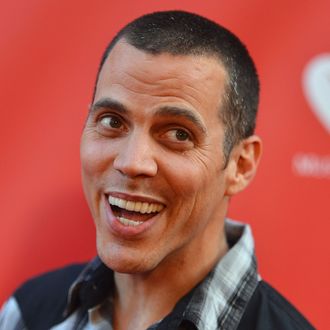 Steve-"SeaWorld Sucks"-O.
Photo: Frazer Harrison/Getty Images
Steve-O, the former Jackass and Wildboyz star who has become a known anti-SeaWorld activist, was arrested in California late Sunday night after attempting a dangerous, attention-grabbing stunt, the Los Angeles Times reports. (He's still got it!) Scads of firefighters and police officers flocked to and closed down a busy street in West Hollywood when they caught wind of what they thought was a civilian's suicide attempt. It wasn't anything that grave, though: Steve-O had climbed atop a crane with an orca — a stunt he teased the day before on social media — and wanted to make a statement.
"This is Shammy," he said on Instagram, holding a pic of an inflatable killer-whale toy, on Saturday. "We're going to do a big dangerous stunt in Los Angeles tomorrow that will probably get me in a lot of trouble." He was right. Upon coming down, Steve-O was reportedly sent quickly on his way to be booked on "suspicion of trespassing, setting a firework without a permit, filming without a permit, and conspiracy to commit a crime," though investigators are still determining what charges apply to what he was trying to accomplish, according to the Times. Evidently, Steve-O wanted to draw attention to the famous Stateside aquatic zoological and amusement park, which has come under fire lately for its alleged controversial treatment of orcas (popularly documented in the film Blackfish). When all was said and done (Steve-O set off some fireworks), it seemed the stunt had caused more frustration than any actual trouble. "We have other people we need to attend to," a local police official told the Times, which noted that more than 30 LAPD officers and 80 firefighters were on the scene.
Steve-O chronicled much of the stunt, in vignettes and pics, on his Facebook:
At time of publication, the last remark from Steve-"SeaWorld Sucks"-O was "Anyone wanna bail me out of jail?"
Where is Party Boy when you need him?