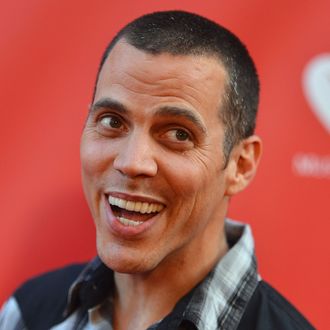 Steve-O.
Photo: Frazer Harrison/Getty Images
Former Jackass star Steve-O has nabbed five misdemeanors for his dauntless SeaWorld protest stunt from earlier this month in Hollywood, according to ABC 10. Steve-O's reportedly being charged by the L.A. City Attorney's Office with one count each of trespassing, creating a false emergency, using unregistered fireworks, storing fireworks without a permit, and possessing fireworks without a permit. If he's convicted, ABC 10 notes he could face up to four and a half years in jail, as well as up to $4,500 in fines.
Authorities were frustrated with Steve-O over the incident because it resulted in an unnecessary amount of police and fire squads arriving on the scene for what was essentially a nonevent. Steve-O, however, had no sympathy, saying after the incident: "For God's sake, get a pair of binoculars. … I used binoculars to make sure that the hatch was open. … (With binoculars), you'd be able to recognize, 'Hey, that's Steve-O filming himself with an inflatable killer whale,' after he had posted that he was gonna do that to millions and millions." ABC 10 adds that the City Attorney's Office is seeking restitution because of the stunt, but has not explained why. Steve-O's due in court August 31.