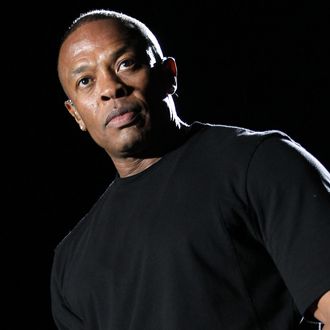 Get to streaming!
Photo: Karl Walter/Getty Images
A day ahead of schedule, Dr. Dre is streaming his first album in 16 years, Compton: A Soundtrack by Dr. Dre, on Apple Music. As warned, it's no Detox — though we'll never be sure what survived from that era — but rather a vital rap opera to serve as supplemental listening for the upcoming N.W.A biopic Straight Outta Compton. It's a titanic undertaking that folds multiple narratives (that, somehow, still feels like a unified concept) into those storied Andre Young beats, as colossal and unpredictable as ever. While Compton's introductory news flashback would suggest an album stuck in the past, Dre's third LP is as concerned with relevant urgency as it is legacy-making.
You'll hear Dre and the rest of the album's cast of voices both familiar (Kendrick Lamar, Eminem, Ice Cube) and lesser-known (Anderson Paak and King Mez give standout performances) contextualize #BlackLivesMatter with passages on black pain and perseverance. When we hear a woman murdered in a skit, Compton hits a dark hole it slowly works its way out of by the time Dre presents the album's stunning closing shot.
Peppered among this soul-searching, Dre offers up an all-too-timely warning on beef etiquette to rap's new class on "Talk About It": "If you wanna beef, make sure that's something you wanna do." With good reason, Kendrick doesn't take Dre's advice on "Deep Water," where he takes a swipe at Drake ("Motherfucker know I started from the bottom") and ultimately proves himself a worthy torchbearer for his Aftermath mentors. Of course, Lamar isn't the only Dre protégé who showed up to Compton at fight weight. Eminem might just have the album's strongest guest feature (and certainly his personal best verse since "Rap God") with penultimate track "Medicine Man."
Even if you're partaking in a cursory Compton listen out of sheer curiosity, pay special attention to Dre's masterclass of a remix to Bone Thugs-N-Harmony's "Foe tha Love of $," an early standout.