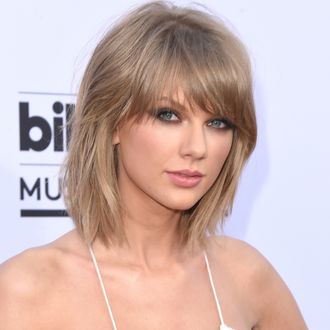 T-Swift.
Photo: Jason Merritt/Getty Images
Taylor Swift's 1989 North American tour is bananas. The reason being it's not wholly a 1989 tour; it's almost more a hey-look-at-my-ever-growing-squad-and-pop-culture-domination tour. And it culminated this weekend with pies, Fetty Wap, and "Trap Queen." Lately, Swift has made it a habit of asking the celebs she admires to pick a city of their choice on her travel slate and then join her there for the concert. (Yes, very clever way for her to hang out with her friends and work, instead of getting into trouble for neglecting them or being too busy.) She's already had Lorde, the Weeknd, Jason Derulo, and Nico & Vinz — as well as the less musically inclined, but still badass, Gigi Hadid, Karlie Kloss, and Lena Dunham — make appearances. Saturday night in Seattle, however, T. Swift decided to really flex. It was time to have Ciara and Russell Wilson. (Just kidding, but not really.) It was time to have them and hit the bando; it was time to cook a pie with her babies; it was time, really, to perform a duet with Fetty.
And my, what a duet they performed. Here are a few different looks:
Here's a full clip (either from the nosebleeds of CenturyLink Field or somewhere in Oregon):
T. Swift was really into it:
Thankfully, Vince Staples was, too:
(Still pending response from Swift.)
And, yep, so was Tay's new buddy, Fetty:
"Trap Queen" expert-at-large Blake Griffin unfortunately hasn't said anything about this whole thing yet, so we'll just refer you to Doug Funnie in the meantime.