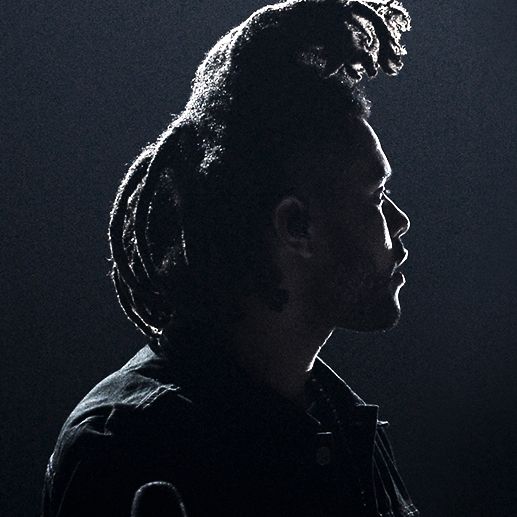 The Weeknd.
Photo: Illustration: Maya Robinson and Photo by Kevork Djansezian/Reuters/Corbis
By now you're well acquainted with the Weeknd, a.k.a. enigmatic singer Abel Tesfaye, who combines an angelic pop voice with lewd, gothic R&B and downtempo, of-the-moment electronic production — and somehow, ends up at the top of the charts. His sophomore LP, Beauty Behind the Madness, just debuted at No. 1 on the album chart, thanks to one of the larger opening sales weeks of 2015. But not very long ago, in 2011, Tesfaye was a relatively obscure artist in Toronto, averse to the spotlight and comfortable with his own brand of success. Today, the self-professed "man of few words" is sharing a stage with Taylor Swift, starring in Apple Music commercials with John Travolta, popping up on Kanye West's "dance music" playlist. How did this happen, and so quickly? Tesfaye has struggled in his infrequent interviews to articulate his rise, so we got a few people in his creative orbit to explain the elusive Canadian's transition from cult favorite to one of the year's biggest pop phenomenons.
A Mysterious Mixtape Signals a Promising Start (2011)
Following tastemaker buzz surrounding his initial anonymous singles posted on YouTube in late 2010, the Weeknd dropped his debut mixtape, House of Balloons, out of nowhere in March 2011. It's an eerie, drug-obsessed reverie with samples from dark '80s alt acts like Siouxsie and the Banshees and Cocteau Twins, and sounded like an entirely new form of R&B. DJ Mano, who produced Beauty Behind the Madness highlight "The Hills," remembers first hearing the song "Loft Music," which samples Beach House's gauzy dream-pop favorite "Gila." "I thought it was dope," he says. "I wasn't really peaked on it, but then so much more buzz started to come in because people didn't really know anything about who this was. Then I heard 'What You Need,' and I was like, 'This is hot as fuck.' That solidified it right there, that one song. After that I just kept selling him to other people who didn't know who he was."
Another early fan was Nate Albert, an A&R executive at Republic Records. "I knew Abel was going to be big after he put out House of Balloons," he recalls. "It sounded like he was merging goth, dark-wave, and R&B with a punk-rock sensibility. It sounded like something completely new." Once Albert found out that the Weeknd was Tesfaye, he ended up "following him around the world for 18 months," meeting members of the XO Crew, the Weeknd's independent artist collective, and early collaborators like Doc McKinney and Jeremy Rose. "We went out to dinner and hung out with Doc and the other guys working, but he hadn't played a show yet," Albert says. The Weeknd played his first show at the Mod Club in Toronto that same year. "It was crazy," Albert adds. "It was totally sold out. The audience knew every word to every song. It was very, very odd. He was standing there very still and the whole crowd was singing along. It was an incredible moment."
That night Tesfaye was "nervous as shit," said Lamar Taylor, the Weeknd's high-school best friend and a member of the XO Crew who works on marketing and visuals. "He was calm, but still nervous. It's sort of crazy going from no one knowing you to selling out the Mod Club in a matter of seconds. But he was nervous in a good way. He performed House of Balloons front to back. As soon as he hit that stage, he killed it."
Nabbing That Drake Co-Sign and Going Major (2011–2012)
The Weeknd released two more mixtapes, Thursday and Echoes of Silence, and he began to feel there were "two worlds I have been stuck in" — the underground and the mainstream. On "Rolling Stone," a sorrowful and unadorned acoustic song off Thursday, the Weeknd addresses his conflicted feelings about transitioning to the mainstream, singing in a somber falsetto, "I think I'll be different, I hope I'm not different, and I hope you'll still listen." By the time of the song's release, fellow Toronto native Drake had enlisted the reluctant artist to work on his forthcoming album, Take Care, the two of them taking the stage together at Drake's OVO Fest. The spotlight seemed unavoidable.
"I really think he knew where he was going to be musically in his life," Taylor says. "Where he is now, he predicted it years ago. 'Rolling Stone' was foreshadowing, and letting his fans know, no matter how big I get, no matter if the mystery fades or not, I'll still be the Weeknd. No matter what."
The first step in Albert convincing Tesfaye to sign with Republic was negotiating a "strategic partnership" rather than a traditional record deal. "In the beginning, it was like, 'I'm not really interested in doing press or interviews. I'm not interested in playing the game in that way,'" Albert paraphrased of Tesfaye's attitude. "For me it felt like, 'No, all of this stuff could be culturally much bigger, that the songs and his voice should be on radio, and he should be filling arenas.' I think that was all something that the label could help do for him." The first release in this partnership was Trilogy, all three previously released mixtapes repackaged as a single three-disc set.
It was also around this time that Stephan Moccio, the in-demand songwriter who has worked with everyone from Celine Dion to John Legend, first heard the Weeknd's music. "I was in Toronto and I was working at my studio downtown and a friend at the time said to me, 'You know this guy the Weeknd is blowing up virally, and I really think that you and him should do something great together.' So I listened to him, and I loved his voice, loved it. That was my first taste of the Weeknd. He wasn't on mainstream radio then, and he was still blowing up. Something was just connecting with people." Moccio and Tesfaye would eventually collaborate together on "Earned It" for the Fifty Shades of Grey soundtrack, as well as Beauty Behind the Madness.
Graduating From the Mixtapes With Kiss Land (2013)
The Weeknd's proper debut LP for Republic, Kiss Land, retains the sinister romance of the early mixtapes, but its underlying mood is that of a man conflicted with his own success. Listening to it is an exercise in sanctioned voyeurism. Although it was Tesfaye's major label debut, he kept the team small, working with familiar collaborators associated with XO. Its sole feature is Drake on the song "Live For." It was an adjustment period, recalls Albert. "Overall, it was hard for me to know the line of respecting what he's doing and supporting it, but not messing with it. And also allowing him to go through that process."
The reception to Kiss Land, though, was lukewarm. "I know Abel had bigger expectations for Kiss Land because of the budget spent on a lot of the art that came into the project," Mano says. "The overall thought of this dark, semi-depressed attitude of R&B being accepted by the public, honestly, I thought he had enough of a cult following that it wouldn't even matter. His buzz was so big at that time that I wasn't even seeing Kiss Land as a failure. Trilogy was still selling, and was bringing fans to Kiss Land as well." Indeed: Trilogy went platinum in May 2013, and the Weeknd embarked on a worldwide tour in support of Kiss Land.
A Pop Duet, a Sold-Out Night at the Bowl, and a Blockbuster Soundtrack — Hesitantly (2014–2015)
"I was feeling like it was getting a little bit in a box artistically or creatively, and he needed to do something to shake up the fans," Albert said of the Weeknd immediately following Kiss Land. "There was a point at which I didn't need to protect something that I was still protecting on some level." In other words: He was a core fan, but he also needed to support Tesfaye's growth.
Around this time, Albert was approached by Wendy Goldstein, another executive at Republic, about Tesfaye jumping on a pop record; they settled on "Love Me Harder" by Ariana Grande, a raunchier would-be-hit for the fellow rising star and a toned-down one for Tesfaye. "I really made a pitch that he should do it, and it took a minute to get Abel into the concept," he says. "There was a verse written [for him] but he really wanted to write his own verse."  "Love Me Harder" was written by Max Martin, one of the best pop-music songwriters in the business, so sending edits was a bold move on Tesfaye's  part — but the right one, says Martin's songwriting associate Savan Kotecha. Although Kotecha had never heard of the Weeknd, he thought the edits were strong. "He had rewritten some lyrics on the second verse, and sang it brilliant. I was like, 'Crap, he sounds like Michael Jackson!'"
In October of 2014, the Weeknd played one of the biggest concerts of his career — a sold-out night at the Hollywood Bowl. If the Mod Club show was his coming-out party for the fans, this was Tesfaye's coming out party for the industry. The audience included Kanye West, Rick Rubin, and Max Martin. "It was insane," Moccio says. "All these great producers were there, and we were looking at this kid packing 15,000 people who all knew his songs. All these women screaming his name. It was just remarkable."

"That show changed everything," Kotecha adds. "It made us understand him more and realize how brave he was being by just coming with us. It really helped us understand where he's coming from and really be grateful for him to be willing to work with us and take such a risk. Because he could continue doing what he was doing and he'd be fine. He'd probably win awards and get all his credibility. It's a risk to try to go mainstream. It's like a high-wire act. I think he's walking it masterfully. It's brilliant how he's able to keep his cool and credibility."
A few months after that game-changing performance, Tesfaye dropped "Earned It," a compact, waltz-y love song co-written with Moccio for the Fifty Shades of Grey soundtrack released earlier this year (one other Weeknd song, "Where You Belong," also ended up on the soundtrack). "For better or for worse, love or loathe that movie, you have this massive platform and one of the most-read books of all time," Moccio says. "We knew that there was going to be lots of people going to see it. The brand of Fifty Shades made sense with Abel, so when that exploded, we knew the song wasn't just a song that was going to be popular in North America. The Fifty Shades franchise transported it to a lot of countries."
Legitimately Huge: "Can't Feel My Face" and Beauty Behind the Madness (2015)
With Tesfaye now having figured out how to navigate the pop world, both Moccio's and Martin's teams were enlisted by Tesfaye to work on Kiss Land's follow-up. "I got on the phone with him, and he's the nicest guy, sweetest guy, really humble," Kotecha remembers. "He was like, 'I really want a song like "Love Me Harder," and I know that's the next step I have to take to start having real hits, and take what I've done, keep doing what I'm doing, but take it to the next level. And I'd love you guys to be involved.' We talked about how we work and how he works, and kind of agreed we'd try to meet somewhere in the middle." Among their collaborations was "Can't Feel My Face," Beauty Behind the Madness's lead single that drew mass comparisons to Michael Jackson and currently sits atop the Hot 100. Still, their middle-ground approach to co-writing allowed Tesfaye to continue working with the members of his trusted inner circle from the XO Crew as well as more-seasoned collaborators. "He knows when he has to bring me in, for example, to give it that polish," Moccio said. "We joke sometimes, it's called 'the expensive sound.'"

The most remarkable thing about the Weeknd's rise is that he has managed to keep everyone — his original fans and collaborators as well as the new — in lockstep with this vision. "He doesn't want his original fans leaving him — he cares for them way too much, he loves them," Moccio said. "When you look back at all the great artists, like Madonna and Michael Jackson, these people love their fans, they live for their fans. Abel is the same way. He's not necessarily going to make someone happy at the label, it's more about making the fans happy, because they're the ones ultimately consuming and buying the record on an emotional level."
Now that Tesfaye is on the cover of magazines, at the top of the charts, and playing the big awards shows, has he changed? "I can honestly say that the fame has not changed him," Mano says. "It's just discipline. It's extreme discipline." Taylor puts it this way: "Everything's timing. He realizes he's getting bigger and bigger, and this is the stuff he has to do now. He really wants to break into the mainstream world, so he's taking these steps to do that. He just wants to try new things and bring his sound to the pop world and create a new genre."