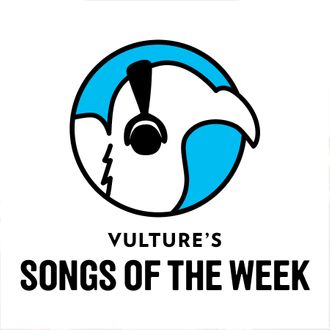 Every week, members of the Vulture staff highlight the best new music of 2015. If the song is worthy of your ears and attention, you will find it here. Read our picks below, share yours in the comments, and subscribe to the Vulture 2015 Playlist for a comprehensive guide to the year's best music.
Julien Baker, "Something"
You know that feeling the first time you hear certain songs, when you both never want them to end and also want them to end quickly so you can listen to them again? This is the only song I want to hear right now, the only song I can think about. It's not technically complicated, but there's a purity to it, an appreciated lack of distraction. The premise is simple: Girl regrets not saying anything as someone she cares about drives away — but the execution is something special. (Sample lyric: "I should let the parking lot swallow me up, choking your tires and kicking up dust / Asking aloud, 'Why are you leaving?' The pavement won't answer me.") Then Baker sings, "I can't think of anyone, anyone else," over and over, and you picture her alone in a parking lot, incapable of thinking of anything but what just happened, paralyzed by that moment. (She actually once performed the song in a parking lot.) It is at that point in the song, regardless of what I'm doing or working on, that I freeze and just listen. It's a stunner, and it is my favorite song of the year. —Jesse David Fox (@jessedavidfox)
Chance the Rapper feat. Noname Gypsy, "Israel (Sparring)"
I love when rap gets biblical. Here, two of Chicago's best, Chance and Noname Gypsy — both of whom we just heard on an improvised free mixtape with Lil B — weave a back-and-forth extended metaphor about the sparring war between Jacob and God as they reflect on overlapping internal battles, perhaps with giving into fame ("I'm an independent contractor," Chance tells himself), or something deeper, like a religious conflict, or, as Chance admits, love. Whatever it is these two are going through, they communicate it beautifully, with the ease of a Sunday afternoon breeze. When are we getting the Chance and Noname Gypsy album, though? —Dee Lockett (@dee_lockett)
Deerhunter, "Snakeskin" 
It's not hard to envision Deerhunter leader Bradford Cox really selling a line like, "I was born already nailed to the cross / I was born with a feeling I was lost," but it's the funky swagger he evokes while doing so that makes "Snakeskin," the Atlanta indie chameleon's first single since 2013's Monomania, feel like something that could end up being indelible. Bonus points for how easily the jangly groove takes to the dark side as this song closes. —Jillian Mapes (@jumonsmapes)
FKA Twigs, "In Time"
Claire Lobenfeld, a writer whose opinions I greatly admire, tweeted the other day, "The more she develops as an artist, the less I trust people to write about her." Twigs, now one album and three EPs into paving her own lane, exists in a space so uniquely hers that I'm also not sure we're equipped to write about her or it just yet. So I'll just leave you with Twigs' own words, from the sublime new song "In Time": "The way you dismiss me will turn into missing me like I am yours." Who's got the nerve to dismiss her now? —DL
Mick Jenkins, "Your Love"
Chicago dominated my picks this week, and there's probably no one from that city I'm more excited about than Mick Jenkins. He returns this week with Wave[s], which sort of embodies the carefree black-boy mind-set. That's not to say that Mick doesn't have woes like the rest of us; he just doesn't let them drown him. And on "Your Love," he sounds downright giddy borrowing from Lupe Fiasco's "Paris, Tokyo" lyrics on the hook ("Have a dream in New Orleans, fall in love in Chicago") to sweet-talk a woman into letting him love her. It wouldn't work on me, but I'd definitely dance with him to that groovy Kaytranada beat. —DL
Kwamie Liv feat. Angel Haze, "Pleasure This Pain"
Kwamie Liv's sensual, tortured R&B vocals dance perfectly with Angel Haze's aggressive delivery. This new one is a perfect addition to the steady stream of new music Haze has blessed us with all through the month of August. —Lauretta Charlton (@laurettaland)
Majical Cloudz, "Silver Car Crash"
On the surface, Andy Warhol's Silver Car Crash (Double Disaster) is a painting about death, but for Devon Welsh, the creator of Majical Cloudz, who titled his latest single after the 1963 work, it's also about the things we can't see or know, like what happens when the soul leaves the body, or where we go in the afterlife. Like his interpretation of Warhol's "Death and Disaster" series, the new Majical Cloudz song "Silver Car Crash" is about double meanings, and the things that we can't see but are always there. It's an idea that guides a lot of Welsh's music; it's beautiful not only because of the sound you hear but the space left behind for the things you don't. —LC
W.W.A, "Straight Outta Chicago"
W.W.A, or Women With Attitude, are exactly what you think: a supergroup of women who rap, including Sasha Go Hard, Katie Got Bandz, Chella H, and Lucci Vee, modeled after N.W.A — except that the city they put on for is Chicago. If you're a woman of Ava DuVernay's mind, who sometimes feels like the love you have for hip-hop resembles the love of an abuser, and you can't forgive F. Gary Gray's arguable erasure of women from the culture of rap in his N.W.A biopic, then this group is for you. They've hijacked the "Straight Outta …" meme and beat for a brazen news flash that modern Chicago is just as fucked as Ice Cube's Compton ever was, and they're tired of dudes who turned their backs on Chi-Town still being the only ones allowed to talk about it. ("Niggas got some fame on they name, then they changed," Sasha Go Hard rolls her eyes.) Ignore them at your own risk. —DL
Do you like good music? Of course you do! Subscribe to Vulture's 2015 Playlist to hear the new music we're listening to every week.