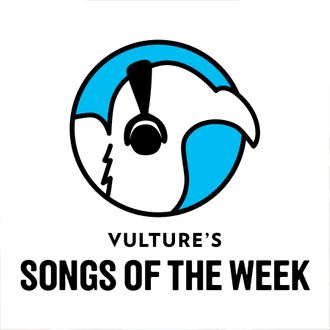 Every week, members of the Vulture staff highlight the best new music of 2015. If the song is worthy of your ears and attention, you will find it here. Read our picks below, share yours in the comments, and subscribe to the Vulture 2015 Playlist for a comprehensive guide to the year's best music.
Beach House, "PPP"
On the new Beach House album out later this week (but streaming now at NPR), the Baltimore duo offers up another compelling collection of dream-pop to tickle the dark corners of your subconscious. Album highlight "PPP" finds singer Victoria Legrand trying out new things with her voice — a spoken-word intro and meandering falsetto croon — while her partner-in-vibes, Alex Scally, evokes solo John and George with the most intoxicating slide-guitar part in the band's decade-long history. —Jillian Mapes (@jumonsmapes)
Carly Rae Jepsen, "I Didn't Just Come Here to Dance"
CRJ's new pop opus, Emotion, is best enjoyed as a whole, like both Carly and Scooter Braun intended this time. But if we're picking a favorite (and, truthfully, mine has changed day-to-day over the last three months), start with the bonus tracks. That's where you'll find the booming, My So-Called Life–referencing "I Didn't Just Come Here to Dance," perhaps the only straightforward club banger on this album. And by club, I mean the ballroom scene, where this song deserves the best voguers to slay. —Dee Lockett (@Dee_Lockett)
JoJo, "When Love Hurts"
For seven years, JoJo found her career stuck in label purgatory, having locked herself in a seven-album contract at just 12, shortly before she had her first hit with 2004's "Leave (Get Out)." After her label, Blackground Records, refused to release her third album, she sued in 2009, starting one of the most public industry feuds in recent memory. Remember #FreeJoJo? Then, last year, JoJo won. Blackground released her, and she quickly signed with Atlantic. She's set to release her first album in nearly a decade later this year. As a preview, JoJo has surprised patient fans with a three-song EP. It's considerably more pop-leaning than the R&B she's honed over her last couple mixtapes — just a small sampling of her versatility. When your favorite DJ drops the rave gem "When Love Hurts" in the next few weeks, pour a shot for JoJo. She's been fighting a long time to be heard. —DL
Lana Del Rey, "Terrence Loves You"
There's a specific spell that Lana casts on her listener. I recognized it the first time I heard her cover of "Once Upon a Dream," that disorienting fog of empathy. She forces you to feel every emotion with her; we're all the target of her black magic. "Terrence Loves You" drags you down the rabbit hole of loss — losing that with which you've become obsessed. Lana's known for romanticizing old Hollywood, and she seems to be slowly stripping herself of anything that reminds her of that past (which, apparently, includes Bowie). It's hard not to get too sucked into her pain, but that's precisely the Lana effect. You're at her mercy until she's done with you — one song at a time. —DL
Maddie & Tae, "After the Storm Blows Through"
Last year, Maddie & Tae got their country-music breakthrough with "Girl in a Country Song," which lampooned bro-country's obsession with reducing women to cartoonish stereotypes. Now they're back with their debut album, a collection of earnest songs about balancing teenage dreams with very real adult expectations, namely filling Taylor Swift's cowboy boots. (The duo are signed to her label, Big Machine Records.) Maddie & Tae navigate that intersection of maturity and innocence with patience on "After the Storm Blows Through," offering someone struggling with personal pain the simplest of kind gestures — space, unconditional support — that make all the difference in the healing process. And they do it with some of the best vocal harmonies I've heard all year. —DL
Panda Bear, "Cosplay"
"Marijuana makes my day," sings Animal Collective's chillest bro, Panda Bear, on "Cosplay," one of the songs off his surprise Crosswords EP. P-Bear doesn't just sing it, he also proceeds to put his money where his grass-smoking mouth is with a whimsical soundscape of celestial whistles and seemingly stoned cartoon aliens responding to said 'scape. So charge up your vape (are vapes charged? I always imagine them in a bedside, iPhone dock–like contraption, waiting to be vaped on) and listen below. —Jesse David Fox (@JesseDavidFox)
Nathaniel Rateliff & the Night Sweats, "Wasting Time"
This new album marks two shifts for Rateliff: one from Americana to rock-and-soul, the other, solo act to ensemble. While most of the album is a hootin' hollerin' good time, this track is like a slow dance at the prom, sweet and melancholic. The band fades into the background and lets Nathaniel take us on a tour of our indiscretions. —Eric King (@erickingdavid)
TOWER, "Teenage Miracle"
I'd never heard of this L.A. duo before Zane Lowe debuted "Teenage Miracle" on Beats 1 a couple weeks ago, and I don't doubt I'm alone in that. There's a certain skepticism to a perfect pop song that appears seemingly out of nowhere, as if it's calculated to look that easy, but when said song is a total head-rush of fizzy guitar riffs and catchy synth hooks like "Teenage Miracle" is, the backstory ultimately doesn't matter. That said, this tune's got great backstory: "Teenage Miracle" is a song about a TOWER member's stepbrother "who discovered pot and his desire to become a famous rapper in the same weekend." —JM
Do you like good music? Of course you do! Subscribe to Vulture's 2015 Playlist to hear the new music we're listening to every week.