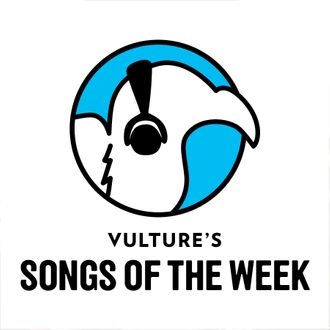 Every week, members of the Vulture staff highlight the best new music of 2015. If the song is worthy of your ears and attention, you will find it here. Read our picks below, share yours in the comments, and subscribe to the Vulture 2015 Playlist for a comprehensive guide to the year's best music.
All Dogs, "Skin"
When we last saw All Dogs, they sounded defiant, essentially daring someone to break up with them on "That Kind of Girl." "Skin" is the remorseful morning after. Going from "And I know that I am always fucking up your world" in the former to "I remind you of my mother." The Ohio band sounds a lot like a landlocked Best Coast here. It's sad music for people who like sad music. —Jesse David Fox (@JesseDavidFox)
Angel Haze, "Impossible"
If there's one rapper who doesn't get enough shine, it's Angel Haze. She self-released one of 2013's best debuts — after a winless tug-of-war with her label — but it's not something reflected in the numbers. (It sold fewer than 1,000 copies its first week.) But Haze has spent a lifetime enduring uphill battles. It's what makes her one of rap's most fiery writers: She begins "Impossible," her first new song in some time, with a rapid-fire confessional touching on suicidal thoughts and her volatile nature, all before taking her first breath. That force doesn't let up when the chorus hits, either; it punches harder. But Haze is the kind of rapper who'd rather use her pain for fuel than tears ("I just rose from the ashes again," she declares), and it's what makes her bars so consistently dangerous. —Dee Lockett (@Dee_Lockett)
Danny Brown, "Worth It"
If you haven't familiarized yourself with this year's Adult Swim Singles, wake up. There's new music from Flying Lotus, Swervedriver, Dawn Richards, Peaches, and more. The latest track from the free summer collection is a Clams Casino–assisted IV drip from Detroit misfit Danny Brown, who hasn't released new music since 2013's Old. Imagine listening to wind chimes gently swaying in the breeze, then put aggressive rap lyrics over it and filter that through a vintage computer program. That's what this song reminds me of. It's good to have you back, Danny. —Lauretta Charlton (@laurettaland)
Gary Clark Jr., "The Healing"
It's kind of incredible that as the universally recognized second coming of B.B. King, the bulk of Gary Clark Jr.'s praise was won off a single album, his 2012 debut. That's about to change with the release of The Story of Sonny Boy Slim next month. He recently premiered two new tracks from that forthcoming album, "The Healing" and "Grinder." The latter is everything that makes Gary great: the distorted guitar, eardrum-rattling reverb, and a fucking explosive solo at the end. But it's "The Healing" that makes him more than just a one-trick pony. Here he injects the ethos of the blues with the feel of hip-hop — in a style the Roots have long championed — that fits just right for his sound. Science has a lot to say about the healing power of music, and I'd prescribe Gary Clark Jr. to cure all our suffering. —DL
EL VY, "Return to the Moon (Political Song for Didi Bloome to Sing, With Crescendo)"
EL VY is Brent Knopf from Menomena and the National's Matt Berninger, and by the sounds of their first single this is exactly what Berninger needed. After over a decade of being a real mope's mope, Berninger sounds blissful on the band's first bouncy single. In the video, you can even see the usually stoic lead singer dancing to the song's Talking Heads–like beat. He even busts out a sweet falsetto. The lyrics, well, aren't equally as peppy, but what are you going to do? You can take the man out of Ditmas Park, but you can't take the Ditmas Park out of the man. —JDF
FKA Twigs, "Figure 8"
FKA Twigs had one of the best albums of 2014 with LP1, but she'd already solidified her place in indie stardom with a series of genre-destroying EPs, the third of which is set for release later this year. She's been playing one of those new songs, "Figure 8," at her recent shows and premiered it on Beats 1 yesterday. It's an intensely jarring piece of production, anchored by her operatic voice as she pays respect to the voguing mentors who've helped elevate her craft over the past year. The video's expected to drop soon — so stay tuned for yet another visual masterpiece from Twigs. —DL
Hippo Campus, "South"
This song reminds me of Summer, as in the titular character from (500) Days of Summer. Its peppiness, mixed with a certain sort of indie aesthetic, would make it fit very nicely on the movie's soundtrack. Not to mention the refrain sounds a lot like "She Got You High." To be fair, the song also reminds me of summer-summer: It's breezy and has an earnest cheesiness that is acceptable only during this time of year. —JDF
The Knocks, "Classic (feat. Fetty Wap & Powers)"
The Knocks love this song, and it shows — they've remixed it twice before. This time, they're tossing in our favorite little rap prince Fetty Wap, who provides two stellar verses. The new collaboration is a little less funky, a little more dreamy, and gives the hit from last August new life for a new summer. —Eric King (@erickingdavid)
Ought, "Men for Miles"
Despite releasing a full-length and an EP last year, Ought will be releasing their second record, Sun Coming Down, in September, and I for one am extremely excited. Canada's answer to Parquet Courts, Ought twitchingly sits somewhere between proto-punk and post-punk, which is my way of saying the guitars are percussive, angular, and kind of all over the place. "Men for Miles," like many of Ought's best songs, builds to a beautifully spastic crescendo. —JDF
Sales, "Big Sis"
As anyone who heard their delightful EP knows, Sales really makes some of the sweetest music out there right now. Their new song, which was part of a compilation put together by the Le Sigh, is such a charming little tune. Can't you imagine it soundtracking an animated short where a large duck helps a lil' bb duck learn how to fly on a warm summer day? —JDF
Tink, "H20"
In a matter of months, Tink has emerged as the perfect cautionary tale for industry freshmen: She started out as one of Chicago's many up-and-coming rappers, set apart by her gender — women who rap are somehow still an anomaly in this business — and the fact that she can sing. But it's not just that she's a double threat; she's a callback to the kind of artist beloved by both critics and the radio in the '90s. It's why Timbaland quickly meddled in her career. After she put out a series of spellbinding mixtapes, he intervened with the hopes of replicating Aaliyah's career. (See Tink's fantastic but entirely unnecessary "One in a Million" reworking.) She's since released a couple underwhelming singles that've had some questioning her original hype. Thankfully, Tink has returned to her Winter's Diary series with the third installment — yet another collection of sensual could-be hits. There's not one skippable track on this tape, but I particularly can't stop playing "H20," a love song so lush and mildly Frank Ocean–influenced it almost makes me forget how long he's kept us waiting. —DL
Wavves, "Flamezesz"
About six years ago, when Wavves was little more than a late-era MP3 blog buzz band, the SoCal beach-punks' leader, Nathan Williams, drunkenly ashed out his cigarette on my arm during an interview inside an ice-cream truck. My interest in the band kind of tapered off there (sorry, I'm human) and I haven't found much musical reason to look back since then, until late last week, when "Flamezesz" emerged. The second single off Wavves' fifth album, out this October, is two-and-a-half minutes of urgent, distorted pop-punk philosophy to live by: "So just stay far from the flames and thank God every day." —Jillian Mapes (@jumonsmapes)
Do you like good music? Of course you do! Subscribe to Vulture's 2015 Playlist to hear the new music we're listening to every week.