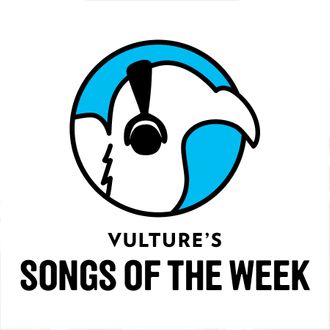 Every week, members of the Vulture staff highlight the best new music of 2015. If the song is worthy of your ears and attention, you will find it here. Read our picks below, share yours in the comments, and subscribe to the Vulture 2015 Playlist for a comprehensive guide to the year's best music.
Luke Bryan ft. Karen Fairchild, "Home Alone Tonight"
Whether you think he's the second coming of Tim McGraw, bro-country trash, or both, it's time to submit to the charm of Luke Bryan. It won't be long until he's a a legit pop star (and, to many, he already is), now that he's onto his fifth album. In many ways, he's the Drake of country: An unlikely heartthrob who's figured out how to make corny look sexy and brand an accidental swagger. (Don't believe me? Just watch him duet with Jason Derulo or attempt to dance to "Watch Me.") But pop snobs have failed to realize that, perhaps like Drake, he's also damn good at picking songwriters. You've probably already heard his bar-banger "Kick the Dust Up" and his take on R&B, "Strip It Down," but he's got a whole arsenal of hits tucked away on this album. I'm especially fond of his duet with Little Big Town's Karen Fairchild, "Home Alone Tonight," a classic revenge fantasy for the Instagram generation. If Kill the Lights is his If You're Reading This It's Too Late (and thematically it is), prepare for Luke Bryan to become ubiquitous by the year's end. —Dee Lockett (@dee_lockett)
Mac DeMarco, "A Heart Like Hers"
Mac DeMarco's talent lies in his ability to make slacker millennials rage out to boomer anthems like Steely Dan's "Reelin in the Years" with a goofy grin on his face one minute, then go full-earnest "Jealous Guy" the next — and really sell both sides of his big personality. "A Heart Like Hers," off DeMarco's mini-LP released last week, falls in the latter camp of introspective love songs in the style of '70s singer-songwriters — a direction that DeMarco has slowly perfected over the course of three full-length albums and twice as many EPs. "A Heart Like Hers," however, stands out particularly because DeMarco relies on vintage organ and keyboard to lead the song, while his signature sweet-and-sour guitar-playing has room to flaunt on the intro and the chorus. —Jillian Mapes (@jumonsmapes)
Girl Band, "Paul"
Girl Band is a group of Dublin dudes who, at their best, make the kind of post-punk that can send your synapses into overdrive and rattle you to the core — if you don't know what's coming. Consider this a warning but hopefully not a deterrent from "Paul," the first single from Girl Band's forthcoming Rough Trade debut, Holding Hands With Jamie. Over the course of seven minutes, singer Dara Kiely screams with increasing urgency and pitch about "my daughter Paul," not that his words are comprehensible by the midpoint when a wave of mutilated feedback and throbbing kick-drum swallows the song whole. Listen on repeat when you feel like punching a wall, as it's cheaper than the alternatives. —JM
R. Kelly, "Backyard Party"
Yes, this new R. Kelly track sounds like another Chicago stepper and does not deviate much from his previous material, but I can't help it. I like it. Mainly it's because it reminds me of eating barbecue at family reunions and watching the adults get progressively drunker until they finally start slow-dancing to the Isley Brothers and force all the kids to go to bed. Fittingly food-related, Kelly's next record is titled Buffet, and it's due next month. —Lauretta Charlton (@laurettaland)

Låpsley, "Burn"
The best songs are the ones that create suspense. Eighteen-year-old British singer Låpsley's new single, "Burn," starts off like a dream with her feathery vocals floating over a piano, until she switches to a lower register, then proceeds to alternate between the two. That jarring effect makes you wonder where she'll take you next, which, as it turns out, is a synth waterfall that seems to intensify without ever breaking at the base. Then it just stops. For a few seconds, it feels like you're levitating … until Låpsley drops you on your head, just like any memorable song should. —DL
Ben Khan, "Blade (Tidal Wave of Love)"
For a minute there, it seemed like Ben Khan might escape those comparisons to the intermittently absent Jai Paul. His 1000 EP, released in May, was something you could actually dance to without feeling like you needed to get high first. His latest, "Blade," is nothing like that — it's something closer to Jai's "BTSTU": spiteful ("You better catch me on my back, if you wanna fuck me like that"), lush, and accented with dizzying surges of synth. But unlike Jai, we didn't have to wait three years to hear it. —DL
Lil B and Chance the Rapper, "What's Next"
"I think by this point you might be confused as to what we're doing. We're making an entire piece of content from scratch, which is where the best things in life come from. The best things in life come from nothing," explains Chance at the beginning of this track. His new mixtape with Lil B appeared out of thin air, which might be grounds for us to dismiss it, but don't. Embrace the mayhem! When these two connect, the result, pure and simple, is joy. —LC

Mac Miller, "100 Grandkids"
I'll probably never call myself a Mac Miller fan. But now that Mac's cleaned up his act (after allegedly wasting the first few months of his first major-label deal in a drugged-out stupor), he might be ready to live up to all that arrogance and blog hype. Mac isn't the most original rapper going, and his new single, "100 Grandkids," off his upcoming third album, acknowledges that with a "My Name Is"–type beat and a riff on Diddy's "Bad Boys for Life" for the hook. If it stopped there, "100 Grandkids" wouldn't be worth a second listen. But because the song segues into a harder-sounding second act that has Mac admitting he prematurely adopted an "I'm the shit" attitude after that first 100K, it almost forces you to consider Mac's future in the rap conversation. The only question is: Are we over the sins of Iggy Azalea and Macklemore enough to give him a chance? —DL
Joanna Newsom, "Sapokanikan"
I would have gladly waited five more years for a new Joanna Newsom record, so Monday's arrival of a new single, "Sapokanikan," couldn't help but fill me with unexpected joy. Like her best work, it's a beautiful behemoth; picture the dancing hippos from Fantasia giving a dissertation on the history of New York City. Newsom weaves references to Shelley's "Ozymandias" through arcane tales from Manhattan's past — the title comes from a Lenape village in the area that's now the Meatpacking District — while the twinkling piano she picked up on Have One On Me makes a delightful reappearance. This is my shit. —Nate Jones (@kn8)
Do you like good music? Of course you do! Subscribe to Vulture's 2015 Playlist to hear the new music we're listening to every week.