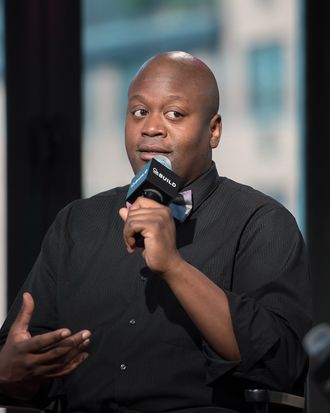 We shudder to think about what might have been.
Photo: Mike Pont/WireImages
Tina Fey wrote her Unbreakable Kimmy Schmidt character Titus Andromedon with actor Tituss Burgess in mind, but what if they had never met? Burgess first worked with Fey and Robert Carlock on 30 Rock as the pocket-squared D'Fwan, Angie Jordan's gay best friend. "I almost didn't get that job, though, because I was late, a little thanks to my ignorance," he said at AOL Build Monday afternoon. Burgess went on to explain that he came very close to never making the audition, which would have thrown us into an alternative timeline without a based-on-Tituss Titus:
I got up late. I lived in midtown, on 47th Street between 8th and 9th, and [30 Rockefeller Center] isn't far from there. But I was late to my audition. I hadn't even bothered to memorize the one line that I had. I got to 30 Rock and went through several entrances — as you know, there are several — and waltzed up to the gatekeeper, you know, the guys that guard the elevators to keep people from getting through. I was like, Which floor is casting on? And he was like, "There are several castings." He wasn't having me, and I wasn't having him not having me. So I was just like, Ugh, and sauntered back the way I came.
At this point, Burgess was nearly 40 minutes late to the audition and was rethinking whether he should go at all. "I thought, They certainly think I'm being flippant by this point, and even if I showed up, I wouldn't get this," he continued. "So I had decided that I would take my black ass back home and continue to go on as nothing happened." But fate would not have it! "On my way out, a colleague of mine that I did a Broadway show with walked past me and didn't recognize me because she was in her zone, and I'm glad she was, because I didn't feel like talking. I saw her go to the security desk and say, 'Thank God I got my ID.' So I sort of trailed her. And to this day, she's the reason that I got to the audition, and subsequently got 30 Rock, and subsequently got Kimmy Schmidt and an Emmy nomination. So I should probably tell her."
And maybe take her out to dinner, too?