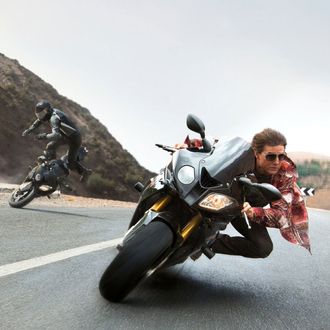 Photo: Bo Bridges/Paramount Pictures
After the disappointing performance of Arnold Schwarzenegger's return to the Terminator franchise and the dismal turnout for Adam Sandler's Pixels, a lot of people have been bringing up the perennial question of whether the age of the marquee-name movie star is over. Tom Cruise has answered that question. Mission: Impossible – Rogue Nation, the fifth entry in the series that Cruise himself engendered as producer and star in the mid-'90s, pulled in $56 million for its opening weekend. Cruise essentially murdered the critically maligned Vacation, which came in a distant second place with $14.8 million, despite Chris Hemsworth's huge appendage. Cruise is also a throwback to a bygone era of mega-wattage stars: The man strapped himself to a flying plane — eight times — just to get a shot right. And he's already working on another Mission: Impossible, because he's immortal.
Ant-Man continues its healthy performance, earning another $12.6 million for a total of $132 million, while Minions added $12.2 million to its now-$287.4 million gross. Adam Sandler's Pixels, meanwhile, is running out of quarters, making $10.4 million in its second week for a $45.6 million total. Game over, man.
The End of the Tour, in which Jason Segel portrays the enigmatic writer David Foster Wallace, made $126,000 on just four screens, for a $31,600 per-screen average. The weekend's other film about an enigmatic artist, Listen to Me Marlon, made $29,000 on two screens. The documentary about Marlon Brando opened on Wednesday and has a $37,200 total. Best of Enemies, the acclaimed film about William F. Buckley Jr. and Gore Vidal's televised debates, made $54,000 on three screens.
Woody Allen's controversial (read: creepy) comments this week didn't deter moviegoers from paying to see his latest film: Irrational Man made $509,000 in its third week for a $1.1 million total.
Meanwhile, more people watched Cara Delevingne and her eyebrows give sassy ripostes to Good Day Sacramento hosts than actually paid to see Paper Towns this weekend. The movie, based on John Green's novel, only earned $4.6 million for a disappointing $23.8 million total.