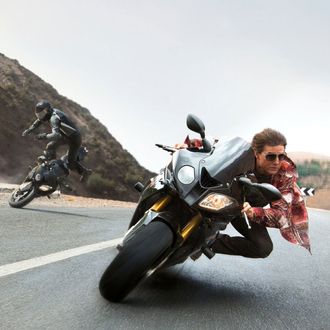 Photo: Bo Bridges/Paramount Pictures
Tom Cruise, that immortal god of luscious hair and death-defying stunts, clobbered the Fantastic Four this weekend, as Mission: Impossible – Rogue Nation took home the top spot at the box office, earning $29.4 million. Josh Trank's widely derided Fantastic Four, which was even chastised by its own director (in a tweet he subsequently deleted), earned $26.2 million, which is the lowest opening-weekend gross for a superhero movie since the 2012 monstrosity Ghost Rider: Spirit of Vengeance, starring Nic Cage's flaming skeleton head.
Joel Edgerton's directorial debut, The Gift, earned rave reviews and a healthy $12 million. The film stars Edgerton as a creepy guy who inflicts psychological torture upon Jason Bateman and Rebecca Hall. Just as creepy, albeit unintentionally, is the National Lampoon reboot Vacation, which attempts to revive the Chevy Chase series that was popular two generations of moviegoers ago. It made $9.1 million. Marvel's Ant-Man rounds out the weekend's top five with $7.8 million.
Internationally, Universal Studios is having a helluva week. They reached $5.53 billion at the worldwide box office for the year — the highest-grossing year ever for a studio in industry history — while Minions, the Despicable Me spinoff about babbling yellow creatures searching for a master, became the highest-grossing animated movie of all time in 11 international markets: Hungary, Indonesia, Latvia, Lithuania, Philippines, Russia, Slovakia, Thailand, Ukraine, United Arab Emirates, and Vietnam. It's also the highest-grossing Universal film of all time in Germany, Hungary, Latvia, Lithuania, Russia, and Slovakia.
On the indie side of things, Diary of a Teenage Girl made $55,000 on four screens, while the 25th anniversary rerelease of Whit Stillman's masterpiece Metropolitan, a scathing satire that skewers society's upper crust, made $7,000 on one screen at the Film Society of Lincoln Center in New York.