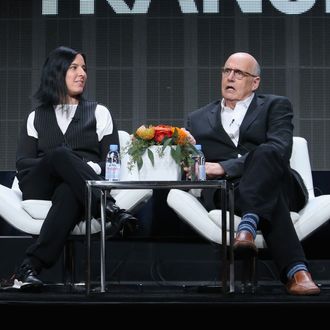 Photo: Frederick M. Brown/Getty Images
The big takeaway from Amazon Studios' TCA session for Transparent? Serious consequences are in the offing for the Pfeffermans in the show's next season, premiering December 4. In the teaser trailer, we saw a wedding (unclear whose), Josh and rabbi Rachel (Kathryn Hahn) in a birth training class, Alex (Gaby Hoffmann) and Syd (Carrie Brownstein) kissing, and Maura learning to say, "Yaaas, Queen!"
What else can we expect come season two?
The show added two trans employees behind the scenes.
Our Lady J joined as a staff writer, along with a trans director. "Trans people want to tell their own stories," said Soloway, who started a trans affirmative-action group to hire a trans writer for season two last year.
Josh will go to a "very dark place."
"He's the whipping boy of season two. He has a long, long way to go," Jay Duplass said. "Josh is a boy who's trying to be a man. He's looking for anyone in his life who can show him how to do that."
There will be more flashbacks.
Particularly to the time before Maura and her friend Marcy (Bradley Whitford) went to trans camp.
Maura's character won't be the focus.
"Maura is the gateway figure this season," Jeffrey Tambor said. "It's about what it means to be authentic. Will you still love me if I change? It's more than just a story about transitioning, it's about people seeking their freedom, all of us." He added: "An actor approaches a role the same way. I'm very aware of the onus of a cisgender male taking on this role. That had my knees knocking." Tambor was pleased to learn that Maura's look would be evolving this season — Soloway revealed she may get her ears pierced.
Maura and Shelly's relationship will deepen.
Though it's not exactly clear what that will look like. A moment in the trailer prompts Ali to ask them, "So are you two lesbians now?" Judith Light clarified this a bit: "Transparent shows you don't fall in love with a gender, you fall in love with a person. These two people are deeply connected. Shelly has always loved this person."