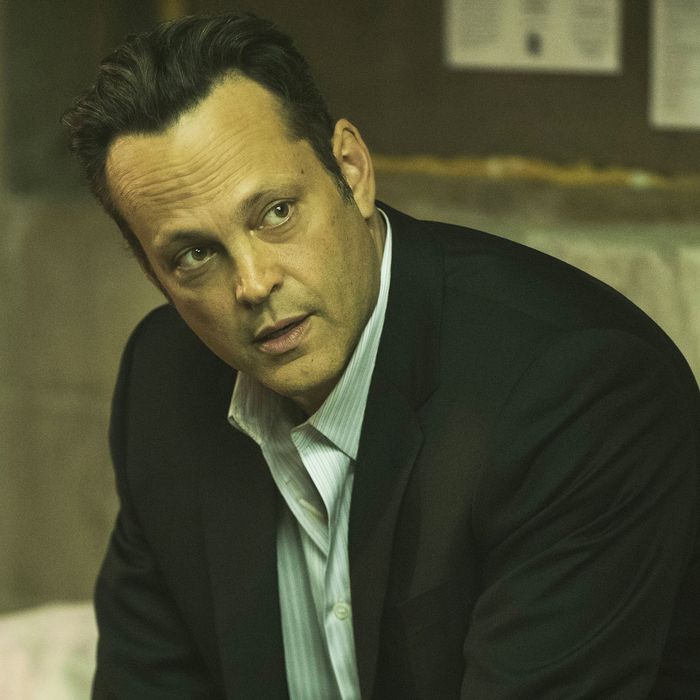 Not much about True Detective this year was easy to understand, but one thing is pretty clear: Audience passion for the show dropped off dramatically in the second half of season two, leaving the franchise with far less Nielsen heat than it boasted at the start of the summer — and at the end of its first season. It's not that Detective is now some sort of also-ran: Sunday's finale drew 2.7 million same-day viewers, a solid number for any cable drama these days, and bigger than any other current HBO show not named Game of Thrones. But a closer look at True Detective's ratings arc indicates that the negative critical reaction to the second chapter was matched with a similar vote of displeasure by viewers. And while it seems more likely than not that HBO will order another season of the show, the downward trajectory in the ratings might give network executives a reason to consider tweaking True Detective's creative formula going forward.
Things started well enough for True Detective when it returned in June. The second season bowed to 3.2 million same-day viewers, not quite as many as the 3.5 million who watched the season-one finale (3.5 million) in March 2014, but about 40 percent above the show's January 2014 launch (2.3 million). Almost all cable shows, even GOT, tend to decline a bit after their heavily hyped premieres, so it wasn't at all surprising when the second episode of TDS2 dipped to 3.1 million viewers; indeed, that level of erosion was much smaller than is normal for most shows. But week three seemed to be a turning point for the audience. Same-day viewership fell nearly 15 percent week-to-week, to 2.6 million. Weeks four and five witnessed more falloff, with viewership declining to 2.4 million for both episodes, and by the time the penultimate episode aired on August 2, just 2.2 million viewers — roughly one-third fewer than the season premiere — bothered watching True Detective the same night it aired. It was the least-watched episode of the series since season one's fourth installment.
Some viewers obviously came back to see how this season ended, given the jump up to 2.7 million same-day viewers Sunday. It's also true that, all told, True Detective season two had a slightly higher overall same-day audience (2.6 million) than season one did (2.3 million). But that increase is mostly because this year's first few episodes had an advantage over season one, when True Detective was still building momentum (and when the show's early episodes aired opposite huge competition such as the Golden Globes, Grammys, Oscars, and The Walking Dead). All told, despite getting off to a much bigger start, season two of True Detective ended its run a less popular show.
HBO isn't officially saying much about True Detective ratings right now, in part because, in an era of DVRs and HBO Go/HBO Now, it doesn't consider same-day numbers all that useful in determining a show's actual audience reach. But while that's a reasonable argument to make, in the case of a limited series such as True Detective, the overnight ratings can still be a useful tool in trying to gauge viewers' reaction to the arc of a show that's designed to be a compelling, must-watch event. Finale aside, the steady decline for True Detective points to audiences feeling less engrossed by the show. What's more, even using HBO's preferred viewership metric — i.e., counting VOD, DVR, and linear replays — evidence suggests that the series will end up less watched overall this year. Not counting the finale, all-in viewership of TDS2 stands at around 11.3 million viewers, per Variety — down from last season's 11.9 million. Given the same-day declines of the final few episodes this summer, that gap only figures to widen when HBO releases final audience estimates later this summer.
As noted earlier, even with this season's drop-off, True Detective remains a very big show for HBO. Hate-watching or not, plenty of viewers came back to check out season two, and most stayed with it to the bitter end. But the ratings performance for this season has to be a disappointment for HBO executives. Premium cable's most successful dramas in recent years — Game of Thrones and True Blood on HBO, Homeland on Showtime, and Power on Starz — have all shown significant ratings growth in their second seasons. At the dawn of TDS2, that pattern seemed ready to be repeated. Instead, True Detective followed the Nielsen trajectory of some of HBO's more recent drama disappointments, such as the ultimately short-lived The Newsroom and the moderately successful but never-breakout Boardwalk Empire. Given the crush of negative critical notices and poor online chatter, it's hard not to conclude that TDS2 halted, and even reversed, momentum for a franchise that seemed poised to take off this year.
The silver lining for True Detective, of course, is that it is a series that can reset itself every cycle. The show isn't locked into characters, story lines, or even themes that might limit the possibility of a course correction. As with FX's American Horror Story and, potentially, Fargo, HBO has still established a powerful series brand that can cut through the clutter and, potentially, get viewers invested once more. Assuming HBO opts to keep that brand alive, the biggest mystery surrounding a potential True Detective season three is not who will be cast in the project, but what changes might take place behind the scenes.
There's been absolutely no indication that anybody at HBO is even considering the idea, but a version of True Detective without series creator Nic Pizzolatto is most definitely within the realm of possibility. After all, the network green-lit season two without the involvement of original director Cary Fukunaga, and Fukunaga was as essential to season one as Pizzolatto. Bringing in a new writer to helm the show would underline the fact that True Detective is at heart an anthology series or a mini-series, no matter what category it competes in for the Emmys. In the same way The Best American … book anthology annually selects different editors to identify the best magazine or science-fiction writing, perhaps HBO could turn True Detective into a playground for writers and directors as well as actors. Agnieszka Holland or Gina Prince-Bythewood's True Detective could be pretty amazing. Or, if HBO wanted to keep some sort of constant associated with the show, why not get Fukunaga to return, and allow him to choose a new writing partner? To assuage any egos, the network might even announce a two-season commitment to True Detective, giving Fukunaga the reins for season three and Pizzolatto plenty of time to begin work on season four.
What's more likely, however, is that HBO will take a more conventional path, and simply bring back both True Detective and Pizzolatto, hoping the writer learned some lessons from season two and makes enough changes to right his ship. This strategy carries significant risk, however. If the scribe's third at-bat has similar issues, it's hard to imagine ratings not declining even more significantly in season three: Viewers, burned by season two, simply won't be as patient. Worse, another bad season could actually tarnish HBO's brand as a network that consistently makes great TV. The network has had its share of misfires over the year, but few have started off with so much praise and ended up the subject of so much ridicule. If a third season of True Detective is seen as another creative failure, HBO will have a lot more to worry about than disappointing Nielsen numbers.