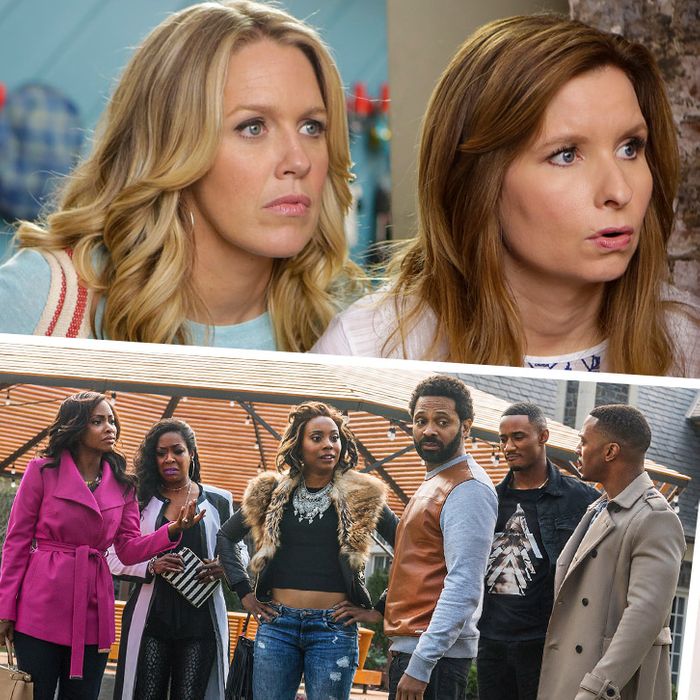 Photo: TVLand, USA, Starz
Maybe this summer will never end. Maybe we'll be trapped in this miserable sweatbox forever. Listless, damp children will remain strapped into strollers; the shock, horror, and then relief of being pelted with a drop of air-conditioner runoff will be a permanent fixture. Autumn is a mirage.
All is not lost, though. There are still TV joys to behold, even in this, the ass pocket of the calendar year. Damn you, August, damn you to hell.
Survivor's Remorse (Starz, Saturdays, 9:30 p.m.) Cam Calloway (Jessie T. Usher) is a budding basketball star, navigating the odd waters of professional athletics with the help — and perhaps occasional hindrance — of his family. But unlike its brotastic cable brethren, Survivor's is actually funny and perceptive, able to dabble in sitcom back-and-forths, and absurd and farcical scenarios, and still handle meatier, realer stories, particularly about race. It's also one of what feels like so few male-led cable comedies that does not use the naked bodies of anonymous women as a backdrop for its characters' exploits.
If you were gonna watch one episode to convince yourself: Season two's premiere "Grown-Ass Man" is as good a place to start as any, but season one's "How to Build a Brand," which involves a Make-A-Wish request gone awry, is also great.
Playing House (USA, Tuesdays, 10 p.m.) The show has the rhythms of a contemporary single-camera comedy but more of the plot and premise of an old-school wacky-high-jinks sitcom — eep, we're stuck in a closet in a house we're not supposed to be in! That's part of the charm of the BFF-centric series: that Maggie (Lennon Parham) and Emma (Jessica St. Clair) feel like they would fit in fine with Laverne and Shirley or Lucy and Ethel, as much as they'd fit in with Leslie Knope or Liz Lemon.

If you were gonna watch one episode to convince yourself: Season one's "Drumline" is magical and fantastic, and shows just how humane the show is in the way it views its often loopy characters. But honestly, there's no bad episode to try.
Impastor (TVLand, Wednesdays, 10:30 p.m.) It feels silly to praise a show for being non-garbage, but lo, there is so much garbage out there that having a series that commits to telling its particular story in its specific way does feel like a win unto itself. Impastor starts off sort of like The Riches, with Buddy, a borderline low-life, assuming the identity of a man whose accidental death he witnesses, but didn't exactly cause; that man, it turns out, was on his way to his new job as a recently-out-of-the-closet minister in a small town. Buddy finds himself an occasionally capable man of the cloth, and while this doesn't convert him to the righteous path or anything, he does soften a little bit. It's not earth-shattering in its excellence, but it is much, much better than it seemed like it was going to be.

If you were gonna watch one episode to convince yourself: Start with the pilot. It covers a lot of ground and is also a representative sample of the tone of the series, which isn't dark comedy exactly, but more like diet-dark comedy.
Dallas Cowboys Cheerleaders: Making the Team (CMT, Thursdays, 11 p.m.) Now in its 10th season, this documentary series has somehow not lost any steam. The kicks are still high, the critiques still mind-boggling, and the constant, constant body-criticism as rampant as ever. Because the show doesn't follow the traditional one-elimination-ceremony-per-episode format, but rather follows an entire audition process where women are cut at various points, there's a genuine sense of intrigue to each episode. Plus, the talent on display is truly a sight to behold. While the DCC adhere to an extremely narrow standard of beauty and femininity, it's a fully articulated standard: It's not personal, but her face just isn't right for us. Or, you will be cut from this team if you do not lose seven pounds. Or, her hairdo is a serious hindrance to her advancement here; she needs us to give her a makeover. It's almost a relief to hear these typically unmentioned — yet always present — judgments just openly stated.

If you were gonna watch one episode to convince yourself: The second episode of any season involves the dancers getting advice from Kitty Carter, who is blunt and brutal. She makes Abby from Dance Moms look like a pushover.
America's Best Dance Crew (MTV, Wednesdays, 11 p.m.) There are only two episodes left of this season, alas, but the show — back from the dead after being canceled in 2012 — is worth dipping into, even briefly. Changing judges on a reality show is always a tough gambit, but the current lineup is impressive, or mostly impressive: Frankie Grande is okay enough, but T-Pain is warm and quippy, and Teyana Taylor might be the most exacting, thoughtful judge on reality TV. She needs to be a judge on Project Runway, on Top Chef, on America's Got Talent, and perhaps the Supreme Court.

If you were gonna watch one episode to convince yourself: Every episode has stunning choreography, but episode three had a fantastically athletic drag number that was a complete knockout.