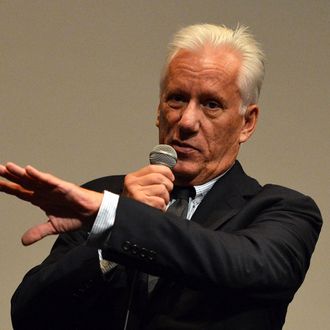 Photo: Slaven Vlasic/2014 Getty Images
Last month, actor and sometimes political pundit James Woods filed a $10 million defamation lawsuit against Twitter user "Abe List" for tweeting that Woods used cocaine. Woods says he wants to send a message to "anyone else using social media to propagate lies." Woods's attorneys then followed up with a subpoena to Twitter demanding that it reveal the secret identity of "Abe List" as well as another Twitter user with the handle "T.G. Emerson," who went a step further, calling Woods a "notorious coke fiend and registered sex offender." Now Twitter's attorney, Ryan Mrazik, has written a letter in which he explains to Woods what hyperbole is:
"The speech at issue appears to be opinion and hyperbole rather than a statement of fact. Further, the target of the speech is a public figure who purposefully injects himself into public controversies, and there has been no showing of actual malice. Attempts to unmask anonymous online speakers in the absence of a prima facie defamation claim are improper and would chill the First Amendment rights of speakers who use Twitter's platform to express their thoughts and ideas instantly and publicly, without barriers."
Woods, who once told a Twitter user "put down your crack pipe" when asked about his anti-Obama tweets, called Al Sharpton a "race pimp," and has described Muslims as "towel-heads," does not believe the cocaine tweets are protected under the First Amendment. The defendant is filing an anti-SLAPP motion on Monday.