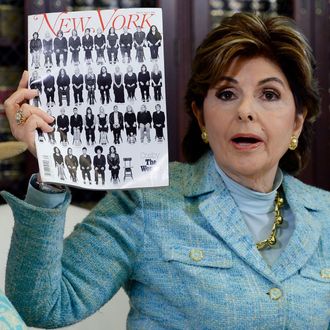 Allred at today's press conference.
Photo: Kevork Djansezian/Getty Images
Following last week's allegations against Bill Cosby, two more women have come forward to accuse the comedian of sexual assault. Speaking at a press conference in New York on Thursday alongside attorney Gloria Allred, one woman, identified only as Elizabeth, says Cosby drugged and assaulted her in 1976. Elizabeth says she met Cosby on a flight from New York to L.A. when she was "barely 20" and working as a flight attendant. After he invited her to the Playboy Mansion, Elizabeth says the two went out for dinner at a Japanese restaurant, where she claims he "insisted" that she drink sake. "After that, I was completely in a trancelike state," she says. "I don't remember how we got to his hotel room. I could barely stand up. I felt like I was going to pass out or get very sick. He made me kneel down. I don't want to repeat what happened next. All I know is that it was the most horrifying thing that could happen to an innocent young woman."
The second woman, Charlotte Fox, says she met Cosby in the 1970s, when she was 23 and working as an extra on Uptown Saturday Night. He'd invited her to a jazz bar and then, later, the Playboy Mansion for dinner and drinks. "I became ill," Fox says. "The next thing I remember was that I was sort of awake, in a bed, with no clothes on, and there was Mr. Cosby, in a robe, crawling from the bottom of the bed. I was incapacitated and couldn't say no. He engaged in sexual activity with me. It was not consensual."
A California judge has ordered Cosby to testify under oath on October 9 in a lawsuit filed by Judith Hill that accuses him of sexual abuse. The number of women who have come forward to accuse Cosby of sexual misconduct now stands over 50.