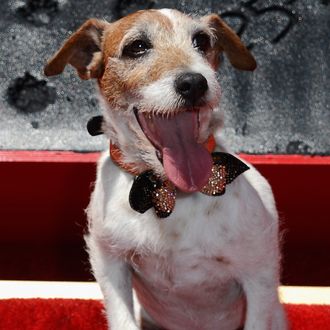 Uggie.
Photo: Kevork Djansezian/2012 Getty Images
Uggie, the lovable scene-stealing canine that memorably appeared in The Artist, as well as a slew of commercials, and helped to further legitimize the role of dogs in movies, has died, according to reports. He was 13 (nearing 100 in dog years). TMZ reports that the Jack Russell terrier was put down last week in L.A. following a tussle with a nettlesome prostate tumor. Though the dog is best known for his fairly recent Artist role, Uggie also had spots in Water for Elephants, Key and Peele, and The Campaign, among other projects. A pound-bound Uggie found his way into showbiz after he was rescued by an animal trainer, melting hearts first in a dog talent show and then in commercials and movie parts. His performance in The Artist earned a Palm Dog kudo from Cannes and nudged viewers to pay more attention to animals — and the impact they could have — in Hollywood.
Of his unlikely path to stardom, Uggie "wrote" in a tease for his memoir:

I may have been merely a pound-bound hound when I joined Omar's troupe, and certain species-ist quarters have contended that I mindlessly do tricks for treats, but it's not true. I was milking a crowd as a young street performer when my canine companions and I were doing gigs for biscuit money. Yes, I've always been a bit of an attention-seeker, but aren't all great actors?
RIP, Uggie. In memoriam, here are some of his best moments from The Artist: