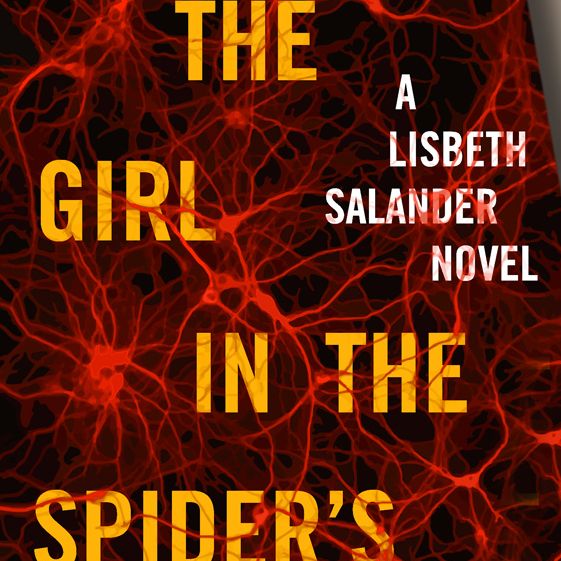 The tiny islet of Riddarholmen, home to a 13th-century church full of entombed Swedish royalty, is an oasis of dead calm in cosmopolitan Stockholm, an odd place to witness the relaunch of an international phenomenon. But it happens to host the headquarters of Norstedts, the publisher of Stieg Larsson's Millennium trilogy (80 million copies strong) and its new sequel, known Stateside as The Girl in the Spider's Web, written posthumously by a different writer, David Lagercrantz.
"We have had journalists all over the world to come and hear the story about Stieg Larsson and his books," editor-in-chief Eva Gedin said at the start of Wednesday morning's press conference. "Tourists have made pilgrimages to some of those places in which his books take place … It has been eleven years since we published the first book in Sweden, and we felt that the time was right for a continuation."
It's also been ten years since Larsson died of a heart attack at age 50, soon after signing his book contract, leaving his estate by default to his distant father and brother, and excluding — by law — his partner of 32 years, Eva Gabrielsson, who has fought the family ever since. It seems on the surface an all-too-familiar conflict — a fight for the right to print money off the name of the deceased — but the real quarry is capital of the intellectual kind. It's a public argument over who has the knowledge, acumen, and integrity to manage a famous author's estate — not to mention the characters, plotlines, and political messages that run through Larsson's darkly moralistic books.
You wouldn't hear anything at the presser about that unhealed family rift or the new debate still roiling the media in a country where Larsson's books have become something more than pulp best-sellers: Is bringing a new writer in on book four the right way to handle the legacy of a writer whose work is arguably Sweden's most significant cultural export since Ikea?
The new novel chronologically follows book three, the last one Larsson wrote, and most of its characters are Stieg's, but its plot, language, and new characters are all Lagercrantz. This time around, the battle-weary Gabrielsson — who tried for years to negotiate with the Larssons (though she had no legal claim) and wrote a polemic memoir about their life together ("He treated his father and brother as if they were his foster family") — was hardly alone. Two of Larsson's childhood friends sent a letter to a newspaper calling the project "grave-robbery"; writers have chimed in to say they'd never do what Lagercrantz did, and would draft their wills more carefully. To be fair, Gedin and Larsson's heirs — father Erland and brother Joakim — addressed the issue openly with me on Wednesday, though not as openly as Gabrielsson, who avoided Riddarholmen but met me downtown the same day to go one more round.
"Would you like to see something nice?" Gabrielsson asked, after introducing herself in front of Stockholm's grand concert hall. Sixty-one and wearing square-framed glasses, a checked orange shirt, tan jacket, and telltale running shoes, she led me — at a pace that suggested we were being tailed — to the cool, lush garden of the Art Nouveau central bath. Relaxing into a bench, she chain-smoked while making observations that sounded like insults — or was it the other way around? When she heard about the Lagercrantz sequel, "I didn't believe it at first," she says. "They all said there wouldn't be a continuation, and I believed them, because that was my standpoint as well."
Gabrielsson and the Larssons had tussled for years over Stieg's unfinished fourth novel. She says she will never read The Girl in the Spider's Web because "I don't read copycats." Notwithstanding the long history — especially in Anglo crime fiction — of posthumous sequels (from Ian Fleming to Agatha Christie), "you shouldn't continue another writer's work. It's never the same. It's deceiving the readers." She lays the ultimate blame on the publisher, Norstedts. "There you have the answer — like the old detective novels: Follow the money."
As in most long-festering family squabbles, each side has at least one strong moral claim. Gabrielsson has the legitimate grievance of living in a progressive country that, curiously, has no legal protections for common-law spouses — meaning that despite the clear fact that she was the closest person to Larsson at the end of his life, she has no control over what happens to his work, or his name, after his death. No one disagrees that it's unjust — not even Joakim, who, weirdly, or perhaps facetiously, recommended in a documentary that Gabrielsson marry Stieg's father to remedy the situation (if he meant it earnestly, he never honored the sentiment by giving over any control).
On the other hand, the Larssons have variously offered Gabrielsson money and shared control — but Gabrielsson has insisted that she alone is equipped to handle the details of his legacy. Which has struck Larsson's heirs as a little imperious; they've always claimed she exaggerated their estrangement from Stieg, and others have even questioned Larsson's past fidelity. "I think it's quite natural that one would want to cooperate and do things together," says Magdalena Hedlund, the literary agent for the Larsson estate (and, not coincidentally, Lagercrantz). "She could have at least tried to influence their decisions. Why not try?"
Gabrielsson has one answer: "They would not compromise," she says. "They wanted to tie me up and shut me up." Their offer of a place on a three-person board, she says, came with the condition that she never disparage the family publicly. She believes that had she been Stieg's executor, she would have more aggressively defended the integrity of his books — a position that might have limited his posthumous reach and perhaps the marketability of his name.
For starters, she says she wouldn't have given away the film rights so freely. ("I tried to see the American one, but I think it was too far from the books.") She would have prevented alleged translation snafus. And most important, she would never have let another writer into the Millennium universe — a decision that, to her mind, exposes the Larssons' shortcomings. "I think Norstedts is running the show and they just sign contracts," she says. "I tried to tell them, '[The publisher] is your counterpart, not your colleague.'"
Joakim disagrees, of course. "We always said, 'No, no, no, we don't want Millennium Four.'" But "David [Lagercrantz] writes books for people who normally don't read books" — especially a ghostwritten, best-selling, and actually quite well-reviewed memoir of the soccer star Zlatan Ibrahimović. He says Lagercrantz could be a gateway drug to the old books. "It's a new generation, who will maybe discover Stieg and some of his values." But he understands, or at least acknowledges, the point of view of Spider's Web detractors. "They want Stieg's writership to be dead and buried, period. But we think it must be alive, and they must respect our opinion."
Gabrielsson replies: "Maybe that's what they want because they are nobodies without him alive. They did nothing to help Stieg in his life — money or support or anything like that — so they need him to be vibrant and seen in the world so they themselves could be seen. I think that's the motivation."
The Larssons stayed offstage, however, at the English-language press conference, where only Gedin and Lagercrantz spoke before the scrum of international reporters. "So why did we choose David?" Gedin asked, before explaining why he was the perfect successor: a chronicler of odd geniuses from Ibrahimović to Alan Turing, and thus the ideal inventor of new entanglements for troubled goth-hacker icon Lisbeth Salander. Gedin repeated the widely broadcast fact that Larsson's anti-rightist magazine, Expo, on which the fictional Millennium was modeled, will get the family's share of profits from this book, which is what Larsson had planned for book No. 4. (Gabrielsson said that she would have given to Expo out of earlier proceeds.)
Gedin wore a cantilevered hairdo and a loosely chic navy-on-black ensemble, while Lagercrantz was buttoned into a tight blue suit, open-necked dress shirt, and pocket square. But he was the stage's jittery spark plug, the one who used the word passion a dozen times in as many minutes. He began by comparing the success of his Ibrahimović biography to Larsson's and went on to compare Larsson to Dostoyevsky. "I'm not saying I'm Blomkvist," he said, referring to Larsson's crusading journalist alter ego. "But I'm at least dreaming of being Mikael Blomkvist: a nice guy with great values, nice and correct, and a passion for the story." When he came up with a framework involving the NSA and an 8-year-old autistic boy, "BANG BANG BANG — I had words!" And when Gedin responded to his synopsis by calling it "so damn good," he felt "like Ibrahimović scoring. YEAH!" But he was also terrified, he said. "I used to say I was bipolar at the time" — both elated and racked by nightmares that Salander would take revenge if he didn't do right by her.
Bipolar is a good way to describe the Swedish reaction to the publication — and stuck in between the poles is Eva Gedin, Larsson's editor and now the custodian of his sequel and his legacy. Gabrielsson calls her "a very good editor, a nice person"; the Larssons trust her completely. She's the second thing they agree on, after the unfeasibility of completing Stieg's final unfinished manuscript. Gedin spoke to me yesterday morning of her uniqe responsibilities — for instance, to make clear on the cover that this is not a Larsson book. She also expressed a weary sympathy for everyone, Gabrielsson included. "I think every time something appears around Stieg all the journalists come running to her place; it must be a dread of course. But then, I can't comment why we have this situation that we have. I think everyone made their choices and here we are. It's not much we can do about it."