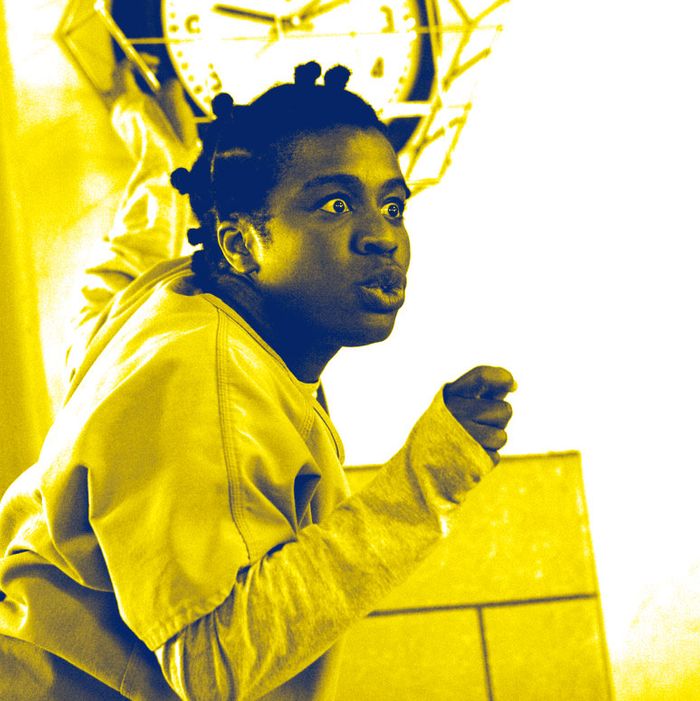 5-4-3-2-1, Emmy!
Photo: Netflix
As the Emmys approach (September 20), Vulture reached out to some of the nominees to talk about the episodes they submitted for consideration. Today, Orange Is the New Black's Uzo Aduba walks us through her character Suzanne Warren's transformation, and why she chose "Hugs Can Be Deceiving" as her submission for Outstanding Supporting Actress in a Drama Series.
The Episode: "Hugs Can Be Deceiving" (Season 2, Episode 3)

"Hugs Can Be Deceiving" felt like the right choice to me because it was a service bridge into who Suzanne is. For season one, we see her without any background information for where she comes from. And that's done intentionally for some characters, because we're coming into it through the viewpoint of Piper. We're really trying to figure out who this woman is, and we think we know who she is. Episode three, written by Lauren Morelli, was such a beautiful episode. We came to know Suzanne's beginning point. I thought it really helped to answer the question of how nurture can sometimes affect nature and also affect your future. It really explained to me in part how Suzanne winds up in Litchfield.
I love how the episode starts off with the women playing Celebrity, and they have Suzanne manning the clock. Her lines at the beginning and end of the scene are the same: "5-4-3-2-1." I wanted to take two lines that are identical, but have vastly different meanings. When she starts the scene, she's really excited: " 5-4-3-2-1, go!" She's active and feels alive, and feels like she's part of the group. She thinks she's being included, and this might be the day where they'll let her play. I remember that buoyancy and excitement that was inside of Suzanne, and I wanted to capture that energy. When she gets rejected and is told she's not allowed to play and she has to be on clock duty, I remember feeling the challenge of wanting to take that last "5-4-3-2-1" and put all of her years of her life and rejection into that. I wanted to really make those numbers go from being just a countdown to I don't fit in here. That was the subtext of the line.
It was also amazing to work with Lorraine Toussaint (Yvonne "Vee" Parker) in that episode, who is a brilliant and generous actor. It was thrilling, and it made you want to be your best self. With Lorraine, there was a different energy coming into the mix because her character was more of a maternal figure rather than just a bunkmate. She was bringing that level of authority that was really exciting to play with and play off of. We didn't realize that until Vee, the ghetto dorms didn't have a mother figure. In the suburb dorms, there's Red; in Spanish Harlem, there's Gloria. The ghetto girls didn't have that, so it was nice, you know? It was almost like wearing a really beautiful, warm quilt you wanted to wrap yourself in.
I picked the episode because I wanted to honor Suzanne. That probably sounds weird, but it's true. I just wanted to help create a space for people to come to know her and really see where she's from, and how she came to be this way. Because here's the thing: I can relate to Suzanne's story. I grew up in a very small New England town, and I'm first-generation Nigerian. I know and understand what it feels like to be "other." Frankly, if it weren't for the support of my mom encouraging me to be myself and not trying to change me in any way, who knows what path life will take you down? I wanted that to be seen. So maybe you could have a bit of empathy for understanding this woman and where she came from. Because for me it was, "But for the grace …"