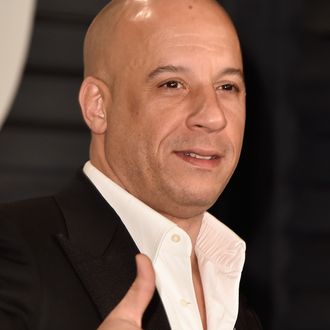 Vin being Vin.
Photo: Pascal Le Segretain/Getty
Your days of missing Xander Cage are almost over because Vin Diesel has just announced that he's really getting ready to do his third xXx movie. (Production, even! It has been rumored for years.) Diesel revealed the news on his Instagram, with a snazzy pic of him punching a couch, without even looking. (Xander Zone, here we come!) The caption reads, "While I was filming XXX, guys on set called me Air Diesel… The time to return has come. Filming starts December in the Philippines." Then he hashtagged the pic with #ILiveForThisShit because he is Vin Diesel and someone has to do it. Plot and personnel details for the third xXx, which may or may not be titled The Return of Xander Cage, are unknown at the moment. Vin Diesel notably skipped the first sequel, xXx: State of the Union; however, he created an onscreen legend with the 2002 original, one long overdue for a comeback.
For what it's worth, here's the pic Diesel used to make the announcement, rife with symbolism:
Thank you, Vin.