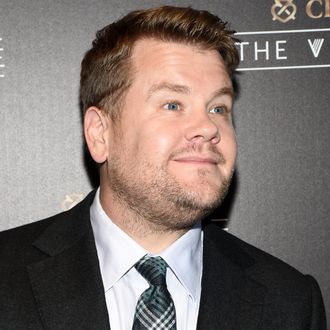 James Corden.
Photo: Michael Buckner/Getty Images
As is pretty much mandatory these days, CBS's still-fledgling Late Late Show With James Corden has been very active cooking up bits and segments that play well online: Its YouTube page has already generated nearly 200 million views for various efforts via viral gems such as "Carpool Karaoke." It somehow seems appropriate, then, that Corden is devoting a full episode of his show to the viral-video mothership itself. Friday's hour was taped on-site at the YouTube Space production facility in Los Angeles, and it will feature interviews and stunts with YouTube vets such as Jenna Marbles, the Slow Mo Guys, and Tyler Oakley, along with a musical performance from Boyce Avenue. Appropriately enough, Friday's show will also open with a music video featuring Corden crooning an homage to YouTube, with cameos from a number of the site's most recognizable names (including Marbles, Rebecca Black, and what appears to be the Double Rainbow dude).
You don't have to wait until tomorrow to see the Matt Wyatt–directed video, however: Vulture has the exclusive premiere below. Late Late Show writer DJ Javerbaum wrote the lyrics for the song, which was composed by Steve Scalfati and Tim Young, of the show's in-house band. Check out Late Late Show's full salute to YouTube Friday at 12:37 a.m. (which, yes, is technically Saturday morning).