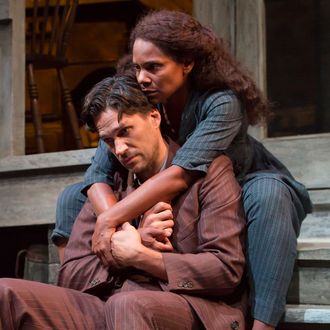 Photo: T Charles Erickson Photography
What used to be called the straw-hat circuit is long gone, as is the customary summer haberdashery that gave it its name. Stars no longer caravan their Broadway hits, in stripped-down versions, from barn to tent to "music fair" for weeklong engagements from June through August. But out-of-town summer theater still thrives, in new formats that have turned some venues in Western Massachusetts and the Hudson Valley from consumers of New York City product to providers of it. At the Williamstown Theatre Festival and Barrington Stage Company, for instance, you're less likely to see a musical that recently played on Broadway than a musical on its way there. (In the past few seasons, Williamstown has premiered Far From Heaven and The Bridges of Madison County; Barrington, the revival of On the Town.) Non-musicals, too. Partnerships with major New York institutional theaters have turned Williamstown, Shakespeare & Company, Bard SummerScape, and New York Stage and Film into incubators for drama: Off Broadway's Off Broadway.
Professionalization has not come without costs, of course; you're no longer likely to experience the delightful incongruity of a 17-year-old intern playing scenes with washed-up TV stars, or Euripides on a cardboard set. The acting corps is made up almost exclusively of superior New York talent, with non-Equity performers mostly relegated to bit parts and crowd scenes. And those sets are not cardboard anymore. At Williamstown and Barrington especially, technical prowess is very nearly at Broadway levels, which is why they can serve as tryout venues and stops on the development train.
The upside is that avid summer theatergoers now get a chance to participate in that development. Where you laugh, and where you don't, will influence the final product. (If a production doesn't change between the Berkshires and Broadway, it's probably a goner — see last season's Living on Love.) The experience is also, quite simply, lovelier: You come to the theater after a day of pool-dipping or museumgoing instead of work and subway-wrangling; the seats are amply sized; the atmosphere is convivial. (And the tickets are much cheaper.) In the ten years I've been taking regular summer theater trips, I've seen a lot of excellent shows, but even the junk was pleasant enough. Good or bad, I've felt closer to the action than I ever do in New York. A Barbara Eden Medea may no longer be feasible in this new environment, but a glimpse of Audra McDonald on the lawn at Williamstown is ample compensation.
Williamstown's festival, the generally acknowledged star of the summer theater universe, takes place on the hilly, hypergreen campus of Williams College in the far northwest corner of Massachusetts. In two trips this summer, I caught four productions in its various venues. On the main stage at the '62 Center for Theatre and Dance I saw the season opener, Off the Main Road, a recently rediscovered William Inge play about a highborn wife on the lam from her violent ex-baseball-player husband. Williamstown gave it a first-class production, starring Kyra Sedgwick, but the revelation, as sometimes happens in summer theater, was a young actor: Mary Wiseman, playing her daughter. (Wiseman, who graduated from Juilliard this year, has only one New York credit I know of; she was the hilariously dim belle Dora in Branden Jacobs-Jenkins' An Octoroon.) The Inge is a fascinating curiosity, worthy of exposure in exactly this sort of low-stakes setting. But if there was a plan to bring it to New York, well, maybe not. Bring Mary Wiseman, though!
The other main stage Williamstown production I saw was the season's hot ticket: A Moon for the Misbegotten, starring McDonald as Eugene O'Neill's earth mother Josie, and Will Swenson, McDonald's actual husband, as her lost-soul would-be lover. This staging by Gordon Edelstein (on a beautiful Ming Cho Lee set) was smart and serious, but didn't hold together, possibly the result of insufficient rehearsal — a problem for all summer theaters. McDonald was, as always, mesmerizing; it's a role I'm happy to be able to say, even if O'Neill in his own time could not, she was born to play. But don't expect to spot this Moon in New York anytime soon. Even though the production was supported by the Roundabout, and evidently intended for one of its stages, McDonald is booked with other projects (in particular, the new Broadway musical Shuffle Along) through 2016.
On the smaller Nikos Stage — named for Nikos Psacharopoulos, one of the Festival's founders — Daniel Goldfarb's Legacy had its premiere. This one was commissioned by the Manhattan Theater Club; Williamstown's new artistic director, Mandy Greenfield, was previously the artistic producer there. At least as far as the casting and plot are concerned, Legacy is perfect MTC fodder: Eric Bogosian plays a narcissistic, late-middle-age novelist who wants his 40-ish wife, played by Jessica Hecht, to undergo fertility treatments so they can have the children he refused her when they were younger. A graduate student played by Halley Feiffer complicates matters. I found the play tonally haywire and generally unconvincing, but that should be no impediment to its eventual arrival in New York, preferably after some major rewriting.
The facilitation of major rewriting is the main point of New York Stage and Film's season at Vassar's Powerhouse Theater, in Poughkeepsie. The offerings include fully produced shows, but the real action is in the bare-bones readings and developmental workshops. In previous years, you could see early versions of what would later come to New York as The Fortress of Solitude, Stephen Karam's Sons of the Prophet and The Humans (the latter of which opens at the Roundabout in October), Ayad Akhtar's The Invisible Hand, and even Hamilton, then known as The Hamilton Mixtape. Last year I endured a main-stage musical called In Your Arms, which has since been rewritten and will open in September at San Diego's Old Globe; this year I saw a barstools-and-music-stands reading of Michael John LaChiusa's Rain, with a book by Sybille Pearson based on the Maugham short story. Such readings are not open to review, so I'll just say that I expect to see Rain again, perhaps at the Public. It's a great story, well suited to musical treatment, especially by LaChiusa, with his febrile intensity and scanning-the-radio-dial pastiche.
Williams and Vassar make lovely collegiate settings for theater; so does Lenox, Massachusetts, the dainty town that is home to Shakespeare & Company (and also Tanglewood and Edith Wharton's home, the Mount). Known for productions of its namesake playwright's classics, Shakespeare & Company offers new and less familiar fare as well. Earlier this month I attended the premiere production of Jane Anderson's Mother of the Maid, which tells the story of Joan of Arc from her family's point of view. At first this is played for laughs, as if Joan were a sitcom teen confounding her parents with ditzy schemes. But as Joan's fate looms, the play becomes movingly tragic, or at least does so when the mother preparing her daughter for death is played by Tina Packer. (Packer, one of Shakespeare & Company's founders, is also a leading acting teacher, and this performance shows why.) I'm not sure I'd want to see Mother of the Maid again without her, so if one of the smaller New York companies picks it up, it'd better get her, too.
Except for its ungainly title, there's no reason not to import Things You Think About When You Can't Fall Asleep (a.k.a. You're Standing in My Way) exactly as it is. A cabaret of songs by Deborah Abramson (music) and William Finn (words), it consists of 18 numbers, most terrific, that both do and do not sound like the Finn you're used to. (Abramson's settings discipline and deepen Finn's free-associative lyrics.) Each song feels like a fully realized establishing number for the protagonist of a different (and compelling) musical, making the short evening very rich indeed. The problem is where in New York to put it. In Pittsfield, a depressed, deindustrialized town about 20 miles south of Williamstown, Barrington Stage has been able to give Finn, who runs Barrington's Musical Theatre Lab and developed The 25th Annual Putnam County Spelling Bee there, not only a slot on its schedule but also his own venue. Called Mr. Finn's Cabaret, it's located a few blocks from Barrington's main stage, in the basement taproom of a former VFW post. In New York, the economics of small-scale production aren't so welcoming, which is another reason for getting out of the city when you want to find adventurous or first-draft theater. In down-at-heel markets, bootstrap culture is still feasible. Perhaps poor Pittsfield is ripe for a culture-led renaissance; there's already a great new hotel amid the gap-toothed storefronts on the main drag.
Not that a theatergoer needs any more to do in the Berkshires. As it is, you can't possibly catch everything worth catching in two weekend trips; Williamstown alone put on three main-stage shows this summer, and four at the Nikos. Nor, a month or two in advance, can you be sure to pick the winners. Among the Williamstown productions I missed, the new musical Unknown Soldier, by Michael Friedman and Daniel Goldstein, got the best reviews and seems likeliest to show up in New York. I also sadly missed Shakespeare & Company's Comedy of Errors, Stephen Trask's new musical about Steve Rubell at New York Stage and Film, and, at Bard SummerScape, in Annandale-on-Hudson, the small-cast, communitarian Oklahoma! directed by Daniel Fish, complete with roots-band arrangements and fresh chili for all. Rumor has this production heading to Brooklyn.
But a production need not be intended for a splashdown in New York to be worthwhile in the sticks. This is especially true of the one-offs and sidelights with which summer theaters fill out their seasons. At Williamstown, the Late-Nite Cabaret, offered in three incarnations on three weekends, has usually been the most joyous event of my visits. In a converted chapel outfitted with a few lights and a microphone, stars of the big shows mix it up with non-Equity performers and even lowlier apprentices in parody covers of pop hits, close-harmony ensembles, and, often enough, astonishing barnburner solos. The particular energy of these cabarets, enhanced by the casual atmosphere and, no doubt, the plentiful booze, is unique to the hothouse environments of theaters like this, where performers live and work and flirt and flame out in close company for weeks. Spying on them entertaining one another in their own habitat is a lot like birding, and a true summer sublime.