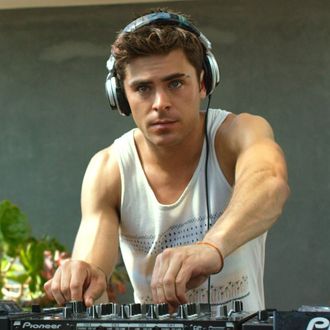 Despite his chiseled chest and absurd abs and bionic biceps and generally jocular demeanor, Zac Efron didn't make many friends at the box office this weekend, as We Are Your Friends, also known as the Zac Efron DJ Movie, had the fourth-worst wide release opening in history. It made a piddling $1.8 million, which is worse than Eddie Murphy's notorious flop The Adventures of Pluto Nash. Maybe We Are Your Friends should go eat a can of worms. Meanwhile, Minions, a movie about little yellow creatures that babble unintelligibly, crossed the $1 billion mark worldwide.
Straight Outta Compton took the top spot for the third straight week, making $13.2 million for a $134.1 million cume. The War Room [insert Dr. Strangelove joke here] came in second, making $11 million. Tom Cruise keeps clinging to the top five as Mission: Impossible — Rogue Nation made another $8.3 million for a $170.3 million total. No Escape made $8.2 million, while Sinister 2 made $4.6 million in its second week, which would be disappointing any other week, but compared to We Are Your Friends it's a blockbuster.
Speaking of blockbusters, Jurassic World jumped back into the top ten, making $3.1 million in its 12th week. Not satisfied with only being the third-highest-grossing film of all time, Jurassic World received an additional 665 screens this weekend. It's only $15 million shy of Titanic for second place all time.
Indie-wise, The Second Mother did well, pulling in $28,000 on three screens, while Alex Ross Perry's beguiling Queen of Earth made $12,000 on two screens.