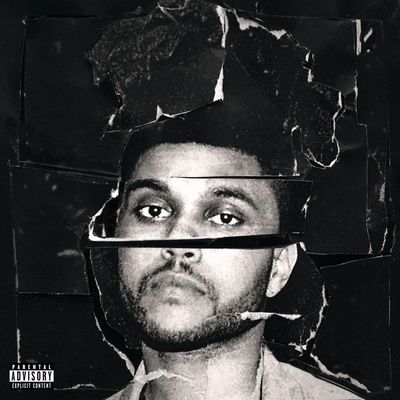 In his new video for "Tell Your Friends," Abel Tesfaye — better known as the Weeknd — buries a man alive against a desert horizon at dusk. As he finishes the job and strides through the desolate landscape in step with the song's slurry, slow-motion pace ("Tell Your Friends" sounds, somehow, like if "Benny and the Jets" were a Drake song), the camera looks up at him from his feet, like he's a larger-than-life antihero in a John Ford movie. At some point, another person approaches; Tesfaye draws his gun without effort and shoots them down. The video offers no narrative explanation as to why he does this — I guess we're supposed to assume that he's the kind of guy who'd shoot a man in Reno just to watch him die. "This ain't the right time for you to fall in love with me," Tesfaye will warn with a bluesy swagger a little later in this record, The Beauty Behind the Madness, but by then we've gotten the message: This guy is bad news, baby. It wouldn't be any clearer if he were wearing a black hat.
If you've heard any Weeknd song other than the star-making summertime smash "Can't Feel My Face," none of this should come as a surprise. Since his brooding, deliciously depraved debut mixtape, 2011's House of Balloons, the 25-year-old Toronto-based Tesfaye has presented himself as a defiantly unsentimental crooner. But most people first heard Tesfaye on another higher-profile album that came out that year, Drake's Take Care, on which the Weeknd was by far the least famous person with a credited feature. Even in his introductory handshake with the pop world, he wasn't concerned with making nice: "This ain't no fuckin' sing-along," he cooed on "Crew Love," "So, girl, what you singing for?" Tesfaye's voice has a pure, angelic tone — he sometimes sounds like a long-lost Jackson sibling — and the great, illicit thrill of his music comes from hearing this heavenly instrument sing about, say, debauched sex and coke lines on glass tables. The best Weeknd songs are dizzy from this dance between the sacred and the profane.
Initially released for free on the internet, House of Balloons emerged in a haze of anonymity; for a few months, nobody really knew if the Weeknd was a "he" or a "them." Tesfaye eventually claimed credit for the project, and put out two more mixtapes before 2011 was up: Thursday and Echoes of Silence. All three of these records, which were repackaged in 2012 and sold together as The Trilogy after Tesfaye signed to Republic Records, were set almost exclusively in the nebulous hour between nighttime and daybreak, the state between the high and the comedown. Unexpected samples — Beach House, Cocteau Twins, Siouxsie and the Banshees — hung atmospherically in the background, like records left playing on a broken, skipping turntable after everyone at the party has passed out. The Trilogy managed to present this hard-living, sex-drugs-and-dream-pop lifestyle without either glorifying or condemning it; a certain fatigue in Tesfaye's voice spoke of the toll this world had taken on him, but he wasn't saying he didn't enjoy the hell out of it on the way down.
By his major-label debut, 2013's Kiss Land, the repetition of this theme seemed to have depleted him creatively — he'd started to look like he might be a one-trick pony. Kiss Land was meandering and deflated; the sorts of bacchanalian scenes that seemed so vivid and wild on House of Balloons now felt like rote parodies of themselves. As he re-created the same epic night after night after night, the Weeknd's career risked recalling that scene in Anchorman where Ron Burgundy stares into his whiskey glass and goes, "We've been coming to the same party for 12 years now … and in no way is that depressing."
Luckily, the new Weeknd album, The Beauty Behind the Madness, is a whole different kind of party, partially because the guest list is decidedly more star-studded (Ed Sheeran, Lana Del Rey, and Kanye West, who co-produced "Tell Your Friends"). That's true behind the scenes, too: Tesfaye also enlisted the help of surefire hitmaker Max Martin to give at least some parts of the album that pop-radio sheen. Martin's Midas touch is evident on the great "Can't Feel My Face," the most successful conjuring of MJ's spirit in a summer when Tesfaye was not the only artist trying (hi, Jason Derulo!). Beauty Behind the Madness finds the Weeknd chucking the arty indulgences of Kiss Land in favor of a sound that's at once more palatable and more ambitious. "These kids, you know, they don't have a Michael Jackson," he was quoted saying in a recent New York Times Magazine profile. "They don't have a Prince. They don't have a Whitney. Who else is there? Who else can really do it at this point?"
Big shoes, for sure, but the first half of this album makes as convincing an attempt to fill them as any pop artist this year. The dark, shape-shifting, post-Yeezus production is very of-the-moment, but in its grandeur and its scope, Beauty Behind the Madness feels like a throwback to something like Purple Rain (another album that catapulted an antihero on the fringe of the mainstream into major pop stardom.) Tesfaye has structured the record — or at least the beginning of it — like a front-loaded coming-of-age story, its first few chapters the most revealing. The sweeping ballad "Real Life" establishes Tesfaye's rather bleak stance on romance ("I've heard that love is a risk worth taking / Wouldn't know, never been that boy"); the stealthy, piano-driven "Losers" plays out like a celebration of his XO Crew's DIY bona fides ("We did it all alone / Now we're coming for the throne"); the eminently quotable "Tell All Your Friends" paints a vibrant but ultimately triumphant picture of Tesfaye's turbulent adolescence, which included bouts of homelessness. It's the most autobiographical material we've heard from him yet — here, the man who used to hide behind his shadowy, Tumblr-cool anonymity is finally showing us exactly who he is.
What I like best about the sound of this record is that it's occasionally kind of … spooky. "Real Life" lurches to life with electrical-jolt guitars like Frankenstein's monster; horror-movie screams deep in the mix give "The Hills" a sense of unease. Not unlike some of the grimmest Kanye West songs (Yeezus's "Hold My Liquor" comes to mind), "The Hills" feels like a warts-and-all exploration of decaying masculinity. By the second verse, he seems to be chucking cartoonish insults at his booty call just to see what he'd have to say for her to throw him out ("I just fucked two bitches before I saw you," he taunts, sounding like he might fall asleep mid-lyric). "The Hills" is a great, campy, bizarre pop song — undoubtedly one of the least romantic sex jams to ever make it to radio. But it's also indicative of the record's fatal flaw: Unfortunately, the Weeknd is much more compelling as a lothario than as a born-again romantic.
Beauty begins to unravel in its second half, when Tesfaye turns up the schmaltz. There's an undercurrent of '80s rock running through the album, but towards the end it becomes a little too much to take. The glimmering, lite-rock "As You Are" sounds way too much like a Richard Marx song, and its hairpin turn towards earnest sentiment ("Show me your broken heart to know your flaws / And I'll take you as you are") feels sudden, vague, and unearned. Even worse is the atrocious closing number, the theatrical piano ballad "Angel," which I would compare to a Meat Loaf song except that would be kind of insulting to Meat Loaf. It's a bit of a shock to hear a record that starts out so promising fumble the landing so completely, but these missteps reflect poorly on the overall statement that the album is trying to make — you mean it was all building to this? A lot of these individual songs are great, and the album is very strong in stretches, but taken as a whole, Beauty Behind the Madness too often feels stuffy, self-serious, and strained to reach its ambitions.
There are definitely some bright spots on the back half, though. The up-tempo "In the Night" is another convincing Off the Wall throwback, and somehow — though I truly don't understand it — the bluesy, bromantic duet with Ed Sheeran ("Dark Times") actually works. Then there's the sumptuous "Prisoner," a moody, anthemic collaboration with Lana Del Rey. "I'm a prisoner to my addictions," Tesfaye sings on that one, "I'm addicted to a life that's so empty and so cold." That's actually a pretty perfect description of what keeps Beauty from being the masterpiece it so badly wants to be. In the end it feels too tethered to this idea that debauchery and despair are inherently more "deep" than joy and love, and after a while these endless reminders of what a bad guy the Weeknd is become fatiguing and predictable. Beauty Behind the Madness is a sonically impressive record that will likely (and rightfully) establish the Weeknd as a formidable player in the pop game, but something rings emotionally hollow in these confessions of a self-styled outlaw in love with his own shadow.