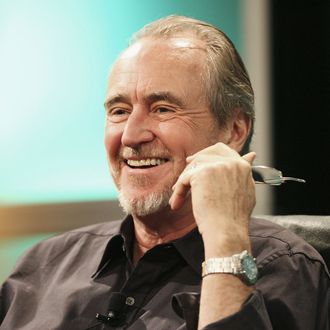 Photo: Frederick M. Brown/2006 Getty Images
Wes Craven, the director, writer, and producer known for such iconic slasher movies as A Nightmare on Elm Street, Scream, and The Hills Have Eyes, died Sunday afternoon in his L.A. home, according to reports. The 76-year-old had been battling brain cancer, according to his family, who made the announcement. The auteur notably created the notorious Freddy Krueger character for Elm Street and reinvented the teen-horror genre over the course of a prolific film and TV career that spanned more than four decades.
News of Craven's death was announced amid the 2015 MTV VMAs telecast, during which MTV released the following statement:
Wes Craven was a tremendous visionary whose sensibility for scares has connected with generations of MTV fans. We are honored to have worked with him and proud to carry on his legacy with Scream. Our hearts go out to his family and friends.
Craven was born in Cleveland to a family of strict Baptists, according to The Hollywood Reporter. He always had an eye for the arts and humanities, though, and wound up studying English and psychology at Wheaton College, as well as philosophy at Johns Hopkins. Consequently, he enjoyed brief stints as a college professor before kicking off his feature-film career in 1972 with The Last House on the Left, a shocking revenge movie that gave hints at Craven's ability to forge engaging box-office hits. Craven's early résumé also included credits on two doses of The Hills Have Eyes, Swamp Thing, and Invitation to Hell. It wouldn't be till 1984, however, that he would leave a major mainstream mark — for then came Elm Street and Johnny Depp.
In a Vulture oral history, published last year, Craven recounted the fateful inception of his most iconic film:
I'd read an article in the L.A. Times about a family who had escaped the Killing Fields in Cambodia and managed to get to the U.S. Things were fine, and then suddenly the young son was having very disturbing nightmares. He told his parents he was afraid that if he slept, the thing chasing him would get him, so he tried to stay awake for days at a time. When he finally fell asleep, his parents thought this crisis was over. Then they heard screams in the middle of the night. By the time they got to him, he was dead. He died in the middle of a nightmare. Here was a youngster having a vision of a horror that everyone older was denying. That became the central line of Nightmare on Elm Street.
Elm Street would cement the director's status as a significant force in the horror genre, and lead to a long-running franchise of Freddy sequels, some of which the director would return to co-write and helm. He found similar success in the mid-1990s with Scream, which grossed more than $100 million domestically and also led to a long-running franchise.

Between Screams, Craven notably ventured into non-horror territory with the Meryl Streep–starring Music of the Heart, about a music teacher who worked with underprivileged schoolchildren in Harlem. "We had a very difficult time getting an audience into a theater on my name," he said of the film, according to THR. "In fact, we moved toward downplaying my name a lot on Music of the Heart. The more famous you are for making kinds of outrageous scary films, the crossover audience will say, 'I don't think so.'" Streep, however, received a Best Actress Oscar nom for her work with him on the film.
Craven's most popular original works — especially Scream, The Hills Have Eyes, and The Last House on the Left — have been reimagined as reboots and remakes for new generations of viewers. His most recent finished flicks include 2010's My Soul to Take and 2011's Scream 4. Before his death, Craven was executive-producing MTV's new Scream series reboot; he had also reportedly written the Thou Shalt Not Kill portion of the Weinstein Co.'s forthcoming Ten Commandments miniseries. (You can peruse the entirety of his extensive filmography here.)
Ever the scribe, Craven additionally published a novel, The Fountain Society, and penned a monthly column, "Wes Craven's The Birds," for Martha's Vineyard magazine, according to THR. Variety adds that he was also tinkering on a graphic-novel series, Coming of Rage, for Liquid Comics. The multihyphenate is survived by his wife, sister, son, daughter, stepdaughter, and three grandchildren.
This story has been updated throughout.