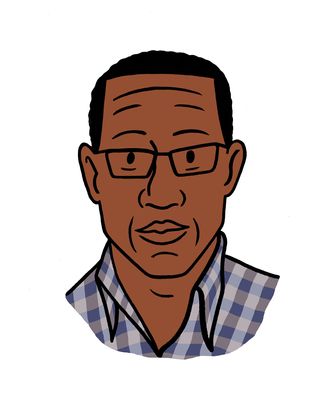 Wesley Snipes stars in in NBC's action-drama The Player, premiering September 24.
Photo: Illustration by Pete Gamlen
It seems like every fall season, a new network star (who's not really that new) is born. This September, Wesley Snipes is a prime breakout contender for his role as the enigmatic maybe-villain maybe-not Mr. Johnson — the representative of a shadowy consortium that gambles on a former intelligence officer's ability to prevent crimes — in NBC's action-drama The Player, premiering September 24. The series represents Snipes's highest-profile gig since finishing off a two-year stint in prison for failing to file income-tax returns, and he's eager to be back in the game — for a variety of reasons.
You've been away for a while. Were you at all hesitant to jump right into series television? 
Somewhat. With film, I've been able to keep a certain amount of privacy. Film stars still have a little mystery to them. But when you do television, you're in someone's living room. So there were lifestyle changes that had to be considered. We were able to work something out that gives me privacy, and the show itself is intriguing enough to make this experience a worthwhile bet.
You passed on the role of Lucious Lyon in Empire. Did the success of that show have anything to do with TV being more appealing to you than it otherwise might've been?
No, it didn't affect my situation because we were already in negotiations for this before Empire took off. Empire wasn't the right fit for what I'm trying to do as an artist and as a businessman. This is a much better arrangement. I can do great business and the schedule makes the acting like being in a great repertory theater. Oh, man, it's fun!
What are you trying as a businessman? You have a first-look development deal with Sony TV, right?
Well, TV is attractive because it gives you an opportunity to explore concepts that could lend themselves to future business opportunities. You can truly test the market. And there are some stories that are better served in TV than in film — multiple characters and multiple worlds. That's good stuff, and it's what me and my team are developing, mostly via comedies and supernatural action projects. I'm kicking down the doors and taking names, damn it!
What's the project you most want to get made?
That would be Master Daddy, without question.
What's Master Daddy?
It's a martial-arts family comedy. It's something that my children will be proud of me for. It's the story of a father who is a martial-arts master, but also was a playboy in his heyday. He ends up marrying a female martial-arts master, and then they have three children, and the daughter turns out to be one of the most beautiful creatures any male has ever seen. The father, Master Daddy, uses his martial-arts skills and the help of his ninja students to sabotage his daughter's relationships. Imagine Kung Fu Hustle and Meet the Parents. That's my pitch.
*This article appears in the August 24, 2015 issue of New York Magazine.