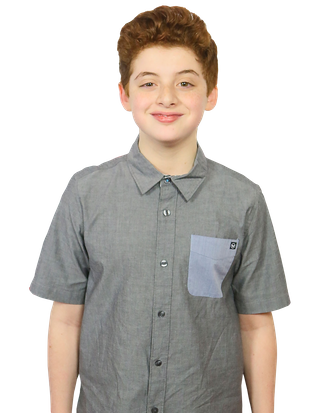 Photo: Gabriel Olsen/Getty Images
There are about 30 major comedic actors in Netflix's Wet Hot American Summer: First Day of Camp, but the biggest breakout performance by far is by Thomas "the Burp King of Westchester" Barbusca. We caught up with the 13-year-old actor (note: born a year after the original Wet Hot was released) to find out a little more about the Wet Hot set and the now-iconic TV bully.
Filming the show was basically a summer camp for the kid actors.
While it's been widely reported that the actors came and went as their schedules allowed — Bradley Cooper had to shoot all of his scenes in a single day — the kids in the show were there all summer. "We shot for two months straight," says Barbusca. But this was hardly a Revenant situation for the kids. "We were at Calamigos Ranch in Malibu," he explains. "The whole set was actually like being at a camp. In between scenes we'd play ball, we'd make a race down the field, we'd jump haystacks."
Barbusca improvised one of his best lines in the series.
Though scheduling prevented many of the performers from appearing in scenes together, Thomas and the other kid actors worked regularly with Michael Showalter, Paul Rudd, Christopher Meloni, Molly Shannon, and, of course, David Wain. The older comedians helped the younger stars riff and ad-lib, according to Barbusca. "We kind of played around with it," he explains. "It was really fun with them because they're really experienced, they'll give you tips and stuff, they just keep going with you. They were all really awesome."  Specifically, Thomas tells us one of Drew's best moments — yelling his so-simple-it's-funny justification for bullying, "I just like doing stuff like that!" after Kevin ran crying out the door — was ad-libbed on the spot.
A nickname like "Burp King" really sticks.
Thomas's character, Drew, instantly became an iconic TV bully, and he says the fan reaction was immediate: "Everybody on the street is always yelling, 'Burp King! Burp King!' My Twitter's blowing up with 'burp king,' everyone just loves that line now, it's a legendary line." But Drew is "100 percent completely different" from Thomas, who describes playing a bad guy as "really fun doing it … but just a character. I've never met a Drew in my life, I'd be really scared if I did!" That said, Barbusca clearly has an eye for playing both comedic and menacing, naming Bryan Cranston as a comedy performer he looks up to ("He's really funny").
Barbusca is going directly from working with the comedic talents of the Wet Hot crew to Seth Rogen and Evan Goldberg, on their upcoming Preacher series for AMC.
Preacher is a long-gestating television adaptation of the celebrated Vertigo comics series, developed by Seth Rogen and Evan Goldberg. Though Preacher is often darkly comedic, Barbusca describes his role as "definitely more serious." "I shot two weeks in Mexico, we were out in the middle of nowhere," he said. "Seth Rogen directed me and there were snakes everywhere, like snake wranglers and farm dogs. It was crazy."
Those are his real burps.
We of course had to know if those were Thomas's real burps in the scene he's now famous for. "Yep, they are. They're my real burps."  Bow down to the king.