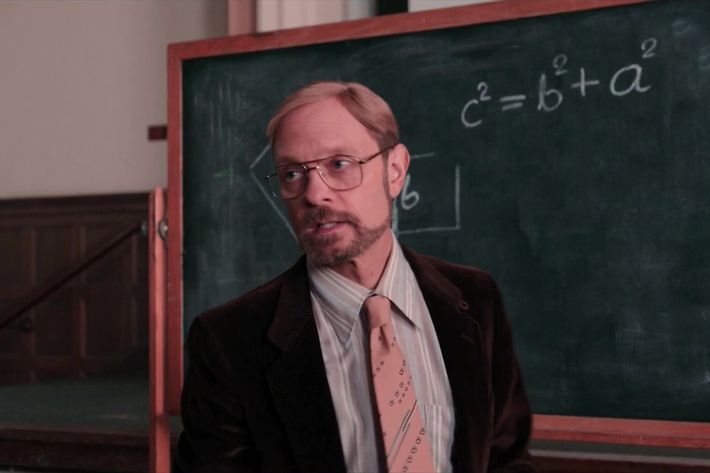 WHAS:FDOC's fourth episode, "Auditions," begins by filling in a backstory of another minor film character, the until-now-unseen astrophysicist Henry Newman. Henry is a brilliant scientist and mathematician, teaching his students complex formulae like the Pythagorean theorem.
He's struggling professionally, and personally, because of his inability to get published. His main rival on campus is Professor Broadfarb Gilroy (Rob Huebel). But still, he plugs away.
Unfortunately, the pressure gets to Henry. He snaps at his superior, a "back-slapping, booze-swilling, glad-handing fuck dick of a shit butt."
A colleague suggests that he get away for a while. She refers him to a real estate agent who specializes in summer rentals up in Maine. Despite the neighboring summer camp, Henry is satisfied. "It's perfect. I'll take it."
Over at Electro City rehearsals, Danny and Becky are out as the leads, so they're going to have to recast. In addition, Ben is stepping into the spotlight, performing a number with McKinley. So that's how WHAS's best couple gets set up: They are performing together as two men trapped in a single large suit. A tale as old as time.
The Falcon, meanwhile, continues his trip to Camp Firewood, stopping at a nearby convenience store. Some rude punks interrupt his transaction, causing a ruckus.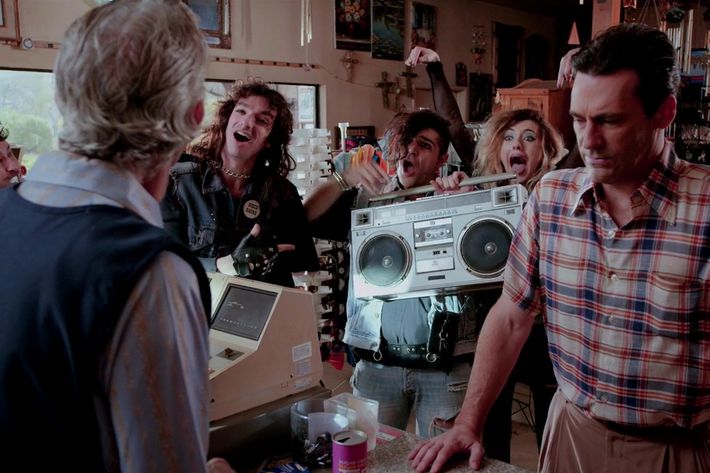 If you were wondering why these people look oddly familiar, it's because they're the same actors who played the Indoor Kids in the original Wet Hot film. They really did try to bring everyone back for this.
"I'm the Falcon, President Reagan's hired assassin," the covert operative announces after taking down all of the punks with a single efficient leg sweep.
Gail, having overheard the kitchen conversation about military stuff, heads over to the cafeteria to interrogate Jonas, who still seems to be feeling the effect of his military flashback.
Jonas dodges a bullet by playing dumb, and manages to convince Gail that they should still get married.
Andy continues his quest to woo Katie by imparting some more of his wisdom on her: "Trees look weird if you squint at them."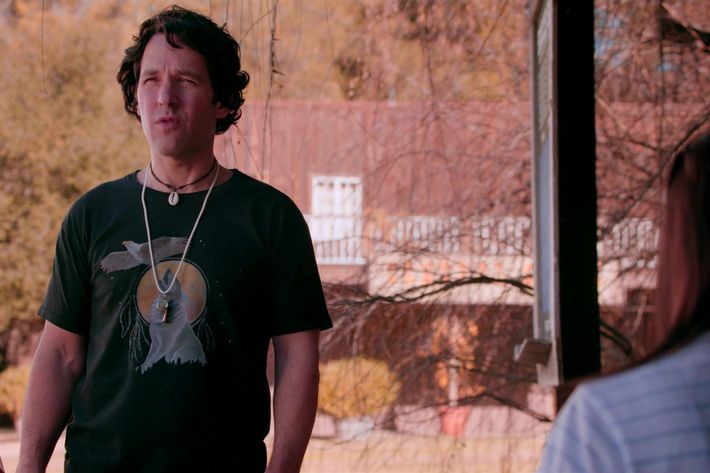 Katie, on the other hand, is probably going to be busy all day if she gets the newly available lead role in Electro City. Andy doesn't like acting; he'd "rather pick dingleberries out of [his] Aunt Frieda's butt than do that stupid shit." But he changes his mind when he hears that the two leads kiss at the end.
At the tetherball court, Kevin teaches Amy how to play, offering guidance about how people get hit in the head with tetherballs all the time. See?
It's a noble, if failed, gesture, but before leaving Amy turns and gives him one last glance. Maybe things will eventually swing in Kevin's direction … in a good way. Not a tetherball-to-the-head way.
Auditions for Electro City continue to be a total bust until Katie steps up to audition, performing "Heart Attack of Love." (Side note: This is the second time I have mistakenly believed that a pastiche and/or parody Wet Hot American Summer composition was a real song. The music on this show is incredible.) Anyway, Katie's audition impresses Susie, Rhonda, and Claude Dumet.

It's only the first day of the session, but Camp Firewood already has a special visitor: professional hypnotist Jackie Brazen (Weird Al Yankovic)! For his first trick, he turns a very eager JJ into a turtle.
Having cast their female lead, Electro City now looks to figure out who is going to play opposite Katie. The front-runner is Logan, who is a real pro. He holds a single long note while doing all of this.
Susie thinks they should snatch him up before he books something else at the remote Maine camp with only one theater production, but Claude Dumet advises her to play hard to get.
Gail, still suspicious of Jonas, heads over to the Waterville records office to try to get some answers. It seems that the man calling himself Jonas Jurgenson is dead. The plot thickens.
Back at the hypnotist performance, Drew, a horrible demon child, starts calling dibs on all the girls he sees. The other boys think it's against the rules to call dibs on everyone, but Drew has a solid rebuttal: "Eat my dick, Captain Fuckpants." Drew, a nightmare in the form of a small ginger boy, even calls dibs on Amy, throwing another stick into Kevin's figurative spokes.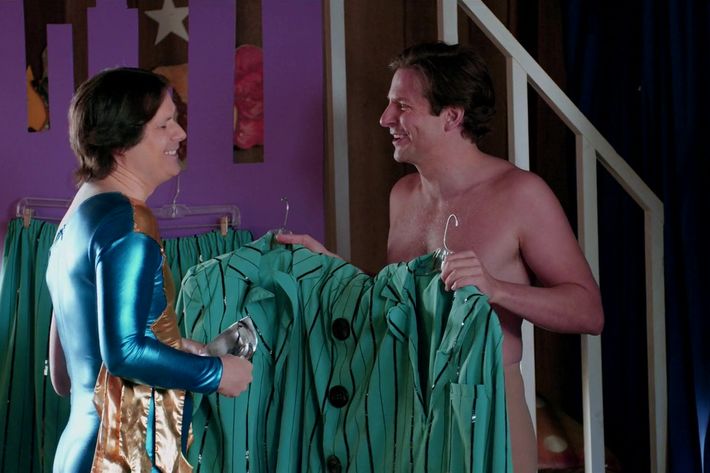 Up until now, most of Wet Hot American Summer has been a gleeful, controlled style of nonsense. The next scene, however, featuring Ben and McKinley meeting for the first time backstage is just flat-out charming. There aren't really any jokes in this scene. It is just very nice to see these characters who will very quickly fall in love and get married introduce themselves to each other. "You don't realize that you're creative too!" McKinley tells Ben.
The boys at Camp Tigerclaw pass the time with their own leisurely activity: ripping up money.
Courtney (Kristen Wiig) approaches Blake about a rumor she heard. Apparently Blake and Katie are on the rocks, and Courtney's looking to make moves. She attempts to seduce Blake, but Blake is having none of it.
Gail's search for answers at the hall of records leads her to an old news article about a plane crash. One of the supposed victim's bodies was never recovered, and that man assumed the identity of Jonas Jurgenson. The impostor's real name? Gene Jenkinson, the bandana-wearing, fridge-humping chef that we all know and love.
It's clearly some devastating news for Gail, but luckily, she has records employee Jeff (call him by his middle name, also Jeff), played by Randall Park, to comfort her.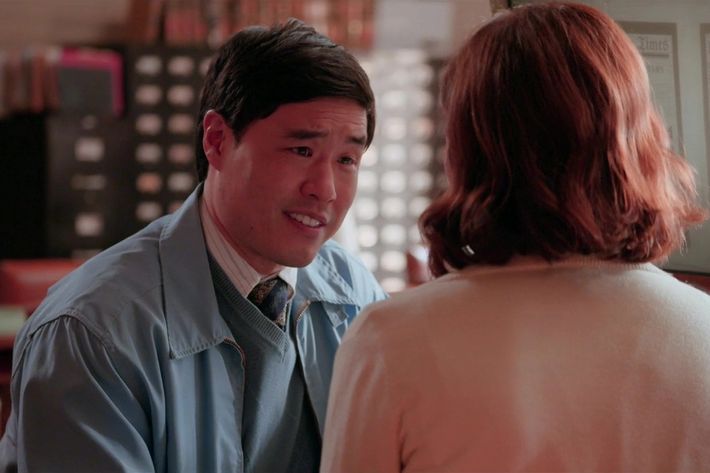 Katie and Logan have already been cast as the Electro City leads when Andy, in typical Andy fashion, shows up late to seek the role. He performs an original song called "Champagne Ice," another surprisingly plausible WHAS composition.
It obviously works. Andy gets the part and he manages to charm Katie just a little bit more. The show is cast.
Jackie Brazen, fresh off a blockbuster performance, heads toward the exit before getting stopped by Beth and Greg. But something seems off …
Beth sets a trap, exposing Jackie Brazen as a fraud. He is really…
The Falcon!
In the series' best sight gag yet, Beth and Greg slowly run toward the exit, only just managing to outwit President Reagan's best assassin.