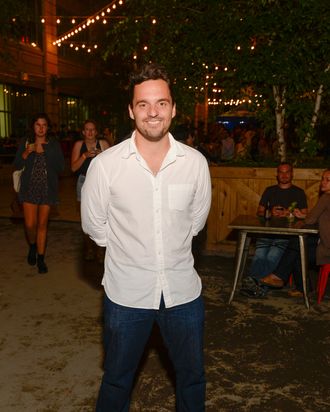 Jake Johnson.
Photo: Presley Ann/Patrick McMullan
There are few bigger turn-ons than digging around some guy's backyard for a dead body, am I right, ladies? Well, according to Jake Johnson, that's what he had in mind for his new movie Digging for Fire until co-star Brie Larson steered him in a new direction.
In the film, Johnson's character, Tim, sets out on a digging expedition after finding a chicken bone and a gun in the yard of the place he's house-sitting. At first it's just a goofy undertaking, but things get a little more scandalous (read: full Chris Messina) when Tim's friends bring over women. Brie Larson plays one of them, Max, who becomes intrigued and returns the next day.
Although the dialogue is all improvised, Johnson and director Joe Swanberg did write a brief outline of the story. In their initial version, Max is attracted to Tim, and they have a lot of will-they/won't-they chemistry. But as Johnson told us at the Rooftop Films New York premiere of the movie, Larson shared a different idea about her character when she met with him and Swanberg — one that Johnson really appreciated.
"She's like, 'I would not be sexually attracted to a married man with a 5-year-old who's digging in his backyard.'" Johnson admitted. "Joe and I thought that was so cool because our fantasy as two older dudes was like, Yeah, the young ladies love us." Larson convinced them that her character wanted to come back and keep searching because she was interested in the adventure and mystery, too.
"My character, you know, doesn't fully get it. But that was something she brought, which spun our second act in a whole new direction," he told us. "'Cause now it wasn't the temptation of, Are they gonna be together? Is this young woman flirting with this old married man? Because she didn't find that interesting."
Here's to Larson for claiming some agency for her character — and to Johnson for listening.