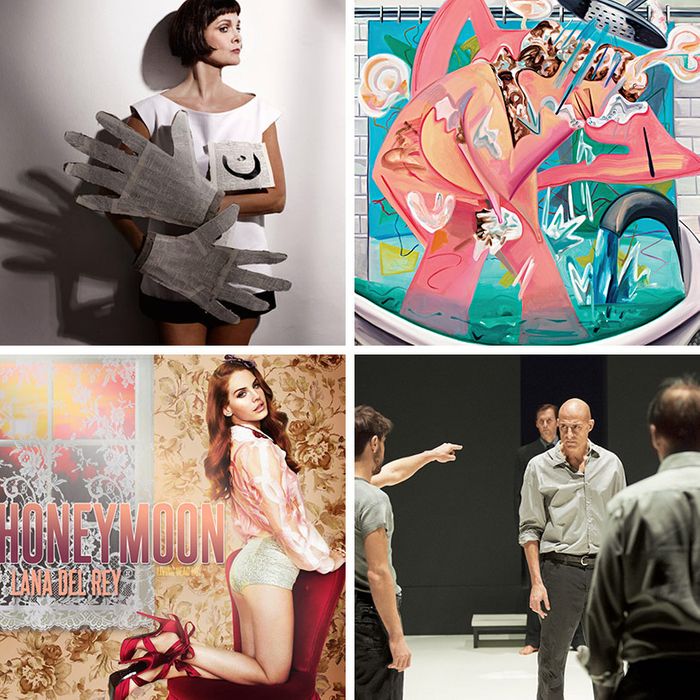 Movies
The films David Edelstein can't wait to see.
Experimenter
Oct. 9
Peter Sarsgaard as Stanley Milgram, the Yale researcher who ordered test subjects to deliver shocks to a stranger, their semi-blind obedience suggesting the worst in human nature — as depicted by indie stalwart Michael Almereyda (Hamlet).
Our Brand Is Crisis
Oct. 30
David Gordon Green directs a fictionalized version of one of the most penetrating docs of the aughts, Rachel Boynton's tragicomedy of a South American election warped by newfangled Yankee image manipulation.
Brooklyn
Nov. 6
Saoirse Ronan as an Irish immigrant in what's rumored to be an emotionally transporting portrait of a time and place — the Brooklyn of the '50s.
Snowden
Dec. 25
Visionary-thug-maverick-iconoclast Oliver Stone will likely make up his own rules in telling the story of Edward Snowden (Joseph Gordon-Levitt), the traitor/savior who showed us the inner workings of our modern surveillance state.
Joy
Dec. 25
The title is the name of the heroine, who rises to become the matriarch of a family business in this dark, tumultuous comedy — and also my response on hearing that Jennifer Lawrence would reunite with writer-director David O. Russell.
TV
Here's what will be on Matt Zoller Seitz's DVR.
The Bastard Executioner
FX, 10 p.m. (Sept. 15) 
From Kurt Sutter, the creator of Sons of Anarchy, comes this story of a warrior (Lee Jones) who swears off killing only to pick up a sword again when he's forced to become an executioner. Sutter's muse Katey Sagal co-stars as Annora of the Elders. To no one's surprise, the show is reputed to be astoundingly violent.
Best Time Ever with Neil Patrick Harris
NBC, 10 p.m. (Sept. 15)
Skits, pranks, musical numbers, all hosted by Harris. And it's live. There's no way this weekly show can fail to be awesome.
Dr. Ken
ABC, 8:30 p.m. (Oct. 2)
Ken Jeong, the scene stealer from Community, stars as a House-like doctor. That is, an excellent pathologist with no social skills.
The Muppets
ABC, 8 p.m. (Sept. 22)
The late Jim Henson's beloved troupe of felt actors has undergone an excellent revival in recent years; the process continues on this mock­umentary that gives the characters the reality-show treatment.
Supergirl
CBS, 8:30 p.m. (Oct. 26)
Greg Berlanti of Arrow and The Flash is executive-producing this one. That's really all I need to know.PopLindsay Zoladz will be listening to these if they all actually come out.
Pop
Lindsay Zoladz will be listening to these if they all actually come out.
Janet Jackson, Unbreakable
Date TBA
From Tinashe to FKA Twigs, the Queen of Pop's influence is all over R&B right now — and her first album in seven years will show the upstarts how it's done.
Lana Del Rey, Honeymoon
Sept. 18
The high priestess of Americana returns with her third album, which she's described as "surrealist" and inspired by "late-night Miles Davis drives."
Disclosure, Caracal
Sept. 25
The neo-house producers' second album is even more star-studded than their first, featuring vocals from Lorde and the Weeknd, and a reunion with their "Latch" pal Sam Smith.
Frank Ocean, Boys Don't Cry
Date TBA
The low-key crooner's mysterious follow-up to his masterful Channel Orange will come with its very own magazine, edited by Ocean himself.
Joanna Newsom, Divers
Oct. 23
It was a thrill to hear Newsom's good-witch voice narrating Paul Thomas Anderson's Inherent Vice, but her single "Sapokanikan" proves how much we've missed her strange, freewheeling tunes.
Art
Jerry Saltz is eyeing Picasso.
 "Picasso Sculpture"
Sept. 14 through Feb. 7, Museum of Modern Art
Picasso was a killer sculptor too — some say a better one than he was a painter. Fiendishly clear but cosmically complex.
"Kongo: Power and Majesty"
Sept. 18 through Jan. 3, the Metropolitan Museum of Art. 
See where Picasso and much of the 20th century got their ideas about space, scale, and materials.
"Katherine Bernhardt: Pablo & Efrain"
Sept. 9 through Oct. 24, Venus
Sensual color and compositional jam-ups of everyday objects, all rendered with the magical eye of a Berber rug.
"Dana Schutz: Fight in an Elevator"
Sept. 10 through Oct. 24, Petzel Gallery
Schutz's colorful abstracted figural pictorial structure does with space and composition what Brice Marden does with his looping lines.
Queer Thoughts
If the recently opened Tribeca iteration of this gallery is as independent as its Chicago predecessor, our scene just got better, fast.
Theater
Jesse Green looks on (and Off) Broadway.
A View From the Bridge
Lyceum Theatre; previews begin Oct. 21; opens Nov. 12
Avant avant-gardist Ivo van Hove directing Arthur Miller on Broadway sounds like a spectacular crash of sensibilities.
Eclipsed
Public Theater; previews begin Sept. 29; opens Oct. 14
The Public brings Danai Gurira's play about collateral damage in the Liberian Civil War (i.e., women) to New York, along with Lupita Nyong'o.
First Daughter Suite
Public Theater; previews begin Oct. 6; opens Oct. 21
The most compelling new musicals this fall are Off Broadway, especially Michael John LaChiusa's follow-up to First Lady Suite, at the Public Theater.
Hir
Playwrights Horizons; previews begin Oct. 16; opens Nov. 8
Gender magician Taylor Mac takes off his meta hat for a (somewhat) straight play, at Playwrights Horizons.
The Humans
Laura Pels Theatre; previews begin Sept. 30; opens Oct. 25
Early-mid- (or late-early-) career playwrights are often the most exciting, so I can't wait for Stephen Karam's new drama, from the Roundabout.
Books
Christian Lorentzen is ready for literary travel.
The Story of the Lost Child
By Elena Ferrante
Europa Editions (Sept. 1)
The finale of the Neapolitan tetralogy follows Lila and Elena into the dangerous zone of middle age and beyond.
The Mare
By Mary Gaitskill
Pantheon (Nov. 3)
Gaitskill's first novel in ten years is about a poor city girl who goes to the country — but don't expect anything heartwarming.
Submission
By Michel Houellebecq
FSG (Oct. 20)
The Charlie Hebdo attack occurred on the day this novel of France under a Muslim president was first published, and the author took pains to say he hadn't written an Islamophobic book. Judge for yourself.
I Can Give You Anything But Love
By Gary Indiana
Rizzoli (Sept. 8)
Indiana's memoir returns to his adventures as a boy in New Hampshire, a hippie in San Francisco, and a punk in L.A.
Beauty Is a Wound
By Eka Kurniawan
New Directions (Sept. 8)
The Indonesian master enters the English language for the first time.
Classical and Dance
Justin Davidson is in a piano kind of mood.
Run Time Error
Sept. 17, Miller Theatre at Columbia University
I'm a sucker for the unpredictable, and the Danish composer Simon Steen-Andersen's project of turning a concert hall into a giant music-and-video gizmo seems irresistibly risky.
Winterreise Festival
Dec. 9 through Dec. 17 at National Sawdust
Composer and impresario Paola Prestini has crammed the inaugural season of her Williamsburg venue National Sawdust with so many concerts that it makes a new-music aficionado want to move in.
Paul Lewis
Oct. 14 through Oct. 15 and Oct. 17
Pianist Lewis has matured into excellence by playing Beethoven and Schubert more deeply. This fall, he delivers three versions of his favorite composers: chamber (with Mark Padmore), orchestral (with the Boston Symphony Orchestra), and solo.
New York Festival of Song, "From Russia to Riverside Drive: Rachmaninoff and Friends"
Nov. 10 through Nov. 28, various venues 
Rachmaninoff is best known for keyboard-pummeling piano music, but in his old-country songs he tapped a Russian melancholy that he brought with him to the Jazz Age Upper West Side. 
Lulu at the Met
Nov. 5 through Dec. 3, the Met Opera
William Kentridge's saturnine worldview, in which figures in charcoal drawings are being constantly erased, should mesh well with the story of a woman who blots herself to survive.
*This article appears in the August 24, 2015 issue of New York Magazine.